The long rumoured headphones by Apple surprised people with an unexpected release. Apple AirPods Max, a premium noise-cancelling headphones with some great features coming this holiday. The AirPods Max has an elegant design and will come in 5 colour options to choose. So, let see what Apple offering at the premium price of new AirPods Max headphones is?
Apple AirPods Max Features:
Apple AirPods Max made for an elegant look, comfort and sound quality. It's a first-gen over-ear noise-cancelling headphone that has six outward-facing microphones acting as anti-noise and producing clear sound. Also, two inward-facing microphones cancelling additional noise and make call quality crystal clear.
Design:
AirPods Max designed to fit many different head shapes. It has magnetic knit mesh ear cushion with acoustically designed memory foam that helps to seal the surrounding for immersive sound. The AirPods Max U-Shaped breathable knit mesh headband design distributes the weight and reduces pressure for long hours of use. Apple used the stainless steel frame wrapped with soft-to-the-touch material for strength, flexibility and comfort. AirPods Max another great feature is Telescopic Arms that extends smoothly and stay at the set position for precious fit. The anodised aluminium cups designed to rotate independently to balance the pressure over the head.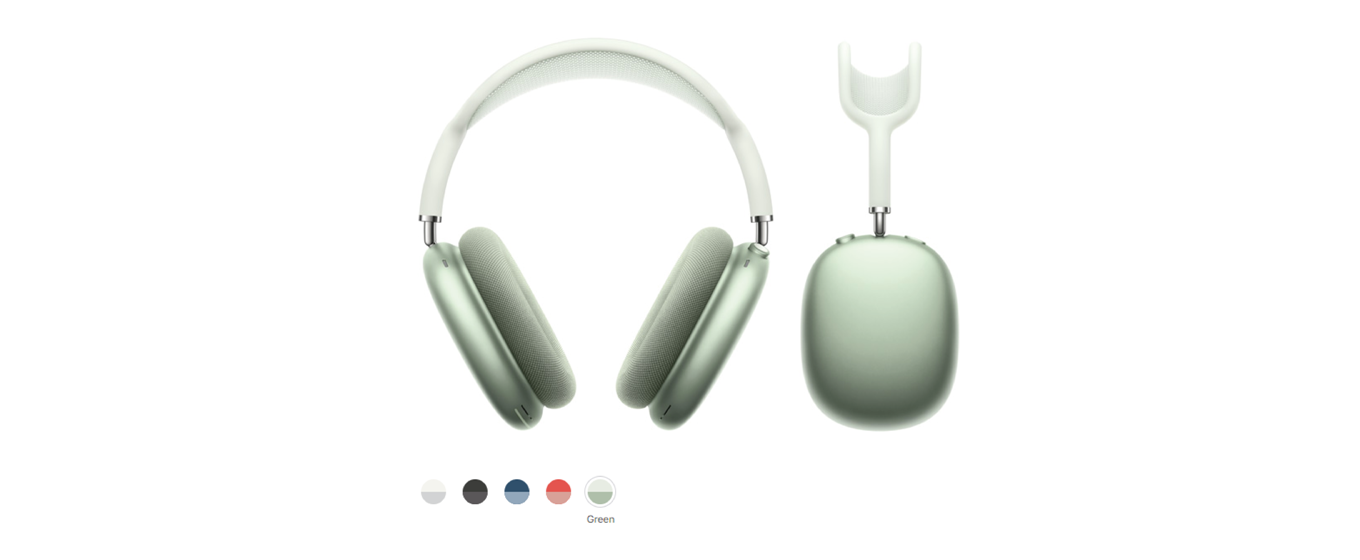 Image Credit: Apple
Controls:
AirPods Max headphones have a Digital Crown inspired by Apple Watch that controls volume, play/pause gestures, skip tracks, Siri and answering the calls.
Connecting AirPods Max is easy with one-tap setup. You can place your AirPods Max near the device and tap on connect button to enjoy endless music. Also, an auto-switching feature makes life easier by switching headphones connectivity automatically for the device in use. AirPods Max switches between all devices that logged in with the same iCloud account.
Apple AirPods Max has an optical sensor that senses when a user is putting headphones over the head. On-Head detection makes music pause once take them off and resume playback once headphones back on, which is one of the best features.
Another great feature is the Always-on Siri. You can make calls, get directions, play music and do many more things by giving a commands to Siri on the go. You can ask "Hey Siri" and get a response even when playing music, thanks to the Beamforming microphones.
Apple AirPods Max Technical Specs:
Apple-designed dynamic driver produces a wide frequency range for the rich and clear, detailed sound experience. It delivers the clear deep bass, precious mid-range and crisp high-definition audio quality for every kind of sound.
The dual-neodymium ring magnet motors help to minimise the harmonic distortion to deliver constant clear playback. The dual-neodymium motors feature inspired by the high-end floor speaker systems.
The H1 10 audio cores chip designed by Apple in each cup creates computational audio for the extraordinary sound experience. The computational audio helps block outside noise and adapts audio to fit and seal the ear cushion. Comparatively, such a comprehensive technology makes movies scenes sound like it's happening around you.
AirPods Max Audio Features:
Apple AirPods Max is loaded with the "Active Noise Cancelling" feature so you can immersive sound that what you are listening to. At the same time, you can switch to "Transparency Mode" which allows outside noise so you can naturally interact with your surroundings.
Adaptive EQ adjusts the sound with the help of inward-facing microphones, so you experience the rich and consistent sound.
Spatial Audio is an ingenious feature that tracks the movement of your head with the help of built-in gyroscopes and accelerometers which delivers a theatre-like sound experience. The feature like Spatial Audio may prove one step ahead kind of deal for Apple in the audio market segment.
Apple AirPods Max Battery Life:
The AirPods Max is good for about 20 hours of listening, movie watching and talk time with Active Noise Cancellation and Spatial Audio enabled. Also, putting AirPods Max in Smart Case makes them enter in ultra-low-power state that preserves the charge.
If the battery is low and you are in a rush, 5 minutes of charge will give AirPods Max 90 minutes of listening time.  Besides that, one thing to consider is Lightning Connector for charging and not the latest USB-C which introduced from the latest iPhone 12. But Apple is throwing Lightning to USB-C cable in the box.
Free Engraving:
Apple is offering free personalised engraving service where you can add text, emojis and numbers on your AirPods Max. Personalisation is a cool service provided by Apple, and you may see many AirPods Max users have engraved headphones in the crowd surrounding you.
Apple AirPods Max Colour Options, Price and Release Date:
Apple AirPods Max headphones come in 5 colour variations, Space Gray, Silver, Green, Sky Blue and Pink. Every colour option has matching coloured Smart Case for AirPods Max headphones to fit your taste.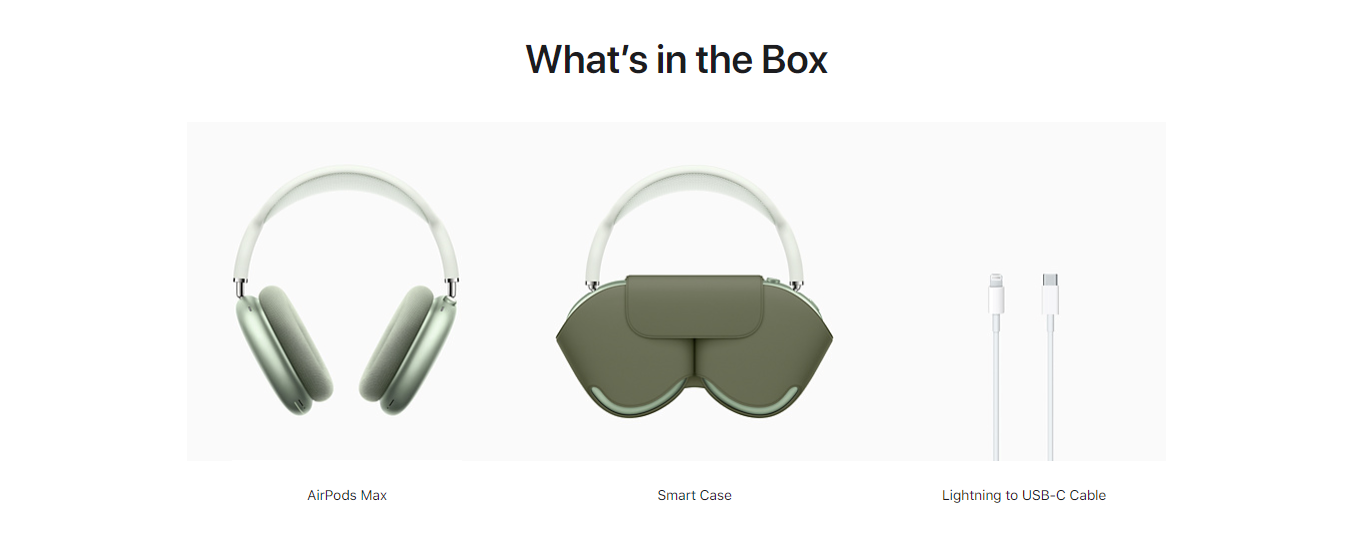 Image Credit: Apple
As always, Apple is known for its premium design and price tag. The new Apple AirPods Max priced at $899 in Australia and $549 in the United States. It sounds expensive, but if you are in the ecosystem of Apple, it's normal to expect such a price tag. With the premium price, Apple is throwing AirPods Max headphones, Smart Case and Lightning to USB-C cable in the box as standard accessories.
Apple announced the 15 December 2020 as a release date for new AirPods Max headphones and available to pre-order now in-store.
Conclusion:
Apple keeps innovating in technology and recently released a new model of iPhone 12 and M1 chipset for computers. The designs of Apple always look elegant, but it comes with the premium price tag, which is quite normal.
The new Apple AirPods Max is full of features and loaded with comprehensive technology for the best sound experience. The comfortable design, premium look and advance dynamic sound driver makes it to stand out in the headphones market segment. Also,Active Noise Cancelling, Transparency mode, Adaptive EQ and Spatial Audio designed to created seamless sound experience for users.
It's hard to tell how well it will do when directly competing with leading audio segment manufacturers like Bose, Sony, Beats and AKG. But Apple has a unique fan base, and many will buy it if the budget is not the problem.
Apple is entering into the headphones market with the first model, AirPods Max. But elegant design and extensive features are enough to meet the current trend of the entertainment industry.