Since Google Pixel 6 series launched in October 2021, it had a few software bugs that caused the issue. But now new bug auto-rejects the incoming calls for Google Pixel 6 and Pixel 6 Pro. Even it's not ringing, so the user doesn't know that someone has called.
What is auto call reject bug with Google Pixel 6 series?
Many Pixel 6 users have complained about some incoming calls being rejected without a ring or notification. The Reddit user merryjaina has posted that caller tried to call, but there are no missed call notifications on the phone. And call logs show declined incoming calls, but the user didn't know anything about it.
The auto-reject call issue is random and happens with saved or unknown numbers. Even users checked settings like DND (Do Not Disturb) and other features, but the problem persisted. Mobile service providers also confirmed that is it not on their end if they filter the spam call.
"I have filter spam calls turned off. I have Wi-Fi calling turned off. I have flipped to shhh turned off. DND is turned off. I've reset my network settings and always have a full signal. I made sure the contacts aren't set to go straight to voicemail. My cell provider says it's not on their end." Merryjaina posted.
What causes the Pixel 6 series automatically reject calls?
Google Pixel 6 and Pixel 6 Pro auto-rejecting calls for unknown reasons. It seems the software bug but yet to confirm as Google hasn't commented anything. Also, phone settings like DND and blocklist seems ruled out as the user did check those settings.
In some cases, network operators filter out the spam callers and may reject the incoming calls. But user confirmed with the cell operator that there are no such issues affecting incoming calls.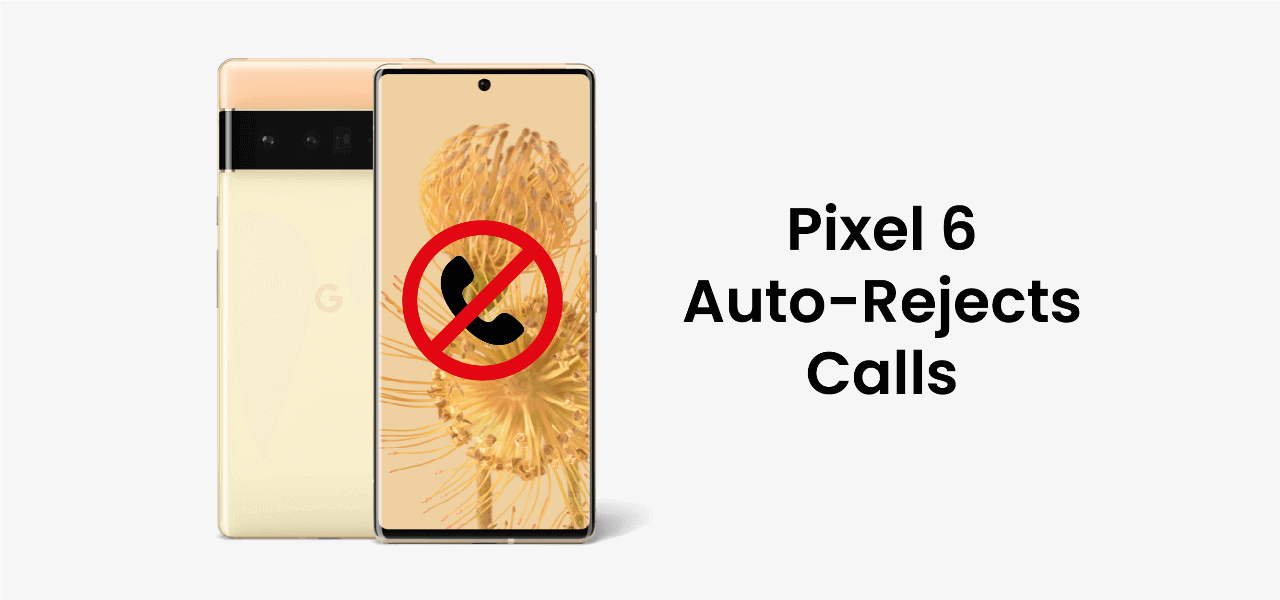 Indeed, here in Australia, we noticed that Wi-Fi calling features sometimes cause the issues like poor call quality. But it does not reject the calls automatically and leaves the missed call notification. So it is redirecting more towards the software bug, which causes the call rejection for Pixel 6.
How to fix the automatic call rejection on Google Pixel 6?
A few settings in a phone can automatically reject the calls like DNS and caller spam filtering. But it's not the case with Google Pixel 6 rejecting calls automatically as it's randomly rejecting the calls.
Furthermore, Google has not commented yet, so it's a blind spot to confirm if they will release the patch update. Or next software update can resolve the Pixel 6 auto-rejects incoming calls issues.
However, according to the owners of old Google Pixel models, resetting the phone may help. They have seen similar issues in the past with Pixel phones. But do not forget to take the backup before you reset your phone.
Final Thoughts:
Google Pixel 6 and Pixel 6 Pro comes with great features and heavy specs to meet the current Smartphone needs. But it has a history of bugs that caused the various issues from the beginning, like the Pixel 6 screen flickering. Also, Pixel 6 phones known for green tint and two punch holes software bugs.
However, Google Pixel 6 auto-rejecting the call is the new bug that annoys the users. People are missing the calls without a ring or notification, which is very frustrating. But Google hasn't confirmed if it's a software bug or something else causing the issue. Hopefully, Google will release an update to fix the problem soon if it's a software bug.