Google recently launched the new Pixel 6 and Pixel 6 Pro and started to take pre-orders. But as soon as users got the chance to hands-on, they began to complain about Pixel 6 issues.
Google Pixel 6 and Pixel 6 Pro screen flickering issue:
A Reddit user shared the Pixel 6 screen flickering video while pressing the power button, and the phone is off. The Pixel 6 Pro users noticed the same screen flickering issue as well. But some is having flickering problems on the top part of the screen and some at the bottom. So it might be the hardware or possibly software issues.
Google Pixel 6 green and pink tint issues:
@MaxWinebach @ArtemR @brenmadd have you heard of anyone saying the pixel 6 screen has weird viewing angles with different pink and green tint? Hard to see here, but even slight off access the screen has two different tints. It's not static. pic.twitter.com/nCNzSnb8HD

— Person (@pnut22r) October 27, 2021
The new Pixel 6 and Pixel 6 Pro owners tweeted about green and pink tint issues on the screen. According to the user, there is a green and pink tint on the screen if you see it from a particular angle. But it looks fine if you see direct to head viewing angle. It seems the case with some other old Pixel models, so it's not to worry much.
Indeed, Apple users reported similar issues for iPhone OLED display in the past. So only Google is not the one facing these green and pink tint problems for their new Pixel 6 devices.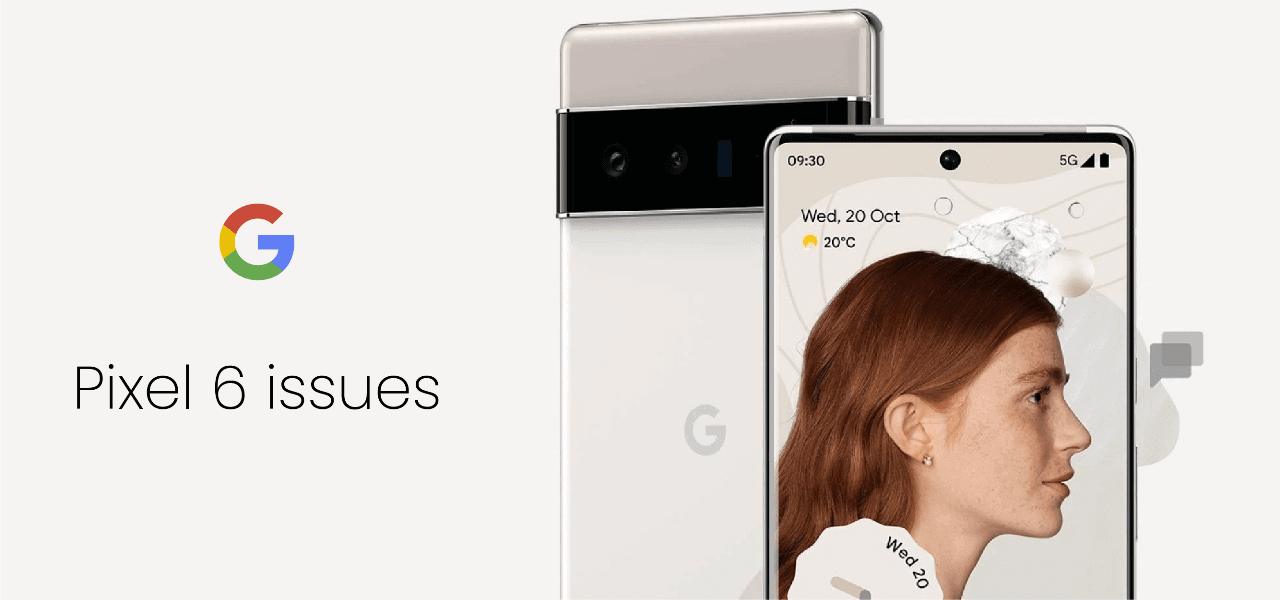 Image Source: Google
Google Pixel 6 Pro dual punch-hole selfie camera issue:
We kind of concluded that it is not display damage, as poking it doesn't make it bleed or warp. Also debug drawing over it didn't work. This display was hole punched twice. #Pixel6Pro pic.twitter.com/pRLcxfXTaO

— Mark Schramm 🕹️ #VR #AR (@MarkSchrammVR) October 28, 2021
Another user of Google Pixel 6 Pro reported the weird dual punch hole for the selfie camera issue. The user shared a video on Twitter showing another slightly off punch hole for a selfie camera. And it's a bug rather than dead pixels, according to the owner of Pixel 6 Pro. But in the end, the store replaced it with the new device under warranty as a defective phone.
Other reported Pixel 6 issues:
Google Pixel 6 and Pixel 6 Pro has another variant for Verizon customers. According to Verizon users, they have noticed longer download time for tiny security updates. A primary conclusion for the issues ended at server problem with no clear indication of server faults. But downloading 34MB security updates takes over an hour is just a nightmare.
How to fix the Google Pixel 6 issues?
Google Pixel 6 and Pixel 6 Pro is pretty new devices and has not been delivered yet to many buyers. So there is no wonder if more users report similar or new issues for the new Pixel 6 series. The problems might be related to the hardware or software. But in both cases, either Google will replace the device or ask you to update with the latest software. Indeed, Google wants you to update your new Pixel 6 or 6 Pro out of the box so it may solve the issues.
Also, Google previously announced the 5 years of software update support for Pixel 6 and 6 Pro. So there is no wonder if the latest update for Android 12 can fix the Pixel 6 series problems.
Android 12 update and Pixel 3, 4a, 4a 5G and Pixel 5 problems:
Google announced the Android 12 named as "Material You" operating system for primarily Pixel phones. And so they released Android 12 for older Pixel models and new Pixel 6 and Pixel 6 Pro. But as soon as the older model gets updated, Pixel owners complain about a few issues like an unresponsive touch screen.
Furthermore, few users reported animation glitches for widgets and notification bars after Android 12 updates. Also, some owners noticed that battery draining faster for older Pixel phones. So Android 12 seems buggy operating system that causing various issues with older and newer gen Pixel phones. But along with the Android 12 software updates, many issues will get resolved for Pixel 6 and older models.
Final Thoughts:
Google Pixel 6 and Pixel 6 Pro specs are great and seem the best phone available in the market. But they launched a device with their in-house Tensor SoC and latest Android 12 operating system. So this kind of problem was expected at an early stage by many tech reviewers. But it is pretty standard for any tech company and they do fix it quickly by software updates.
However, Google will replace the devices if its hardware faults. But it's a bit early to come to any conclusion for the new Pixel 6 and 6 Pro success or failure. Hopefully, Google will resolve any issues related to the Pixel 6 series software or hardware soon.