After the Optus and Vodafone, Telstra joined the bandwagon of providing 5G home broadband to its customers. Of course, Australian internet usage and high-speed demand have increased due to the COVID-19 pandemic. But Telstra 5G home internet will help many as it provides coverage to 75% of the Australian population. Yes, it's 75% of the Australian population and not to confuse with 75% of Australia.
Will 5G be better and faster than NBN?
The performance of 5G internet varies and depends on coverage plus obstructions. So if you are in a good 5G coverage area but there are obstructions between modem and tower, speed may fluctuate. But overall, 5G internet provides a decent speed unless you are in a crowded area.
However, if you are connected with better NBN technology like HFC or FTTP, you may get better speed than 5G. But if you have FTTN, FTTB or FTTC connection type, 5G home internet brings you a better speed than NBN.
Both 5G and NBN have pros and cons in terms of speed and reliability. If you like to check which internet is better for you, we recommend checking the 5G vs NBN comparison.
Telstra 5G Home Internet Speed and Price:
The first and most important expectation of the Telstra 5G home internet plan is speed. Telstra offers an average download speed of 378Mbps for 5G home internet plan. And typical evening speed during a busy time (7 PM – 11 PM) ranges between 50Mbps to 600Mbps. Also, the typical upload speed you can get on Telstra 5G home broadband is 46Mbps. But it could fluctuate between 10Mbps to 90Mbps during peak hours.
The price is another factor when it comes to choosing home broadband services. Telstra is offering a single 5G home internet plan for $85 a month and no lock-in contract that is impressive. On the top, you can get a free 5G modem and one-month free service with the current Telstra offering. However, if you cancel the service before 24 months, make sure you return the modem within 21 days to avoid charges.
Indeed, if you compare the high-speed NBN internet plan, 5G home broadband seems faster and cheaper. So if you are falling in good 5G coverage of the Telstra network, it may be worth trying.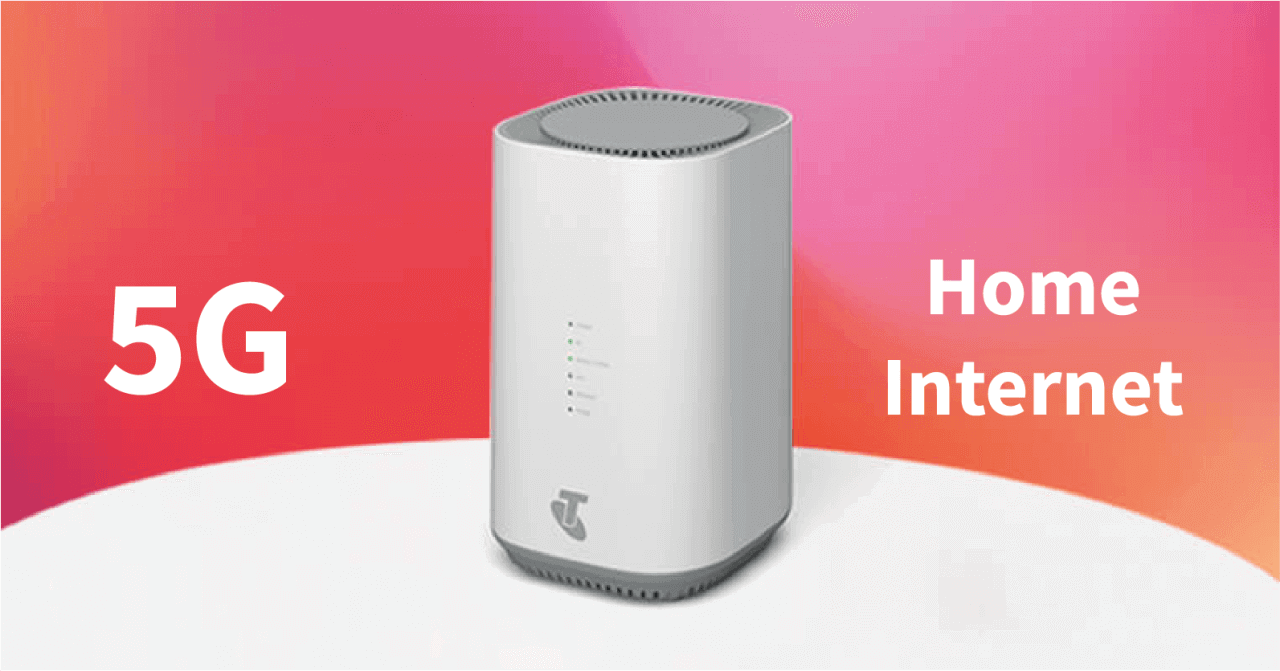 Image Source: Telstra
Telstra 5G Home Internet Data Limits:
It is always good if you get unlimited data for your home or mobile internet. Unfortunately, Telstra 5G home internet plan has a 1TB data limit for full speed. But don't worry, you still can enjoy the unlimited data at 25Mbps speed once 1TB is exhausted. Also, Telstra will send you the SMS notification when you reach a certain percentage of monthly data allowance.
Now, you may have a question: Is 1TB of data enough or how much data do you need? According to the ACCC Report, the average NBN customer downloaded 355GB of data per month in December 2020. And user with 100Mbps or above speed plan downloaded 555GB data per month. So 1TB is more than enough for the average broadband user.
What do you need to know before you order Telstra 5G Home Internet?
Apart from data limits, pricing and contract terms, you may need to know a few things before placing an order. Firstly, getting 5G mobile service in your area doesn't mean that you will get a home broadband plan by Telstra. You better check at Telstra address check page for your eligibility to get a 5G home broadband plan.
Furthermore, Telstra 5G home internet will not work to different addresses as the service is Geo locked. You get charged for cancelling the service before 24 months and not returning the modem in good working condition. Telstra will charge $29 a month for the remaining months if you are not returning 5G modem. You can find more details on Telstra's "Critical information summary" page for the 5G home broadband plan.
Frequently Asked Questions (FAQs):
Is 5G home internet better then NBN?
If you have an unstable FTTN connection, 5G is the better option for home internet. It can provide you with better internet speed and stable connectivity if 5G coverage is good in your area.
What are the downsides of 5G home internet?
5G home internet availability is limited at this moment in Australia. And if you don't have good coverage of 5G in your area, you may see internet speed fluctuation and connectivity issues.
Is there a data limit on Telstra 5G home internet?
Telstra 5G home internet has a 1TB of monthly data limit. But once you reach your data limit, you can use it at a 25Mbps speed for the remaining days. So you can consider it as an unlimited 5G home internet plan.
Is it worth getting 5G home internet?
5G home internet is a good alternative to NBN when it comes to speed and pricing. 5G home internet speed may exceed the NBN cable internet in many cases, like slow FTTN or ADSL connection.
Is 5G better than Fibre?
Well, fibre internet connection is the most stable and faster in general. But if you have good 5G coverage, you can get better speed at a cheaper price than fibre NBN Internet plans.
Does the 5G home internet modem have good Wi-Fi coverage?
5G home internet modems come with good Wi-Fi coverage that is enough for an apartment or small home. But when it comes to big or multi-storey house, a mesh router is recommended for better Wi-Fi coverage as a bridged network with a 5G modem.
Final Thoughts:
Telstra's 5G home internet sounds promising, but we don't have any reviews as the service just launched. But if you look at price and speed, it is better than NBN FTTN or FTTC services. Also, a great solution is that 1TB data limits at full speed and then unlimited data at a throttled speed of 25Mbps.
However, if you have an NBN FTTP connection, you can get better speed and lower ping if you're gaming. But if NBN fails to provide better service in your area, 5G home internet is the right solution for you. We also recommend checking Optus and Vodafone 5G home broadband plans if available in your area.