After the pandemic started in late 2019, work from home became the new norm. And with further lockdown, people began to work from home, and kids began studying from home. Such a drastic change in routine life raised demands for better internet connectivity. Since there are many options available for homes or businesses, sometimes it's hard to decide the right one for us. People have options like 5G vs NBN vs 4G and Starlink in the queue too!
The advantages and disadvantages of internet connection types in Australia may help you choose the right one for you. Also, the availability of services and obstructions needs to factor in while choosing NBN vs 5G broadband options.
Types of internet connections available in Australia:
As of 2021, Australians have multiple options to choose from NBN, 5G, 4G, Satellite and Starlink for home or business broadband. ADSL connection type is only available in those areas where NBN latest network technology is under the implementation stage. According to the NBN report, 97% of the Australian population is connected with the NBN network. But if you still have an ADSL internet connection, you will get upgraded sooner or later.
NBN have various technologies used to connect premises Australia wide. Each one of them has limitations of connectivity and speed. FTTN is the standard amongst all in most areas with a speed limit of up to 100Mbps. However, NBN announced the 4.5 billion dollars FTTP Upgrade Plan last year, which will finish by the end of 2023. Indeed, Australians will get up to 1Gbps internet speed for residential, and business NBN plans once the FTTP upgrade completes.
Fibre to the Node (FTTN)
Fibre to the Building (FTTB)
Fibre to the Curb (FTTC)
Fibre to the Premises (FTTP)
Hybrid Fibre Coaxial (HFC)
Apart from these technologies, NBN providing "Fixed Wireless" services via point to point radio devices. Also, "Sky Muster" is the NBN satellite internet service type for rural and remote areas. And the drawback of Sky Muster service is getting really slow speed of internet. But Starlink seems the preferred service in rural Australia, where the NBN service is having speed issues. Starlink is offering 50Mbps to 150Mbps of speed at a single cost plan in Australia.
What is the difference between NBN and 5G?
Many people have confusion over the difference between NBN and 5G. Some may think that 5G is an NBN upgrade or a slightly better version with reliability and speed. So let's clear some misconceptions about common questions like, is NBN 5G?
NBN is a combination of various technology types that physically connects the users for internet services. It may connect premises with hybrid copper and fibre or similar technologies for broadband connections. And the speed of the internet depends on connection types and plan purchased by the end-user. NBN sometimes connect over wireless radio and satellites where cable network is not available. NBN is covering 97% of the Australian population for internet connectivity.
5G is a modern 5th generation mobile network technology. It delivers fast and reliable internet plus telephony services via mobile towers. Also, it works utterly with compatible smartphones or 4G – 5G modems. It's still under development, and 5G coverage is limited in Australia.
5G vs NBN – Speed and Reliability:
As we all know, NBN has various technologies in different areas, and internet speed depends on the feasibility of connection type. You can get anywhere between 12Mbps to 1Gbps broadband connection according to your NBN network technology.
FTTN is the most basic connection type in most areas that aimed to receive at least 25Mbps speed previously. But now, due to the COVID-19 lockdown, demand has increased for better internet speed. That is the reason NBN upgrading its network to meet the high-speed internet requirements for Australians. Primarily, NBN focuses on FTTN and FTTC network upgrades where speed is slow and connectivity is unreliable.
However, 5G internet is competent and able to deliver up to 20Gbps of download and upload speed. But it depends on various factors such as tower location, obstructions between a direct line of sight and the surrounding users crowd. Technically, you can get anywhere between 20Mbps to 20Gbps of download speed with a 5G internet connection.
5G home internet is more reliable than NBN as it's running from the mobile towers. If the 5G network goes down for any reason, it will automatically switch to the 4G network to have a constant internet connection. Of course, the 5G modem can work on both 5G and 4G networks. So in terms of reliability, 5G is a more stable mobile broadband option compared to the NBN. Even NBN failed to deliver the minimum 25Mbps speed and dropping out in many areas. So if you have a 5G Home Internet option available and NBN is not reliable in your area, go with 5G home broadband.
Is 5G Home Internet Better, Faster and Cheaper in Compare to the NBN?
Well, it all depends on the coverage for the 5G and technology for the NBN in your areas. One could be more reliable and faster than the other, so you have to check for service feasibility for any options. It is also recommended to check the reviews for your preferred internet service provider for 5G and NBN.
If you look at the Optus 5G Home Internet plans, it will cost you $75 a month for a max 100Mbps download speed plan. But if you pay $90 a month, you will get an average download speed of 225Mbps and go up to 700Mbps. Both plans have unlimited data options, but of course, the "Fair Use Policy" applies to Optus 5G Home Broadband plans. Optus also guarantees for minimum 50Mbps speed for both 5G internet plans for customers satisfaction. Both plans may have upload speed limits of 20Mbps.
Similarly, Vodafone charges $75 for 100Mbps download speed 5G unlimited internet plans. And it will cost $85 for a maximum speed 5G unlimited data plan, but the upper limit hasn't been mentioned. So it could be around 200Mbps download speed, and 20Mbps upload speed limits apply on Vodafone's Max 5G broadband plan.
If you compare the price for NBN vs 5G, both technologies offer services around $70 to $90 for higher-speed plans. You can get a 100Mbps NBN plan for approx. $80 from various ISP's. Similarly, Optus or Vodafone 5G Home Internet plans cost $75 for a 100Mbps plan. But the Max 5G speed plan cost about $90, where you can get a speed over 200Mbps and more reliability. So the price comparison between NBN and 5G, 5G home broadband sounds better than NBN. Especially where the old copper lines are part of the end-point connectivity for NBN technology such as FTTN.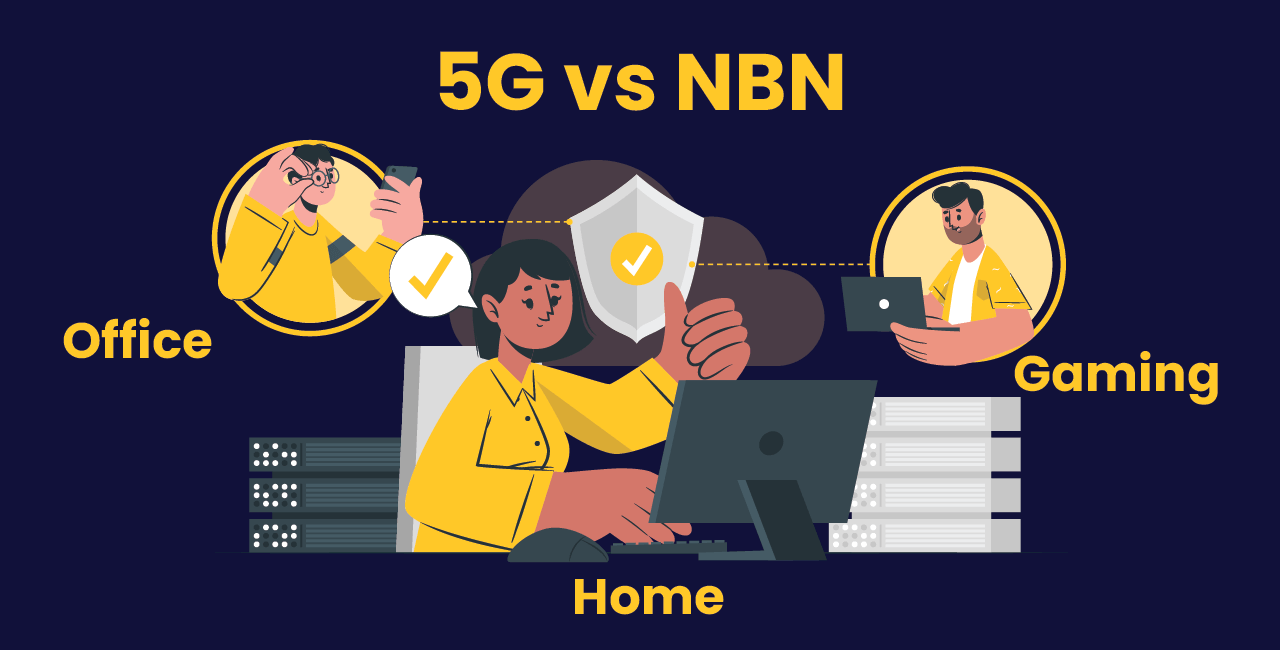 NBN vs 5G for Gaming Latency:
What internet connection type you should get for your gaming life is a tricky question. We know latency is the most killing factor in the online gaming community. But again, it depends on service availability factors the most for the selection of broadband connection.
5G Home Internet runs from cell phone towers with a solid backbone, so it's more reliable. It is designed to provide service to the customers with no or minimum downtime. But in Australia, 5G mobile broadband services are available in selected areas only, which could have most surrounding 5G users. So you may notice the average internet speed as per provider promises with mid to high latency. The latency could go anywhere between 15ms to 250ms for a 5G internet connection.
On the other hand, NBN latency stays between 0ms to 40ms and depends on the technology type. Over 80% of the time, FTTP connection latency remains at 1ms and is ideal for gaming. You will be lucky if you have the FTTP connection from the beginning. But if you are on the FTTN connection like most Australians, you may see latency anywhere between 6ms to 40ms. It also depends on how you connect to the internet, like Wi-Fi or Ethernet.
In short, if you have FTTP or better FTTN connectivity, it's best to go with NBN. But if you do not have reliable NBN connectivity in your area and 5G mobile broadband is available, go with 5G. Indeed, only limited people use the 5G mobile plans in Australia as it is not widely available yet. But you may see a massive jump in 5G users as the latest mobiles come with the 5G technology by default nowadays.
Will 5G Replace the NBN?
Australia is one of the first few countries that got the 5G technology implemented and working flawlessly. But there are a lot more miles to go to provide 5G services Australia wide. Also, a COVID hit hard Australia that postponed new 5G towers implementation and is still not there. So whoever falling into the 5G coverage area gets benefits from current service availability. Indeed, 5G home internet is a preferred service where it's feasible at an affordable cost.
Meanwhile, NBN covering 97% of the Australian population for internet needs. Also, a 4.5 billion dollars FTTP upgrade project is on the way. Even NBN almost finished with FTTN to FTTP upgrade for selected areas in every state. If you are one of the luckiest, you can check the service availability by November 2021 at NBN Check your Address page. The FTTP upgrade will make you eligible to have higher-speed plans like 250Mbps and 1Gbps.
In other words, fibre connection is capable of delivering multi-gigabit download and upload speed. It is reliable and providing low latency internet connectivity worldwide. So 5G internet seems far ahead of NBN at this moment, but despite the fact, 5G won't replace the NBN in future.
Final Thoughts:
NBN and 5G are the best options for all, depending on the service availability and reliability. While 5G is modern technology and can deliver up to 20Gbps speed, it is the preferred service type for some. But if you are not getting good 5G connectivity at your premise and constantly switching back to the 4G service, look for the NBN option. You may have a good copper line or FTTC or FTTP options available in your area. So that can deliver reliable high-speed internet at the best price tag.
NBN covers 97% of the population for their daily internet needs for homes and businesses. But 5G home internet is another solution that may help you stay connected constantly, whereas NBN dropouts. So 5G can beat the NBN now, but once the FTTP upgrade finish by 2023 as promised, it will lead the nation. Fibre to the Premises is the most reliable, affordable and low latency internet connection type.
5G and NBN both getting upgraded soon, and both will have better connectivity. In the war of 5G vs NBN, 5G will not take over the NBN for at least home and business users in the near future. Of course, 5G will lead the mobile networks until 6G technology becomes available.