Elon Musk recently tweeted about the Starlink exit beta phase in October 2021. So it is expected to have stable and better service by "SpaceX" Starlink. If everything goes alright, it will drastically change broadband services globally.
When will Starlink exit from the beta stage?
According to Elon's tweet, Starlink will leave the beta stage in October without clarifying the date. It could leave the beta phase from the beginning of October or Mid-October 2021.
Next month

— Elon Musk (@elonmusk) September 17, 2021
Based on the recent launch of SpaceX Gen 2 satellites, Starlink is ready to handle more bandwidth via laser beams. Gen 2 satellites will support the existing Gen 1 satellites, so fewer ground stations connectivity require. The data are moving from satellites to satellites in space and receivers at customers end. And data will pass through the ground station if a global data link is required.
The current state of Starlink satellites in orbit:
Currently, Starlink have 1700+ active satellites in orbit, which is serving about 100,000 customers worldwide. Starlink plan is to have 42,000 satellites in the low earth orbit to serve high-speed internet across the globe. But initially, they will launch about 12,000 satellites by 2027 to meet the fibre internet kind of speed.
The low earth orbit (LEO) satellites moving across the globe in the range of 340 and 614 kilometres. In comparison, other satellites are 36,000 kilometres away from earth that provides the current internet services. The distance is causing the delay of data transmission and resulting in low-speed internet services. So Starlink satellite internet service is far better than others worldwide.
What speed and latency to expect once Starlink leaving the beta stage?
Well, it depends on the whole route and the number of satellites Starlink will deploy sooner or later. Currently, Starlink promises 20ms to 40ms latency and 50Mbps to 150Mbps download speed on their website. And you can expect up to 40Mbps upload speed with Starlink satellite internet in the beta phase.
However, once Starlink exit the beta phase, it is expected to have 300Mbps of download speed by the end of 2021. And the ultimate goal of Starlink is to achieve the 1Gbps of downloads speed by the year 2027. Even many users in the United States recorded the speed between 250Mbps to 280Mbps recently as beta users. The new Gen 2 satellites seem the solution for high-speed internet as it transmits data via lasers. And space laser communication is 40% faster than current fibre technology.
Each Gen 2 satellite can transmit data up to 80Gbps, whereas Gen 1 satellite can transmit data up to 18Gbps. After the more Gen 2 satellites deployment, latency will go down around 10ms to 20ms. So you can have better video calls quality and low latency online gaming.
What other factors to consider when you are registering for the Starlink service?
If you are looking to get Starlink satellite internet service, you have to look for the only two factors the most. The first and most important is, service feasibility of Starlink in your area, and the second is local broadband service pricing.
If you have fibre internet available in your local area, better to go with a local broadband service provider. It will get you a better speed, reliability and affordable pricing. Indeed, fibre internet can connect at as low as 0ms latency so that you can experience better online gaming. But if you have an old copper line that leads to slow speed internet and constantly dropping, Starlink is the best choice.
Above all, Starlink faces significant delays due to the shortage of chips to manufacture the receiver antenna. Starlink is manufacturing only 5000 antennas (Known as Dishy) a week, and they have over 500,000 orders pending. The current wait time for receiving Starlink hardware is 6 months or more, as mentioned on the website. But SpaceX is ramping up the Starlink Home Kit hardware's manufacturing to accommodate the additional users.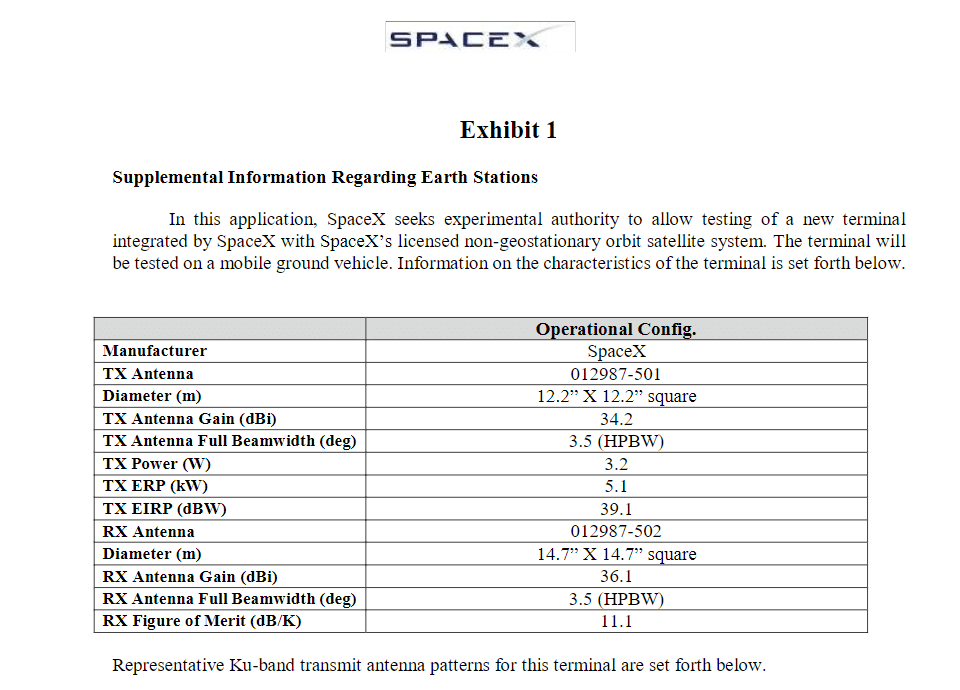 Image Source: FCC
Apart from Dishy, SpaceX has filed new ground antenna parameters to FCC. According to the filed data, the new ground receiver will have a square shape and two high gain antennas. The new antenna will have 34.2 dBi and 36.1 dBi gain power for transmit (TX) and receiving (RX), respectively. Starlink's new square antennas design will handle the high bandwidth and various weather conditions.
What possibilities will it open for Starlink satellite internet service once exit the beta stage?
A waiting list of 500,000 customer registration is proof of Starlink possibilities. It will change the rural internet needs and take it further to meet untouched end-points for internet requirements.
You will see Starlink service in various places in the future. In-flight internet, space satellite communication, and abandoned areas are some of them. Many people are excited to have Starlink Dishy above their caravan's roof and on the boats. So this new, improved satellite internet change the way people live in the future. Imagine the possibilities of the living middle of nowhere with an internet connection. You can run your online store, do blogging and make videos for YouTube monetization. Starlink satellite internet possibilities are endless in the cloud communication world.
Other companies that will provide satellite internet service soon:
Starlink is about to leave the beta phase and delivering the stable high-speed satellite internet service. So far, no other company can provide a similar service in any country for satellite internet. Jeff Bezos, a founder of Amazon, is working on a similar technology under "Blue Origin". But it may take few more years to build a satellite network for Blue Origin.
OneWeb is another company that deployed a few satellites in orbit. They have successfully tested the internet service somewhere in the North. But there is not much information available about their service availability and pricing. OneWeb is in the final deployment stage and able to deliver service by the end of Q4 2021. According to the website, the company will provide service to areas above 50deg North by the end of 2021. And full global coverage is expected by the end of 2022 for OneWeb satellite internet services. It is worth noting that it's a joint venture of AirBus and OneWeb.
Google was one of the first companies to test the satellite internet services under "Project Loon", which was started in 2011. The company tried service via internet-beaming balloons in Brazil and New Zealand around 2013. But they have announced the company shut down in January 2021.
Final Thoughts:
Satellite internet has always been a pain point for many around the world, especially for rural areas. But Starlink has tested its beta satellite internet service successfully in 14 countries. Now, a Starlink service is available in many countries, including Australia.
Leaving the beta phase for Starlink from October means fewer or no dropouts and high-speed internet. On the top, the new Gen 2 laser connectivity will make it more reliable and approaching higher internet speed. Starlink is also expanding its service area, but you may have to wait for 6 months or more to connect. Thanks to increased demand and global chip shortages that delaying hardware production.
Starlink is the best satellite internet service for rural and urban areas where local ISP's failing to deliver reliable service. The service will improve once Starlink exit the beta phase in October 2021.