We know how frustrating it is when you want to play online games and you see PS5 or PS4 DNS error. It may not connect to your network for online gaming because of various DNS server errors. Sometimes, there are simple solutions like rebooting your console that can help. Or you may need to configure the DNS manually to resolve the issues.
What DNS error message may you expect for your PlayStation 4 or 5?
When your PS5 or PS4 or PS3 facing DNS server errors, you may see various error messages on your screen. If you notice one of the below DNS error messages for your PlayStation, follow the guide to resolve it.
NW-31253-4
NW-31254-5
NW-31250-1
NW-31246-6
NW-31247-7
You may also see error messages like "DNS Server Errors" or "A DNS error has occurred" on your PS5 or PS4 console. So let's begin on how to fix the PS5 or PS4 DNS errors such as NW-31253-4 and NW-31254-5?
What is a DNS error on PS4 and PS5?
DNS (Domain Name System) is an IP mapping chronology for computers, smart devices and private networks. It's like a phone directory for servers and other services that connect the unique Domain names to related data end-points. For example, if you type "decoding.com.au" on the browser, it connects to the DNS server and resolves to the IP for the server. Then it will display the data from hosted files on the same server as a web page on your computer.
Similarly, when you try to connect your PS5 or PS4, it shows the error message for a misconfigured DNS server. The DNS errors also occur in case of ISP or PlayStation DNS server goes down. And when you face DNS server issues, you cannot connect to the website or apps. Recently, Facebook, Instagram and WhatsApp were offline for few hours due to similar DNS server errors.
DNS errors on PS4 or PS5 can also occur due to the network changes at ISP or your router end. So it's worth checking if your internet is working fine or not on other devices first. Also, unplug your console entirely for 5 minutes and restart. It could solve the DNS errors for PS4 and PS5.
How do I fix DNS error on PS4 or PS5?
If you ever face the DNS server errors like NW-31253-4 or NW-31254-5, configure the DNS settings manually. PS4 and PS5 can have a similar configuration to resolve the network DNS server errors.
Step 1: Open the Home Menu on your console and go to Settings.
Step 2: Navigate to the Network option and choose Set Up Internet Connection.
Step 3: Choose your preferred connection type from LAN or Wi-Fi.
Step 4: Select the Custom option.
Step 5: Select the IP Address Settings to Automatic.
Step 6: Select the DHCP Host Name option to Do Not Specify.
Step 7: Choose DNS Settings to Manual.
Step 8: Enter the Public DNS Servers IP in Primary and Secondary DNS Settings from the list below.
Google Public DNS Server IP Addresses (8.8.8.8 and 8.4.4.4)
OpenDNS Public DNS Server IP Addresses (208.67.222.222 and 208.67.220.220)
Cloudflare Public DNS Server IP Addresses (1.1.1.1 and 1.0.0.1)
Note: It is recommended to use one IP from each Public DNS Server for stability and better performance. So if one public DNS server goes down for any reason, it will continue to works as normal with another DNS server.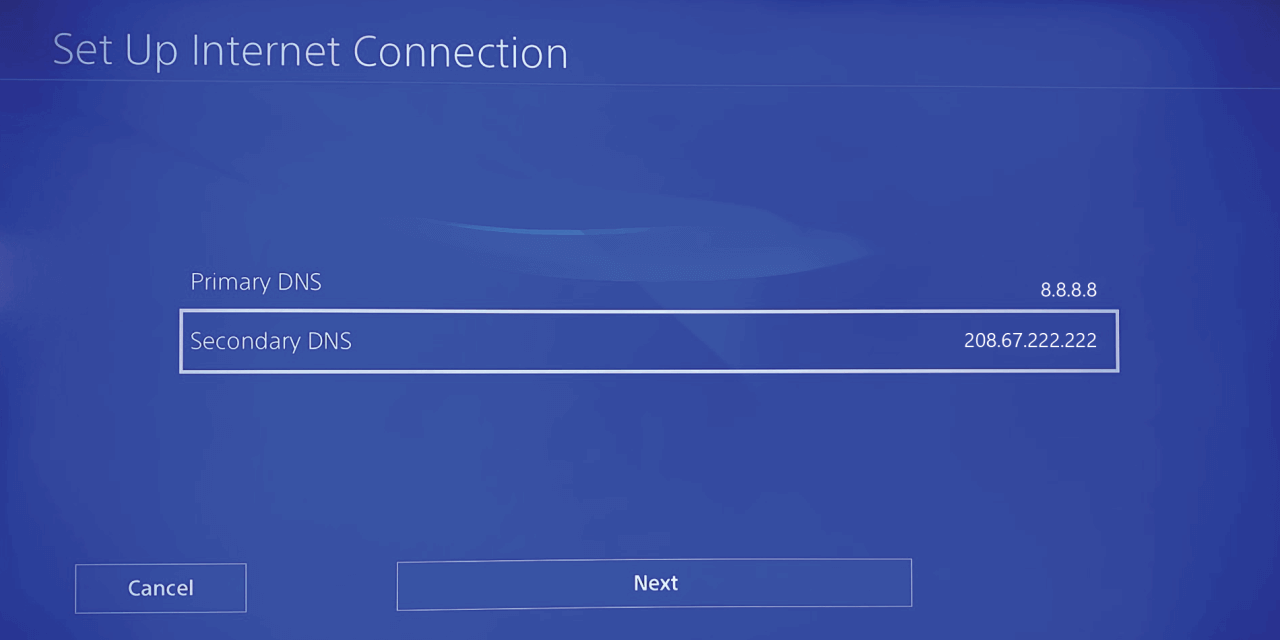 Step 9: Select Automatic in MTU settings.
Step 10: Choose Do Not Use in Proxy Server Settings.
Now go back to the network settings and test your connection. If you still facing the same DNS issues on your PS4 or PS5, you have to reset your network settings. Check the instructions below about how to reset PS4 or PS5 network settings!
How to factory reset the network and other settings on PS4?
If your DNS error issues not getting resolved by manual DNS configuration, follow the guide below. It will reset the network and other settings on your PS4 but not delete the game's data.
Go to the Settings.
Go to the Initialization.
Click on Restore Default Settings. (Please check all the information carefully)
Click on the Restore
The steps above will reset the network setting and remove the DNS errors for NW-31253-4, NW-31254-5, NW-31250-1 and more.
How can I fix the other related PS4 DNS server errors?
NW-33986-9: This error occurs due to the incorrect DNS configuration.  Proceed with the method above to set up DNS manually, and it will work fine if no further issues are detected.
NW-31251-2: This error occurs when having issues connecting to the Wi-Fi network. To fix this error, go to Settings > Network > Set Up Connection and add the correct network parameters.
CE-33986-9: This error indicates that PlayStation Network is down. It could be for maintenance or some other network-related issues. But please check your internet connection first by going to Settings > Network > Test Internet Connection.
Final Thoughts:
A DNS error occurs many times, and you notice it while visiting websites, playing online games or watching videos. It can stop you from your online activity and entertainment. But PS5 or PS4 or any gaming console DNS error can get resolved by manual DNS configuration. You can set DNS manually on your computer, mobile phone and gaming consoles.
The solution above will resolve the DNS server errors for PS4, PS5 and other PlayStation gaming consoles. If it doesn't get solved by manual DNS configuration, try to reset the network settings. Or contact PlayStation support if no solution is working for DNS server errors, including Pdanet PS4 DNS error.