The PlayStation 5 has revealed the specification back in march with some exciting features this new console will have. The release date is still far and won't be available until Q4 2020 as per the information shared by Sony.
Features at a Glance:
CPU: x86-64-AMD Ryzen Zen 2 | 8 cores | 3.5GHz (variable frequency)
GPU: RDNA 2 | 10.28 TFLOPs | 36 CUs at 2.23GHz (variable frequency)
Memory: GDDR6 16GB
Storage: 825GB SSD | 5.5GB/s (uncompressed) |8-9GB/s (compressed)
Expandable Storage: NVMe SSD slot
Optical Drive: 4K Blu-Ray Drive
Video: 4K @ 120Hz (8K @ 120Hz)
Audio: Tempest 3D Audio
Release Date: Holiday 2020 (Possibly November 2020)
Price: Approx. $749 AUD | $499 USD
What are the PlayStation 5 CPU and GPU Specs?
The upcoming PlayStation 5 (PS5) will have a custom 8 cores AMD Ryzen Zen 2 CPU with clocked at 3.5GHz variable frequency. It will also feature a custom AMD's RDNA 2 GPU that promises 10.28 teraflops using 36 compute units clocked at 2.23GHz variable frequency.
The core CPU and GPU specs seem a lot but think about advance and pro-gaming. It does require lots of computing power for high-end graphics and multi-player games. A console such as PS5 will make it happen for newly introduced games by Ubisoft at Xbox Series X premier last month.
What are the Memory, Storage and Drive specs for PlayStation 5?
PS5 will come with the 16GB GDDR6 RAM to meet the gamers expectation with high-frequency CPU and GPU specifications. It will also have the 825GB SSD storage that can read at 5.5GB/s for uncompressed data and 8-9GB/s for compressed data. The high speed of read/write data will help to boost the loading speed for games and new "Instant Demos" features.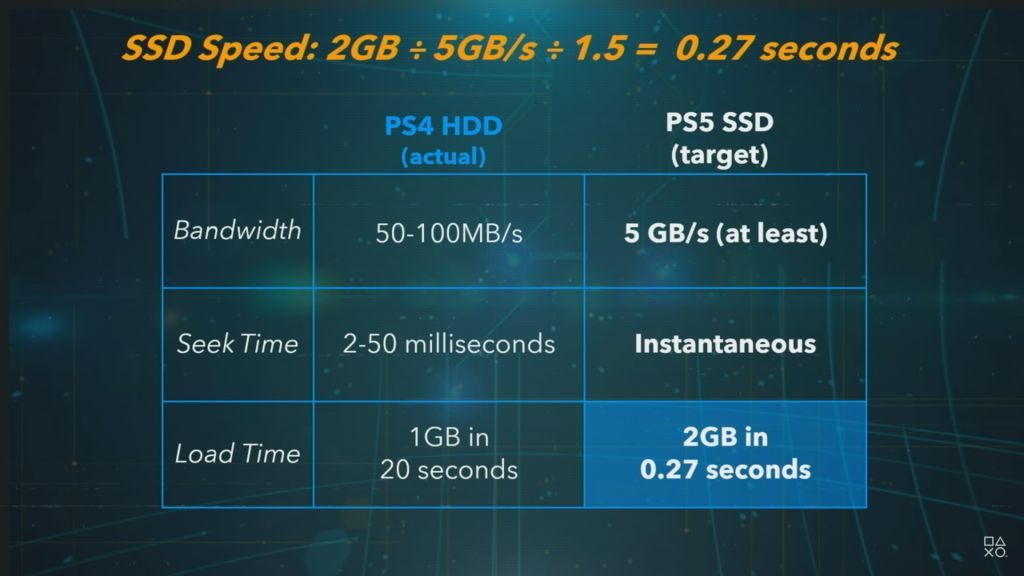 See some speed comparison – Image Credit: PlayStation/YouTube.
Apart from the internal 825GB fast SSD storage, PlayStation 5 will have an expandable NVMe SSD slot. So if you have lots of high-end games on your console, you can use the expandable storage to store some data.
The PS5 console will have 4K Blu-Ray drive loaded for games, movies and entertainment purpose. So you can enjoy the 4K videos while you are not playing a game. It sounds like a winning deal.
PS5 Audio and Video Specifications:
PlayStation 5 going to have Tempest 3D Audio engine which claimed to support hundreds of in-game sounds. This new 3D audio engine will recreate the sound and play it separately to boost players sense of presence. PS5 3D audio feature will support Dolby Atmos and can connect more than 34 speakers for precious sound quality.
The console loaded with the 4K Blu-Ray player for high-quality video output. PS5 also promised to support 8K gaming at 120Hz with powerful AMD Ryzen Zen 2 CPU and RDNA 2 GPU. These powerful specs are capable of high bandwidth transfer rate to provide gamers with the best gaming experience.
PlayStation 5 DualSense Controller Features:

Image Credit: PlayStation
The upcoming PS5 have a plan to launch with the new DualSense game controller. It will come in black and white colour, but another snap on the PlayStation website seems to have a black colour controller as well.
The new DualSense controller will come with the in-built microphone to communicate with other gamers during the gameplay. But it won't have share button like PS4 controller. The effect of DualSense controller will help players to feel surrounding effect along with the 3D audio.
The price for DualSense controller will be approx. $110 AUD or $70 USD. It's going to come out with the PS5 console, so you have to wait until the launch of the new PS5 gaming console.
What is the "Instant Demos" feature of PS5?
Sony has announced the killer feature of PlayStation 5 is "Instant Demos" which you cannot get in upcoming Xbox Series X.
With this new "Instant Demos" features, the user can browse and try the game instantly without downloading the full version. It will be playable within seconds before you decide to buy a full game. This killer feature will make PS5 an outstanding choice for the game enthusiast.
PS5 Release Date and Price:
PlayStation 5 is set to launch in "Holiday 2020" along with the upcoming Xbox Series X by Microsoft. So we can expect it around November 2020 as per release date information for Xbox Series X.
PS4 price was AUD $599 or USD $399 at the launch and people expecting to have a similar price tag for PS5. But recently Sony revealed that it wouldn't be cheap for such a great and futuristic gaming console. So you can expect to have a price tag of AUD $749 or USD $ 499 for new PlayStation 5 which is similar to the Xbox Series X.
Conclusion:
PlayStation 5 sounds promising upcoming gaming console with high-end hardware specs and killer features. Also, the Tempest 3D Audio engine and DualSense controller will get gamers deep into the gaming atmosphere to enjoy every moment of gameplay. So if you are new to gaming or you are a pro-gamer, PS5 sounds the right gaming console for everyone.
Wait till Holiday this year and make your choice to get either PS5 or Xbox Series X gaming console. Both will have new games developed by leading game developers that will amaze you with the graphics and sound.