Starlink made a headline worldwide with the launch of 60 low orbit satellites to provide the low latency internet globally. It's another venture by Elon Musk that provides internet service in the USA and now started to take orders in Australia early this year. Starlink is currently in the beta phase but aims to provide stable internet service globally by mid to late 2021.
What is the Starlink Beta service, and how will it affect Australian consumers?
The beta phase is the technical terms representing the initial stage of software or service is available with some glitches and bugs. It doesn't mean that you won't be able to use the service, but you may feel some hiccups during the use.
"During beta, users can expect to see data speeds vary from 50Mb/s to 150Mb/s and latency from 20ms to 40ms in most locations over the next several months as we enhance the Starlink system. There will also be brief periods of no connectivity at all."
Starlink website mentions that the speed may vary during the beta phase and a period of no connectivity. So basically, the internet may disconnect intermediately, or you can see fluctuation in upload/download speed. But Starlink expecting to deliver download speed between 50Mbps to 150Mbps and upload speed up to 40Mbps. Also, the expected latency for Starlink internet service defined between 20ms to 40ms which sound pretty reasonable. It could matter for some low latency users like online gamers. But if you think of NBN, you are getting about 25ms latency for FTTN connection type, so it's not bad for satellite internet like Starlink.
Who will get the benefit of Starlink internet service in Australia?
We could say the majority of people in Australia who still are on FTTN or old copper connections. Specially the rural areas where high-end internet infrastructure is not available, and the average internet speed is 3Mbps. If you are one of those, Starlink will amaze you with the speed and connectivity.
Unfortunately, the NBN upgrade finished in most parts of Australia. Still, the combination of old copper lines and fibre connection is not efficient enough to provide adequate speed in many areas. Fibre to the Node is the connection type in many areas of Metro Cities that delivers an average speed of 25Mbps. If you fall in the FTTN area, Starlink would be the best option for you to look for high-speed internet. Many might need a good internet speed as COVID-19 changed the scenario for the whole world, and work from home became a new normal. So Starlink can help many of those unable to get a good internet connection, even it's 2021.
How's Starlink better than Sky Muster?
Sky Muster is the satellite internet service for remote areas where internet connectivity is not available by cable. If you look at the Sky Muster Plans, you can understand why Starlink is far better.  Sky Muster provides 12Mbps to 25Mbps speed with data limitations and shaped to 128kbps to 2048kbps once data limits reached. Think of shaped speed, and I'm sure you remember the dial-up days as few GB of data is not enough nowadays. Even many rural areas are getting the speed up to only 3Mbps.
Starlink is the solution for these remote areas where internet speed is not that great. Many will appreciate switching from 3Mbps to a 50Mbps internet connection. It's like a win-win situation for both client and service provider.
Apart from Sky Muster, some areas may have Wireless internet in Australia, but speed might be the issue. So, Starlink would solve lots of these problems in remote or rural areas.
Why is the Starlink satellite internet faster than Sky Muster satellite internet service?
Sky Muster is the satellite internet service in Australia where limited satellites are moving about 36,000kms high from the ground. But Starlink satellites move across the globe at low orbit, which is the reason for low latency high-speed internet. Starlink satellites moving around the world at 550kms height from the ground, and Elon Musk planned to launch a total of 42,000 satellites.
The rule is simple; data travel distance is less due to the low earth orbit satellites. So it can take less time for data to travel from one end-point to another, and you get low latency high-speed internet. Once few more satellites added to the low earth orbit by Starlink, you will notice the service stability.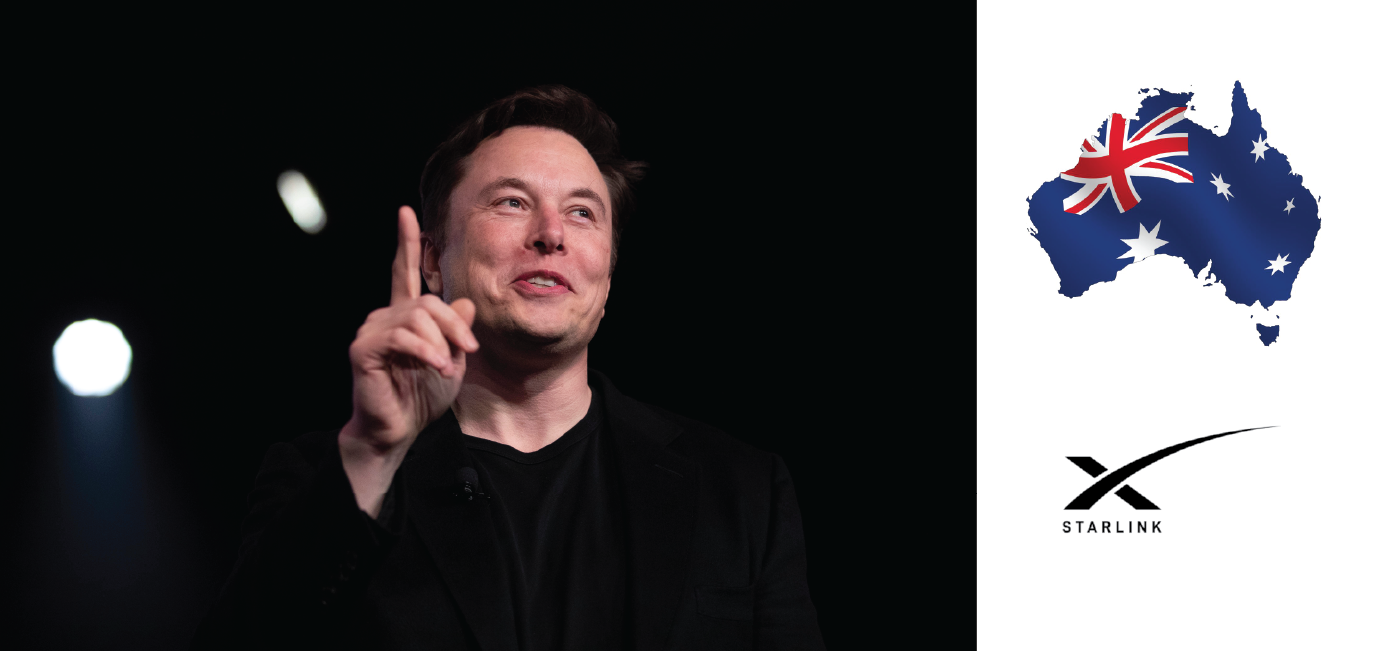 How about the cost comparison of Starlink in Australia?
As we mentioned earlier, if you are in remote areas with Sky Muster service, it would cost you about $34.95 to $69.95 for residential users. Also, the plans have data limitations which are another drawback of such a service.
Indeed, Starlink will cost $139/month in Australia with unlimited data plans. You also have to pay for hardware that will cost $709 plus a $100 shipping fee to Australia. It sounds expensive than a 50Mbps NBN plan that would cost approx $69 a month. But if you are not getting enough speed in your area, Starlink is worth every penny.
Recently, one of my friends mentioned that he's getting about 10Mbps speed on an FTTN connection in Capital City. He even tried to switch a few providers, but no improvement in speed due to the old copper line is the end-point of service. So he ordered the Starlink as he's working from home and needs better internet connectivity.
From what date Australians will enjoy the Starlink service?
Well, there is no indication of the date for the Starlink service going live in Australia. As per the Starlink website, expected service delivery starts between mid to late 2021. But according to Tech AU, Starlink has begun the hardware deliveries, so it seems it's already there. But there are no details of what kind of speed and latency Australian will get from Starlink internet.
Recently, Elon Musk announced that speed would go up to 300Mbps and latency will drop to 20ms via Twitter. Once Starlink opens this speed limit, it may take over on an NBN connection.
Speed will double to ~300Mb/s & latency will drop to ~20ms later this year

— Elon Musk (@elonmusk) February 22, 2021
On the other hand, NBN is trying to get higher speed customers under HFC and Fibre connections. Currently, NBN offering 250/25, 1000/50 and some other custom plans depend on the NBN provider. NBN also announced the free fibre upgrade for the FTTN connection and may finish by 2023. But the catch is, you have to upgrade your NBN plan to a higher speed, like 250Mbps.
Can you move with Starlink dish and connect to the internet service in Australia?
According to the Starlink FAQ's, it is impossible to move with the dish and connect from a different location than the registered service address. The hardware constrained by geometry and associated with a single assigned cell which referred to the designated area.
Anyway, Tech with Shae (YouTube Channel) tested Starlink connectivity in the Mountain area, 22kms+ away from home in Canada, and it did work.  The speed test result was varying but achieved about 150Mbps download and 20Mbps upload speed. In the future, you might take it with you for camping and get better internet once Starlink launches a few more satellites.
What does include in the Starlink kit?
Starlink kit has everything you need for internet connectivity. It comes with Starlink Dish, Tripod to mount dish, Heavy-Duty power supply, Long cable and Wi-Fi Router.
The mounting tripod is for ground setup, but you can order roof mounts at an additional cost from the Starlink website. Connecting to Starlink satellite internet service is pretty simple. You can download the Android or iOS app and go through the self-guided simple steps to connect your Starlink dish with a satellite. It will take only a few minutes, and you will be up and running with Starlink satellite internet. Keep in mind that if you are using the ground-mounted tripod, at least 100 degrees clear field view require and a minimum of 25 degrees for tilted dish position.
Starlink dish design works with heavy rain, cold and warm weather between -30 to +40 degree Celsius. The dish has "snow melting ability" as it heat ups once you connect it with the 90w power supply.
Final Thoughts:
Starlink will be the best internet solution for rural or remote areas and the Metro Cities where NBN is still unable to provide sufficient broadband speed. Remote work is a new routine nowadays, and the majority of people need good internet speed to work efficiently from home. NBN is trying to upgrade its FTTN network, but we haven't heard anything about rural areas, so that Starlink may become a favourite of many in those areas.
Once the NBN finish with fibre upgrade, people may prefer it due to the cost and reliability of network. Fibre infrastructure means to provide the fastest speed and low latency. In general, fibre connections goes as low as 0ms latency and delivers multi-gig internet speed. Even many providers in Australia offering 1000Mbps download and 50Mbps upload residential plans. But if you are looking for an enterprise plan, you may get the symmetrical speed of 1Gbps or more, depends on the service provider.
Let's see how it goes for Starlink in Australia and speed people will get from satellite internet service by SpaceX? Many tech giants like Amazon and Google tried for a similar concept, but they haven't had luck yet. But Starlink started to provide satellite internet service in many countries and currently have about 10,000 active users.
In short, satellite internet seems the future of broadband service, but the key points are stability and high-speed internet delivery.