Apple has just released the most awaited iPhone 12 without wall charger and headphone included in the standard package. The idea is to reduce the carbon emission, but it had left many with the disappointment of not having a charger and headphone. These are the most common expectations of users when they are buying a new Smartphone.
"We are removing these items from the iPhone box, which reduces carbon emissions and avoids the mining and use of precious materials", a spoke person of Apple said.
"Removing these also means a smaller, lighter iPhone box. We can fit up 70 per cent more products on a shipping pallet, reducing carbon emissions in our global logistics chain."
What's included in Apple iPhone 12 standard packages?
Apple announced to have a Lightning to USB-C Type cable instead of Lightning to USB-A type cable in the box. The changes in charging cable do not only help with fast charging, but it will also support the high-speed data transfer rate.
Many people expected to have fast USB-C type charging port instead of Lightning port though with new iPhone 12. But Apple has decided to not to switch with the standard universal USB-C type charging and data transfer port yet. USB Type C port is capable of charging your phone with 18W, 30W and even 65W chargers nowadays. And USB-C 3.1 can transfer the data at 10Gbps speed which is suitable for faster sync rate.
Folks, please do not disappoint as Lightning to USB-C charging cable can handle the fast charging too. The wireless charging introduced as a "MagSafe" can charge your iPhone 12 fast as twice of average charging speed. But it would help if you have an Apple approved wireless charger with a maximum power input of 15W. There are charging accessories options available at the Apple Store. And many third-party marketplaces selling iPhone 12 accessories online at a better price.
Why Lightning to USB-C cable for direct or MagSafe wireless charging?
Because USB-C is the commonly used port for many Android phones nowadays and Apple using it to charge some models of MacBook too. So it will be easy for users to connect USB-C port to MacBook and charge iPhone 12 while they are working. The USB-C Port also allows user to communicate with MacBook and sync data in-between at high-speed transfer rate.
The "MagSafe" technology developed for accuracy and easiness of wireless charging. Sometimes, people forget to place their phones correctly on the wireless charger when they are in a rush. So MagSafe will give them an indication of the right placement of phone on the wireless charger. It will align the correct position of the wireless charging coil and lock the phone with a magnet. The magnet lock will ensure that the phone doesn't move and charge it efficiently.
Most of the previous models wall chargers will work with the new iPhone 12. But iPhone 11 charger will be the best if you direct charge as they introduced first as 18W fast charging technology for Apple iPhone. If you like to use your old wall charger that has USB-A type port, you may need USB-A Male to USB-C Female adapter to charge your new iPhone 12 with included charging cable. Or Apple is selling 20W or higher capacity fast chargers separately if you are thinking to get a genuine one.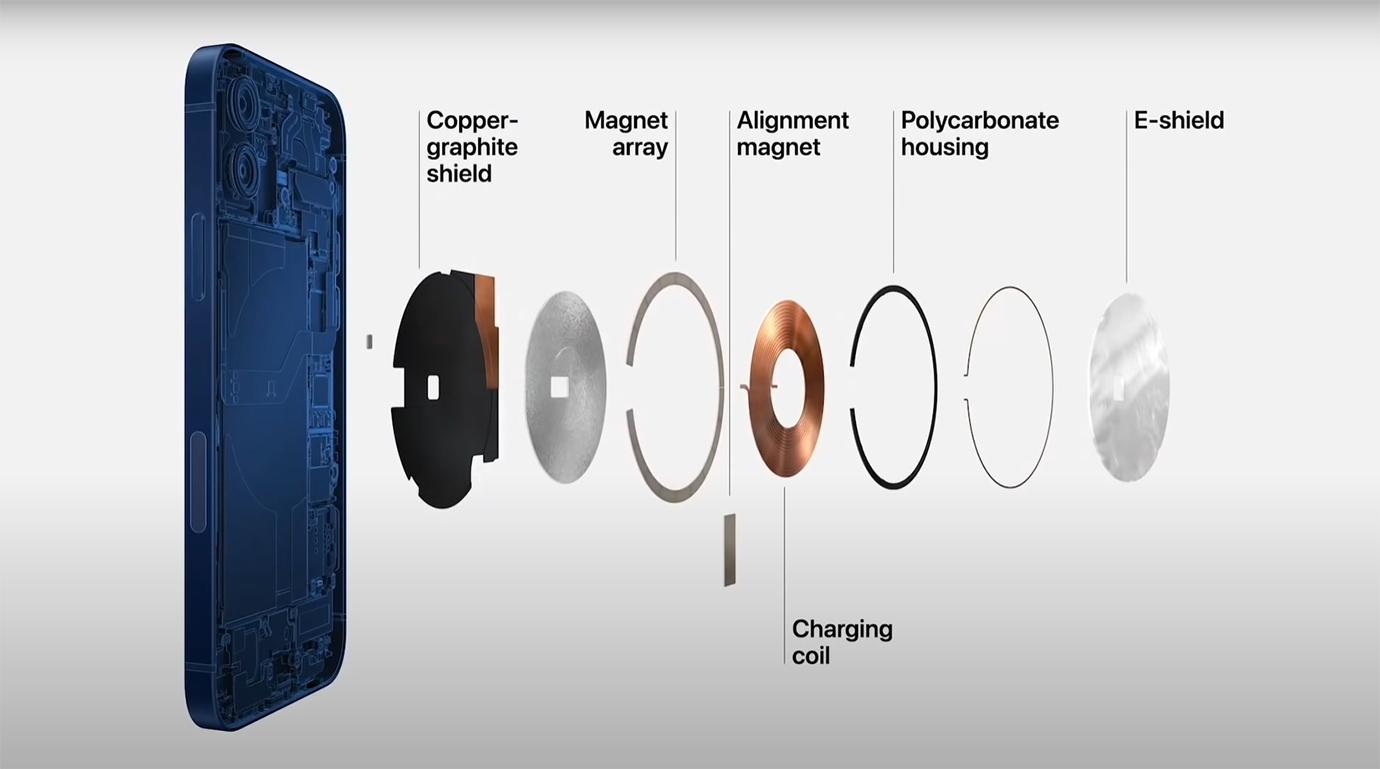 Image Credit: Apple
Does iPhone 12 wireless charger work through the phone case?
Well, Apple has an iPhone 12 case made for MagSafe wireless charger. Yes, of course, it's expensive, but you can find better iPhone 12 cases online that does support the MagSafe wireless charging. Because most of the wireless charging accessories support the charging for 5mm to 10mm thickness phone cases, but please choose it carefully. Apple recommends up to 7.5W Qi wireless charger if you are purchasing it externally.
Why Apple removed headphones from iPhone 12 standard package?
There are millions of headphones lying around the world, and most peoples already own one. So Apple took steps to exclude headphones from new iPhone 12 box to support reducing global carbon emission.
I get it.

They're trying to push everyone to use Bluetooth headphones (AirPods or Beats) and wireless chargers.

However, not everyone is up to speed. Charging hundreds of dollars for a phone and can't even include the charger. 😩

iPhone users are loyal! https://t.co/AItxgJNQx5

— Sydney Simone (@SydneySimone1) October 13, 2020
After the launch of iPhone 12, Twitter flooded with many comments, including "Apple's trying to push AirPods or Beats Bluetooth Headphones". Apple fans have various opinions about the exclusion of standard accessories. And that is very much every phone user expect when spending hundreds of dollar on the new phone. But iPhone 12 impressive specs may satisfy the Apple fans.
Damn, if removing the charger from the box has such a massive environmental impact, imagine the environmental impact of SIMPLY NOT BUYING A NEW IPHONE

— Stan Schroeder (@franticnews) October 13, 2020
Conclusion:
Apple believes that the step they took to remove iPhone 12 charger and headphone will have a significant impact on carbon emission. According to Apple's research, it will reduce the 2 million metric tons of carbon emission annually. It's a considerable number to protect environment globally.
As per Apple, most of the users have the one or another charger and headphone available so it won't affect much to iPhone users. But yes, many are disappointed with not having USB-C port for charging. So, they can use one of the commonly available phone chargers in the market today. Some may need to get a new wall charger if they are selling their old iPhone with accessories.
The carbon emission is a global issue, and many organisations taking similar steps to reduce the effect of carbon emission. But sometimes it's hard to decide if the action they have taken will make people happy or leave with disappointment. Apple may re-think over the decision of removing charger and headphone in future if they see its a much-needed requirement of phone buyers. But for now, Apple is not including the wall charger or headphone with new iPhone 12 standard package.