The new upcoming iPhone 12 leaks reveal the information about specs, features, design and pricing.
Design: New slim design
Model: Four variants
Display Size: 5.4", 6.1" and 6.7" OLED display
Processor: A14 Chip
RAM: 4 GB & 6 GB
Storage: 64 GB, 256 GB, 512 GB (maybe 128 GB)
Camera: Triple Lens Camera
Connectivity: 5G
Price range: AUD $1199 to $1899
Colour: Black, Grey, Midnight Green (maybe Navy Blue)
What's new in the upcoming iPhone 12?
Apple is waiting to release the new iPhone 12 in September 2020 but many rumours out there about the design, specs and features. The new iPhone will have 5.4 inches to 6.7 inch OLED display in four different variants.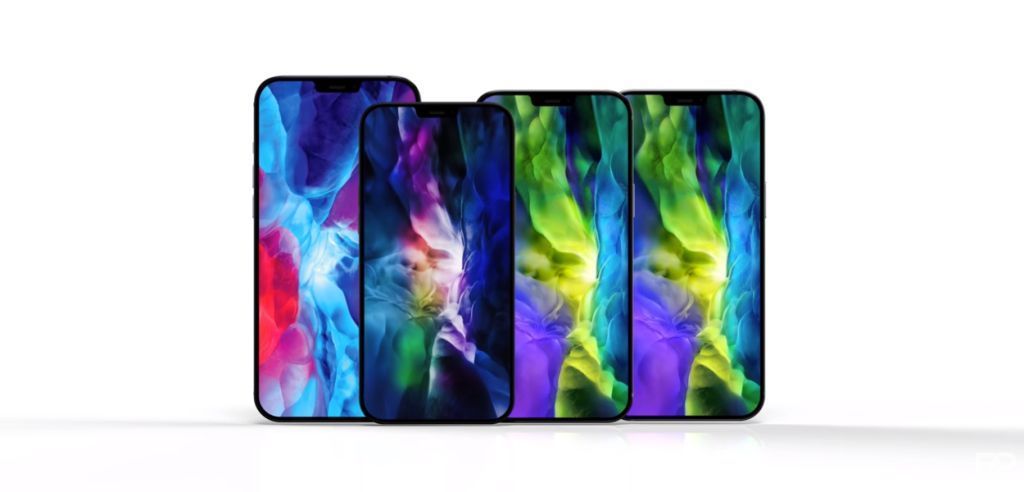 Image credit : EverythingApplePro – YouTube
Display:
The 5.4 inches model will be the smallest screen variant after iPhone 8, and 6.7″ screen size will be the biggest in Apple production so far. They all have the OLED display and will have a new slim design. It may name 'iPhone 12 Pro' and 'iPhone 12 Pro Max' for two of its premium variants. All the options will have 5G connectivity to meet the high-speed cellular services.
Camera:
Apple iPhone 12 rumoured to have the dual-lens camera for low end 5.4″ and 6.1 inch variant with a low price tag. And high-end version going to equipped with a triple-lens 3D camera which will make it little expensive.
A model with the rear triple-lens 3D camera may use a laser to calculate the depth information for objects and improves the AR functionality.  The 3D camera will help to enhance photos and video recording qualities too. That will also have TrueDepth front camera to reduce the top-notch size and improved screen to bezel ration.
We have a detailed article about Samsung Galaxy S30 Camera Specs and other information that might interest you.
Processor (Chipset):
New slim iPhone 12 designs may have latest 5 nanometer A14 chipset manufactured by TSMC. This smaller chipset will improve the battery performance with thermal management features and will have faster-processing speed.
RAM and Storage:
The new iPhone 12 low price models of 5.4″ and 6.1″ screen may come with 4 GB RAM, and two premium models may have 6 GB RAM. All four models will have a storage size of 64 GB, 256 GB, 512 GB and possibly 128 GB. Leaks found no proof of having any expandable storage as per Apple's legacy.
Connectivity:
The time has changed and everyone wants the fastest speed now on their mobile phones. Every primary carrier has improved its network and providing 5G connectivity in prime cities. And so, Apple will have 5G connectivity in all four models to stay competitive and to meet the requirements of next-generation mobile network connectivity.
Price and Colour:
As per the current price trend, every new device from Apple comes with a slightly increased cost, and that may be the case this time as well. Leaks of iPhone 12 rumoured to start from $1199 to $1899 (AUD), depends on the model you like to purchase. You might want to get it from carrier providers which will have monthly cost anywhere between $60 to $150.
Apple this time may introduce completely new Navy Blue variant apart from their standard Black, Grey, Rose Gold, White and lastly added Midnight-Green colour. There will be no surprise if you see a few more colours in iPhone 12 similarly to iPhone 11 models.
Other rumours for Apple iPhone 12:
Rumours suggest that it will have an ultrasonic fingerprint sensor and USB-C port, but it seems Apple decided to use that technology for the next iPhone model which may come out in 2021.
Some leaks also show that the next iPhone will not have Lightning Port either. It will work with entirely wireless charging and audio transmissions for music as well but seems no phone have such a concept so far. So there are higher chances to have traditional Lightning Port in the next iPhone.
Apple could ship new iPhone 12 with iOS 14 as they may finish testing software by June 2020.
Conclusion:
These are just the rumoured information but from reliable sources, so it most likely to have the similar specifications and features of the upcoming iPhone 12. Let see what is coming out in September 2020 at Apple iPhone 12 launches.