The Apple Watch Series 6 is the new upcoming model in wearable fitness devices market. It is rumoured to launch along with the next Apple's iPhone 12 this year. Apple seems to get some core features update that will help to improve health by fitness tracking utilities.
Features at a Glance:
Sleep Tracking
Blood Oxygen Monitoring
Stress and Panic Attack Tracking
Kids Mode
Touch ID
Watch Face Sharing and Tachymeter
Water Resistant Design
Improved Battery Life
WatchOS 7
Apple Watch Series 6 Features:
Sleep Tracking:
Apple is currently supporting multiple third-party apps for sleep tracking, which seems core missing part in new generation smartwatches. But Apple was working for native sleep tracking app and rumoured to have it in the new Apple Watch Series 6 edition. The sleep tacking will help to improve the health of users, along with some other advance fitness tracking features. But most of the people charging their Apple Watch over the night so not sure how useful it will be to have a sleep tracking feature?
Blood Oxygen Monitoring:
It is rumoured to have SpO2 monitoring feature in WatchOS 7 which will be the OS for Series 6 watch by Apple. This feature will help users to measure the saturation level of the blood oxygen. And it will notify the person to take it easy if it drops below the recommended oxygen level in blood.
Stress and Panic Attack Tracking:
The new Apple Watch Series 6 may have a stress and panic attack tracking feature which will help to stay calm before you notice it. It may notify the emergency services or family members if a person is facing hypertension or other kinds of panic attacks. They might use the heart rate and fall detection to track the anxiety attack. And blood oxygen monitoring feature seems to support for measuring a stress level and could save a life.
Apple Watch Series 6 Kids Mode Feature: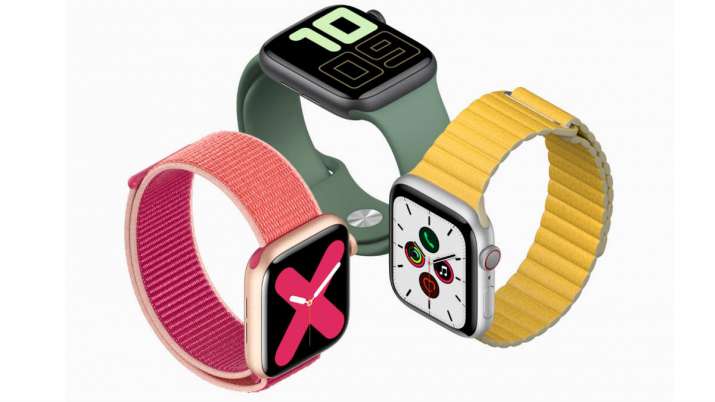 Image Credit: Apple (Series 5)
Apple is setting up a new level of privacy and security with Kids Mode. They might have a separate model for kids watch but possibly allow to set up without an iPhone. Parents will set watch up for kids on their device with individual Apple ID and secure usability. This new feature will also help to provide specific access to kids like trusted contacts and certain types of music. The Kids Mode will have a real-time location tracking feature via LTE network coverage. This feature will improve the kids safety, and it may overwhelm the GPS tracking watch market. This feature is known as SchoolTime and part of the upcoming WatchOS 7.
Apple Watch Touch ID:
Some information reveals to have a Touch ID on upcoming Apple watch, but it could be the feature for Series 7 watch. Or Apple might surprise everyone with Face ID feature in Series 7 watch and skip the Touch ID feature for the newer model. There are possibilities to have On-Screen Touch Sensor as a user-friendliness security feature.
Watch Face Sharing and Tachymeter:
The Apple Watch has a range of customizable watch faces to choose along with third-party watch face developers. So Apple is getting the Watch Face sharing option over the AirDrop as per information of features available in iOS 14 and WtachOS 7. It will also have a family photos album sharing to create a Watch Face so everyone in the family can see it on the watch.
The watch face of Apple will have a Tachymeter feature around the dial to use as a stopwatch. And Apple will add Analog style Tachymeter to measure the speed and distance like other Chronograph watches.
Water Resistant Design:
The upcoming Apple Watch Series 6 rumoured to have a better waterproofing which will help to water track water sports. This feature may help to improve the score during the swimming or diving training via some third-party training apps integration.
Some other rumours reveal the camera feature on the Apple Watch in future, which can get better photos or videos. It will be an excellent option for scuba divers and water sports people if they combine the camera feature along with the water-resistant feature. The current models are water-resistant up to 50 meters so see what we get for Series 6 model.
Improved Battery Life for Apple Watch Series 6:
The Apple Watch Series 6 is working on native Sleep Tracking app so that battery would be the critical part.  Though battery always been the problem for Apple Watch and only last for the day. So if Apple is adding more features like blood oxygen monitoring and panic attack tracking, they need to improve the battery life. Apple might get the bigger battery or improve the OS to extend the battery life.
There are some other features like an always-on screen for the clock may consume the battery. But they will have an auto-dim display feature that might help to improve the battery life as well.
Other rumoured news about Apple Watch Series 6:
Optical Sensor: The Apple Watch Series 6 could get the optical sensor as per discovered patent by "Patently Apple". A new feature will eliminate the need of rotating round button and would fit with the watch bezel.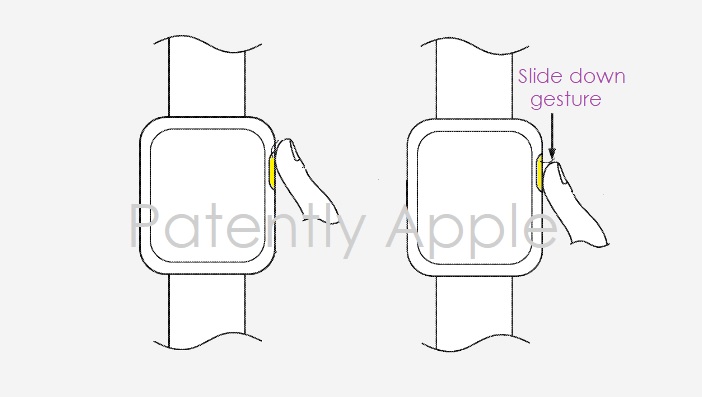 Image Credit: Patently Apple
Circular Design: Many rumours describes to have a circular design for a new Apple Watch model but could be not with Series 6 model. Apple Watch is known for a square rounded model so they might not make circular design for the upcoming watch model.
Better Syncing: The new Apple Watch may solve the sync issue like music or podcast sync. It has been fiddlier to sync music for most of the Apple Watch models so it will be great to have improved sync feature for the new series model.
Apple Watch Series 6 Price and Release Date:
Apple announcing new devices during September every year and seems they keep the continuity for their upcoming watch. They are also announcing the iPhone 12 during this holiday, so there are chances to launch both Apple Watch Series 6 and iPhone 12 at the same time. We have a detailed article about Apple iPhone 12 Specs, Features and Pricing on our blog page.
The new Apple Watch Series 6 seems to have a similar price as Series 5 watches. Apple hasn't changed it much for several years so predicted to have the $649 (AUD) or $399 (USD) for GPS variants and $799 (AUD) or $499 (USD) for GPS + Cellular variants of Series 6 watches.
Conclusion:
An upcoming Apple Watch Series 6 would have an exciting feature like Sleep Tracking, Panic Attack Tracking, Blood Oxygen Monitoring which will be helpful for health-oriented people. It will also have better waterproofing to please water sports lovers.
Apple is also making some design changes to make watch slimmer and improving battery life. And the Kids Mode feature will help parents to track kids location in real-time. Also, allow contacting trusted people to kids in an emergency.
The rumours for Apple Watch Series 6 defines the lots of core changes in design and features. It is the most needed functions in the current market trend for fitness tracking and smartwatches. And these new improvements will fulfil the gap between some featured rich wearables like Samsung, Fitbit and Garmin fitness trackers.