Apple has released the latest update of iOS 14 and watchOS 7 in mid-September. But this new update became a pain for lots of users as it has significant iPhone battery drain issue along with the Apple Watch. Many users posted on Twitter about the battery draining issue as well as missing health data.
🔋iOS 14 battery drain issues?
⌚️Do you have an Apple Watch paired w/ your iPhone?
📱It may require resetting BOTH, says Apple.
☁️Backup to iCloud first!

— Matt Swider (@mattswider) October 1, 2020
The issues with latest iOS 14 and watchOS 7 update dragged many users with broken fitness apps that refused to open. Many users also complained about missing routes in apps as well, thanks to iOS 14 an watchOS 7 update bugs.
What causes the iPhone battery drain issue after the new iOS 14 and watchOS 7 updates?
After iPhone and Apple Watch updated with the latest firmware iOS 14 and watchOS 7 bug, mainly battery and fitness data has been affected. But if you noticed anything else as per Apple's Support article, there is a fix suggested on the same post. Apple recommends some methods to fix if you are experiencing two or more issues listed below as per their guideline.
Your workout route maps are missing in the Fitness app on iPhone for previous GPS-enabled workouts from your Apple Watch.
The Activity, Heart Rate, or other health-related apps fail to launch or load data on your Apple Watch.
The Fitness app or Health app fails to launch or load data on your iPhone.
The Health app or Fitness app is reporting an inaccurate amount of data storage on your iPhone.
The Activity app is reporting an inaccurate amount of data storage on your Apple Watch.
Your environmental sound levels data or headphone audio levels data from Apple Watch is missing in the Health app on iPhone.
Increased battery drain on your iPhone or Apple Watch.
Please use Apple's guideline to fix the battery drainage problem and missing fitness data issue mentioned in the support article.
How to fix Apple Watch and iPhone battery drain issue caused by iOS 14 or watchOS7 update?
As per Apple's recommended method to fix battery drain issue on iPhone or iWatch, you have to follow some simple steps. But be careful as this requires you to factory reset the iPhone and iWatch.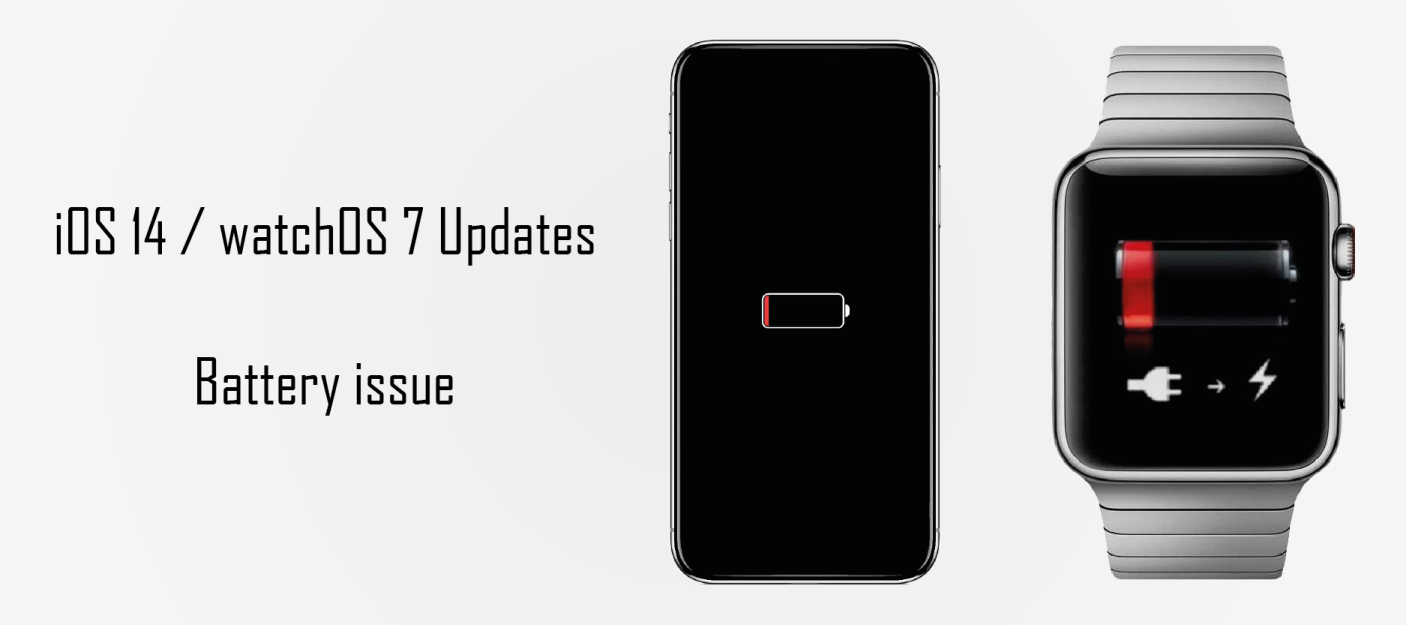 Apple's recommended steps:
Step 1:  Unpair your Apple Watch from your iPhone.
Open the Watch app on your iPhone.
Tap on My Watch tab, and then tap on All Watches.
Tap on the info button next to the watch you want to unpair.
Tap on unpair Apple watch.
Once you unpair the Apple watch, it will create the latest backup of your watch data and erase it from Apple Watch.
NOTE: Make sure watch is connected to your iPhone while you are unpairing so it can create the latest backup on your iPhone.
Step 2: Verify the iCloud backup settings and create the latest backup of your data.
Open the Settings app.
Tap on iCloud.
Check if Health is on, or turn it on.
Tap on iCloud backup.
Check if an iCloud backup is on, or turn it on.
Tap on Backup Now to create the latest backup of your data.
Make sure you have the latest iPhone and Apple Watch health data. You can confirm the newest iPhone backup data on iCloud backup settings. To ensure the latest backup of Health data, open the Health app and tap on the profile picture, you can find the last backup date and time at the bottom.
NOTE: Make sure you have enough iCloud Storage space or clear some data to back up the latest data.
Step 3: Erase all content and settings from your iPhone.
NOTE: Check for your iCloud backup twice before you erase your content and settings.
Open the Settings App on your iPhone.
Tap on General.
Tap on Reset option.
Tap on Erase All Content and Settings option.
The process above will erase all your data from the iPhone, and it will be ready to restore from backup.
Step 4: Restore your iPhone and Apple Watch from iCloud backup.
Turn on your iPhone and tap on Restore from iCloud Backup (Apple ID login required).
Once iPhone restored, open the Watch App.
Tap on Start pairing (wait till pairing finished).
Tap on Restore from Backup and select the most recent backup.
Both Apple Watch and iPhone will be ready to use, and battery drain issue may have fixed with this recommended method.
Conclusion:
The issues like battery drain or similar are prevalent when any companies releasing the new software updates. But you can fix it with some simple steps or by updating with the bug fixed software updates.
Apple has released a beta version before, and users mentioned that battery life was fair with the beta version. But with some final fixes and full release of iOS 14 and watchOS 7 caused the issue with battery life and fitness data of iDevices.
Apple recommends to back up the data on iCloud and factory reset your iPhone and Apple Watch. Once you restore it fresh from your backup, it may solve the issue. Everyone understands that erasing data and restoring is the hectic method for many users. And it should have some simple solution like new iOS or watchOS update, but Apple suggested a factory reset at this stage. In future, Apple will release the bug fixes with a newer version of iOS 14 and watchOS 7 that caused the battery drainage and fitness data issues. But till then, they recommend using the method mentioned in their support article.
Apple has set the 13 October as iPhone 12 launch date, so hopefully, they resolve the iOS 14 and watchOS 7 bugs to improve the battery life of new iDevice.