Apple AirTag is the new overnight launched product that will help you find your keys, wallet and more. This tiny coin-sized device is handy that keeps track of your stuff when you attach one. The AirTag uses a Bluetooth tracking technology similar to other BT Trackers like Samsung SmartTag.
How does Apple AirTag tracking work?
Apple AirTag is very simple to use. Just attach it to your keys, wallet, bags and whatever stuff you would like to find. AirTag then sends out the secure signal to the nearby device via Bluetooth and send the location to iCloud. User can now track the device via "Find My App" and locate the AirTag position on the map.
If you lost your stuff with AirTag attached, you could ping the tracker to beep the device. You can also ask Siri to "Find My Keys" or "Find My Wallet". Once AirTag starts to make sound with a built-in speaker, follow it and find your stuff. Isn't that an excellent handy feature?
Another way to find your device is to put it into the lost mode like your iPhone. So once it detected by the device in the network, you will get a notification of its location.
Apple AirTag has the feature of setting your contact info to help others find your information via NFC. So if someone finds your stuff with AirTag, they can tap the tracker with NFC capable Smartphone to get your contact details. And NFC feature is pretty standard for today's Smartphone, which helps to make contactless payment nowadays. We recommend this is the best feature of the Apple AirTags.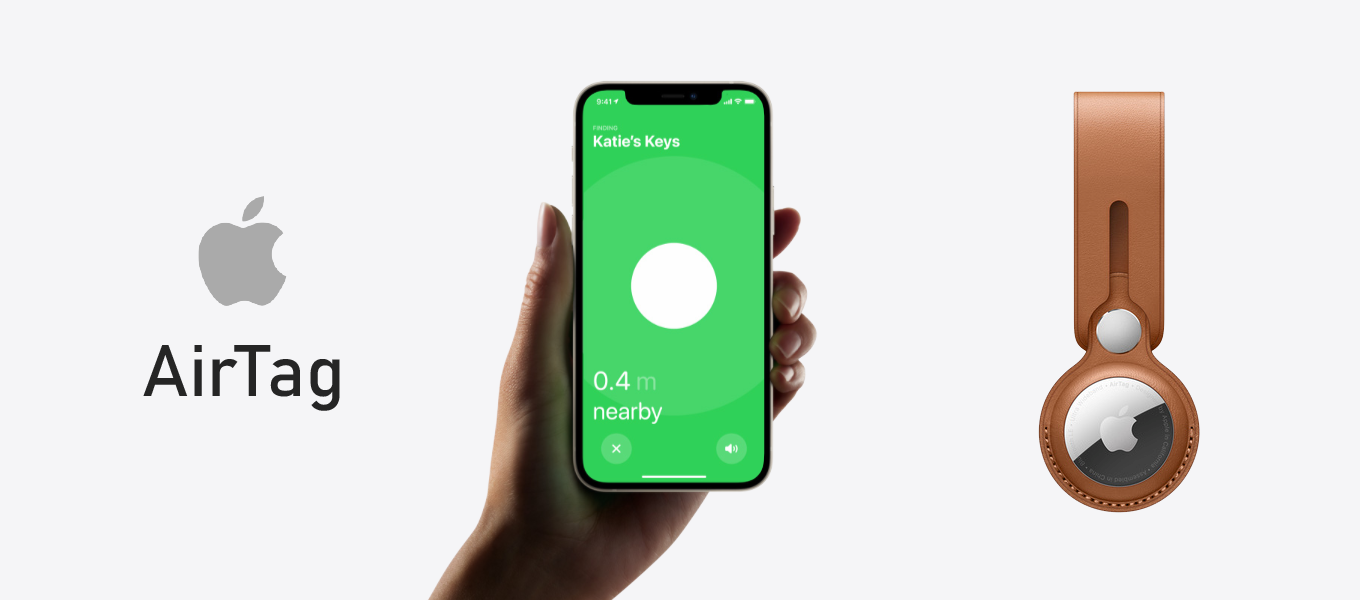 Image Source: Apple
Apple Precision finding is an excellent feature that helps you to find your AirTag attached stuff accurately. It will show the distance and direction arrow to get you straight to your lost AirTag device. Currently, this feature is available only on all iPhone 11 and iPhone 12 variants.
Learn more about Bluetooth Proximity Tracking and how it works?
Apple AirTag Privacy Feature:
Apple is focusing more on privacy nowadays and introduced many new privacy features from iOS 14. And AirTag is no different than any other Apple device in terms of privacy features.
AirTag is not storing your location data or history on the device itself. Also, the devices that relay the location of your AirTag tracker stay anonymous and encrypted. So nobody can get the location data apart from your authorised devices, not even Apple.
Apple AirTag's intelligent features designed for tracking accuracy and not for the false alarm. If someone's AirTag travelling with you, it will send the alert to your iPhone. But don't worry; it will notify you only when separated from its owner. So you don't have to worry about a whole bunch of people around you with Apple AirTags.
Apple AirTag battery life and other features:
It is essential to have good battery life for such a device when continuously serving as a Bluetooth tracker. According to Apple, AirTags battery life is about one year as per the general usage ratio. But you will get notification of a low battery once it goes below a certain percentage so that you can replace it easily.
Also, Apple AirTag is splash, dust and water-resistant with a rating of IP67. The maximum recommended depth for water resistance is 1 metre for up to 30 minutes. However, Apple mentioned that water resistance level might decrease as a result of normal wear and tear.
AirTags personalisation and accessories:
Apple personalisation is one of the unique services, and people love it. The owner of AirTag can ask to add initials or emojis or both on the tracking device for free. It's a great way to gift someone with their initials or cool, funny emoji.
Apple AirTags Price:
Apple AirTag will cost you $45 in Australia and $29 in the United States. But if you buy a pack of 4 in Australia, it will cost you $149, so it's a good deal if you like to get some for yourself and friends.
You can buy some cool accessories like a leather key ring or Hermes luggage tag at an additional cost from an Apple shop. It's a little expensive, but it will add style to your Apple AirTag. And if you are looking for some affordable AirTag accessories, it's worth looking at Belkin key ring and strap.
If you are not keen on Apple AirTags, Tile Bluetooth Tracker is worth it, and the price starts from $24.99, depends on the variant. Samsung SmartTag is a similar Bluetooth Tracking device that cost about $39. There is some other good Bluetooth tracking device in the market like NutTag that has identical features and cost you the less.
Final Thoughts:
Apple AirTag has excellent Bluetooth tracking and NFC tapping feature for others to find your contact details. It is water-resistant, has a long battery life and stylish if you add some accessories at extra cost. You can also personalise it with your initials or emojis to add additional fun styling.
However, Apple is known for its beautifully designed products, but it's expensive to own too. AirTag is one of those when you can choose similar devices at a cheaper price tag. But if you are genuinely an Apple fan and are in Apple's ecosystem, AirTag is worth buying for your stuff tracking, especially when you forget your keys or wallet often.