Apple release iOS 14 not long ago with lots of privacy features and some security bugs update. And here is another update that will bring some more features with iOS 14.5, such as unlocking iPhone with Apple Watch and Siri voice options and many more. So let's dive deep into the new iOS 14.5 update that will improve the user experience.
How to unlock iPhone with Apple Watch using Face ID while wearing a mask?
With iOS 14.5 updates, now user can unlock their iPhone with Apple Watch using the Face ID feature. If you look at Apple Watch while your iPhone is in close proximity and Face ID is on, it will unlock the iPhone. Even Apple iWatch doesn't recognise your face, it will work with the help of Face ID and Smart Sensors.
The new feature of unlocking iPhone with iWatch will work on iPhone X or later with a combination of Apple Watch Series 3 and later.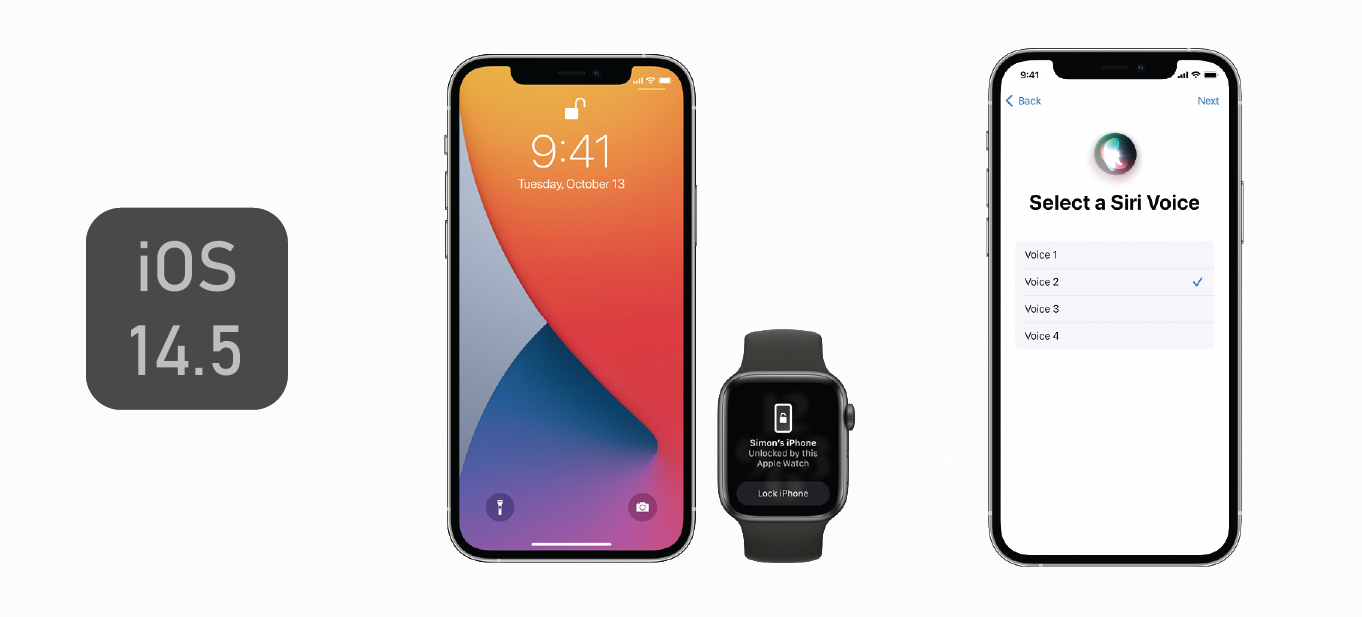 Image Credit: Apple
Siri voice options and other improvements:
Another great feature of the iOS 14.5 update is the Siri voice options. Siri has four different male and female voice options, so no more boring default Siri voice. These new Siri voices use Neural Text o Speech technology to make it sound like a natural voice. And further Apple will further update it for different voice and accent for various background users.
That's not just it! Siri is further making it easier for Group FaceTime. Also, Siri will announce incoming calls through AirPods or compatible Beats Headphones. Apart from these features, Apple adding an emergency calling feature to Siri that helps when an assistant needed.
iOS 14.5 Privacy Controls and Features update: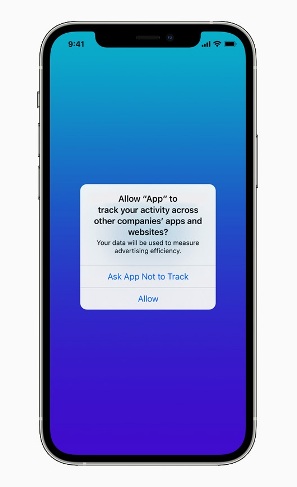 Image Credit: Apple
Apple added many useful privacy features with iOS 14.4 and improving further with iOS 14.5 update. Now, App Tracking Transparency has to get users permission before tracking personal data for advertising or third-party sharing purpose. From Settings, user can see which app requested tracking data and make changes according to their personal preference.
Report Accident, Hazards and Delays for Apple Map: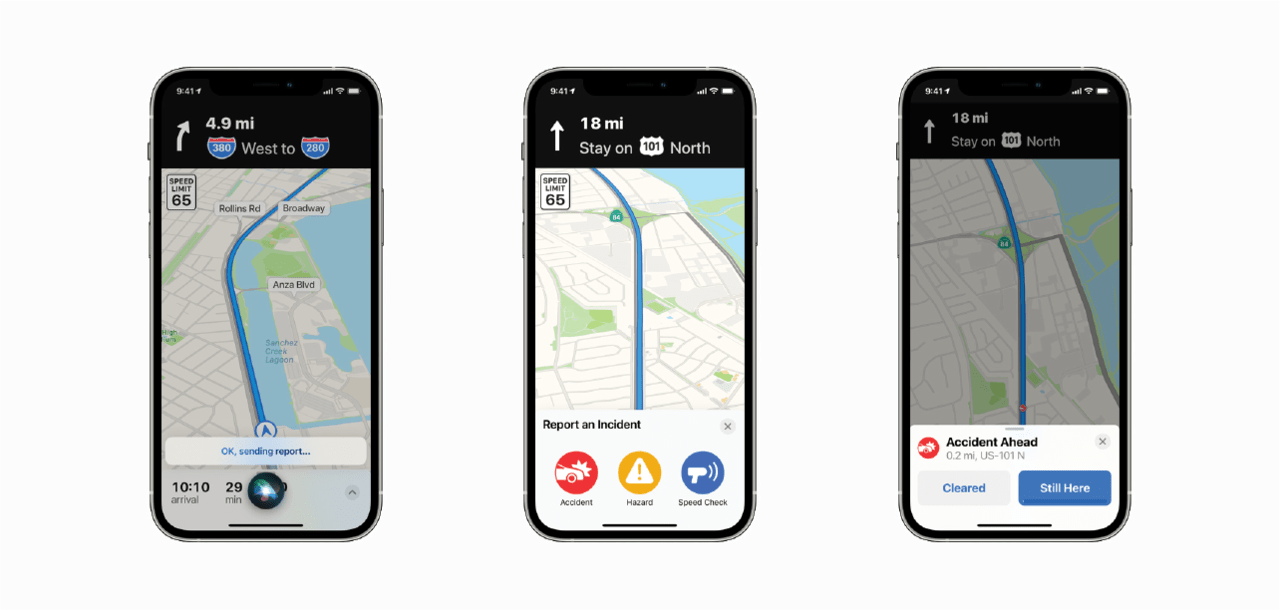 Image Credit: Apple
Apple Maps users can now report incident, hazard or delays on the route with iOS 14.5 update. Users can use Siri to update for crash or delay and also command for delay cleared as well. The Siri feature gives the privilege to driver for hands-free operations. The updated map feature will show ETA show you can inform someone about your estimated arrival time. User can also use the share ETA feature on the CarPlay with the help of Siri or keyboard controls.
Apple AirTag Support:
Apple recently released AirTag Bluetooth Tracker, which helps you find your lost keys, wallet and more. You can attach AirTag with your valuable things like bags or wallets and find it via "Find My App". The AirTag will make a sound when you enable it via the app and show you the location of the item.
If you are iPhone 11 or 12 users, AirTag will help you find the exact location using the "Precious Finding" feature. This tiny coin-sized Apple AirTag will cost you $45 in Australia and $29 in the United States.
5G and Dual-SIM support with iOS 14.5 update:
Finally, with iOS 14.5 update, the most-awaited Dual-SIM 5G support introduced globally for iPhone 12 users. It was limited to LTE before, but now you can enjoy both services with 5G capabilities. If you haven't upgraded for 5G, check with your provider for 5G service for Physical or eSIM.
Apple Podcasts and Fitness+:
Apple podcasts getting redesigned with iOS 14.5 update. So it will make it easy for the user to download and listen on the go. Downloaded Podcasts automatically added to the Library for quick access. You can also find Top Charts, categories and curated collections on the Search tab. It will help listeners to discover new shows and more.
With new iOS 14.5 updates, Apple Fitness+ users can stream audio and video to AirPlay 2 compatible TVs and Set-Top Boxes. Users also can AirPlay the workout on a bigger screen. But Apple Watch metrics such as calories burned, activity rings and other data won't be available while AirPlaying workout from iPhone or iPad.
Newly updated emojis with iOS 14.5: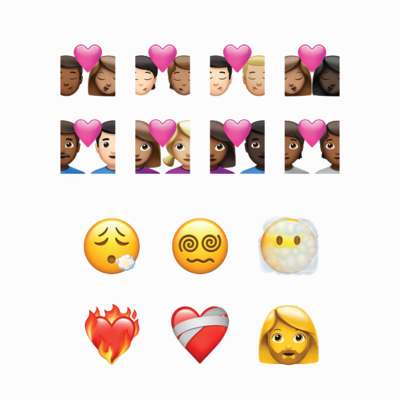 Image Credit: Apple
Emojis are the real fun, so Apple has introduced few more emojis with iOS 14.5 update. The new couple emojis have heart, kissing and different skin tones to share. Also, some more cool emojis introduced like spiral eye face, exhaling face, burning heart and more.
Apple News improved features:
Apple News has a new News+ tab that making easier to find newspaper and magazine issues. It will also help to find relevant topics, channels and stories for search queries.
iOS 14.5 Reminders update:
The new iOS 14.5 update will add the ability to sort reminders by title, priority, due and creation date. Also, offer to print the reminders list, which may help corporate clients share it with colleagues.
Final Thoughts:
Apple is now focusing more on user experience and privacy. The new features like unlocking iPhone with Apple Watch, Siri Voice options and Map Reporting will make it more user-friendly. Also, new emojis are cool that will make chatting with friends more fun.
New privacy features are worth it for users as they will decide what to share with tech giants like Facebook and Google. However, these big companies may already have your data to serve tailored ads and make money. But Apple's new privacy features are worth having so user can choose what to share by enabling or disabling some settings.
Overall, iOS 14.5 update makes more sense in terms of features and usability. So update your Apple device with the new iOS 14.5 to enjoy all privacy and other features.