Another surprise launch by Apple this week is the MagSafe battery pack. This fantastic new accessory can help you using your MagSafe compatible iPhone the whole day long. Now, you do not have to worry about battery if you gaming, listening to music or watching videos constantly.
MagSafe Battery Pack Specifications:
The new MagSafe battery pack installed with a 1460mAh 11.13Wh battery inside.  This battery pack designed to attach directly to an iPhone or with a simple case. But if you have a wallet case, it won't charge your iPhone if you hold stuff like credit or debit cards. However, there is no indication of what percentage this battery pack can charge for iPhone 12 various models. But according to the battery capacity of the iPhone 12 models, it can charge about 50% to 60% of the battery.
Currently, it supports the iOS 14.7 or later version to manage MagSafe battery pack data via the app. But it does work with the entire iPhone 12 series, including Mini, Pro and Pro Max.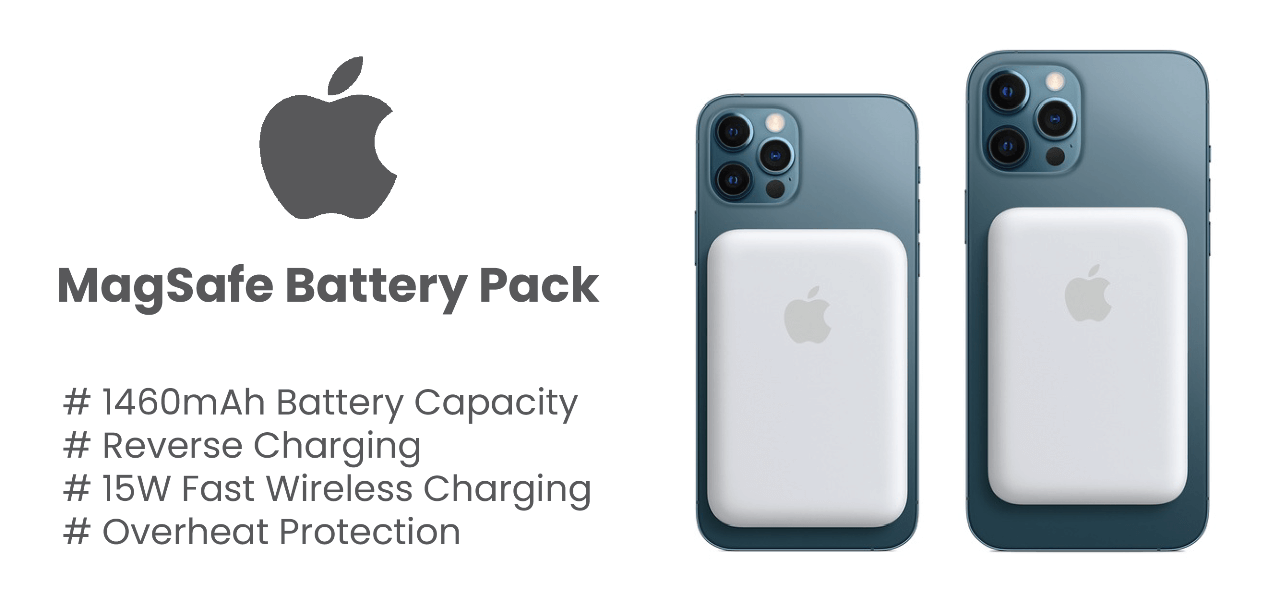 Image Source: Apple
MagSafe battery pack can charge an iPhone wirelessly at the rate of 5W of power. But it can charge your iPhone up to 15W power if directly connected to the 20W or more capacity wall charger. Apple recommends using a 27W or higher wall charger for fast wireless charging like MacBook.
The one drawback here is, your iPhone may get warmer, so you have to charge it in a cooler location. Also, if it gets warm, it will stop charging at 80% and resume the charging once the temperature drops for iPhone. Obviously, heat will reduce battery life, which is why Xiaomi's 200W fast charger hasn't come to life yet.
MagSafe Battery Pack Features:
Apple's new battery pack has many good features that make it unique from other third-party accessories available in the market. The first and most important is the battery status on the iPhone widgets. You can quickly get the MagSafe battery status on your Home Screen or Today View by adding the batteries widget.
To add the batteries widget: Go to Home Screen or Today View -> Touch and Hold the Background till the apps jiggle ->Tap the Add Widget Button -> Search for Batteries -> Tap it and adjust the size -> Tap Add Widget – > Tap Done. You can see the battery status now at your Batteries widget for all connected devices.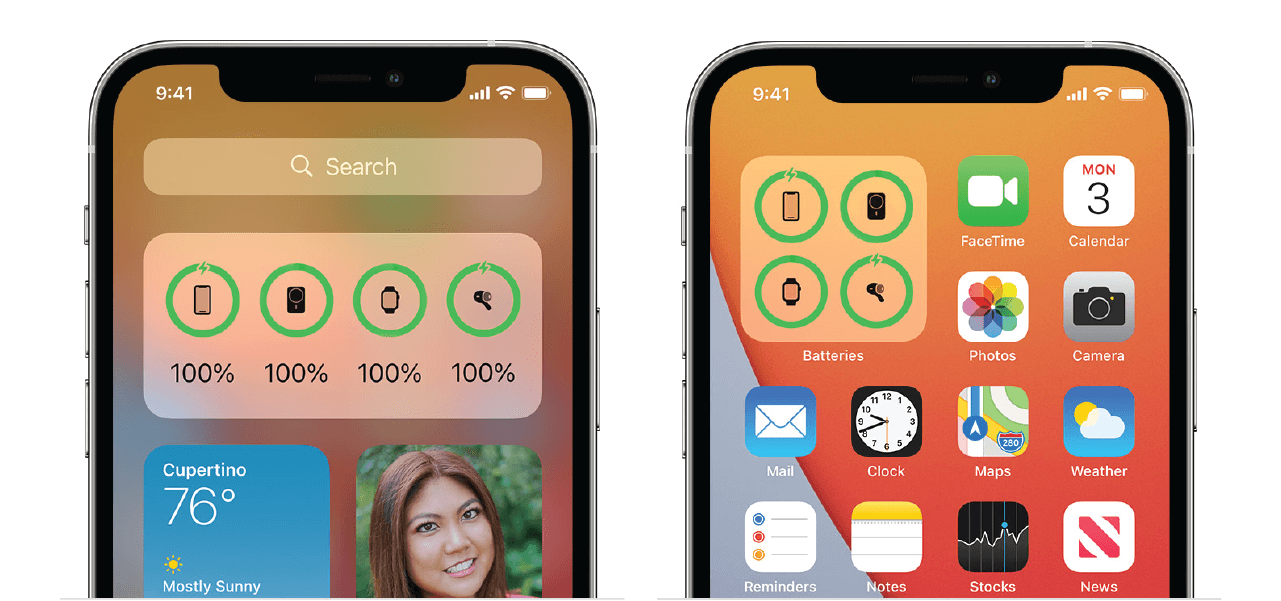 Image Source: Apple
Apple's innovative charging features and elegant look are the key features of a Magnetic Battery Pack. But user experience will show in the future how stable it sticks on the iPhone for pocket use. So let see some great smart charging features of Apple's new MagSafe battery pack.
Charging Features:
Indicates Amber light when charging and Green light when fully charged.
Charges iPhone up to 90% to protect the battery life. But users can manually bypass the battery charging limits by pressing and holding the "Low Power Mode" icon at the control centre.
MagSafe can stop charging at 80% if the iPhone temperature detected as high and resume it once the temperature drops.
Reverse charging features enable it worth for optimal use. It can help to charge both devices while iPhone connected to the CarPlay or MacBook.
MagSafe battery pack can charge iPhone wirelessly at 15W while connected with a 20W or higher capacity wall charger. And it charges at the rate of 5W wirelessly while directly connected.
The reverse charging feature can start charging the Battery Pack once the iPhone gets charged at least 80% if the iPhone directly plugged into the wall charger.
MagSafe Battery Pack Price and Shipping:
Apple sells the MagSafe battery pack for $139 ($99 – USD) in Australia and starts shipping from 19th July 2021. The price sounds a little high for such a low capacity battery pack, but its smart features are worth it.
However, many other options are available in the market at a better price that supports the MagSafe charging. Some of them support the 5W wireless charging and some charge at 15W capacity.
Final Thoughts:
Apple products are excellent in terms of features and design, but the price always seems not pocket friendly. MagSafe battery pack smart charging features like overheat and overcharge protection are great. Indeed, reverse charging is a trend nowadays and give you optimal usage scenario to charge iPhone and battery pack vice a versa.
MagSafe battery pack fast wireless charging support for up to 15W is much needed while directly connected with a high power wall charger. Also, 5W completely wireless charging keeps you going for the day. The only concern is the low capacity battery pack, which cannot fully charge iPhone 12 series. It could have been better if Apple released it with a higher capacity battery so the user can go for a long without worrying about charging.