Xiaomi recently showcased a new 200W fast charger that fully charges a 4000mAh battery in just 8 minutes. The technology named Xiaomi HyperCharge. They also showcased 120W fast wireless charger that fully charges the same capacity (4000mAh) battery in 15 minutes. But does it matters to you, or worth it to get one for your Smartphone?
Charge up to 100% in just 8 minutes using wired charging and 15 minutes wirelessly! #XiaomiHyperCharge

Too good to be true? Check out the timer yourself! #InnovationForEveryone pic.twitter.com/muBTPkRchl

— Xiaomi (@Xiaomi) May 31, 2021
What is new in Xiaomi's 200W wired and 120W wireless fast charger?
Xiaomi's new 200W HyperCharge wired charger can charge 10% battery in just 44 seconds for 4000mAh capacity. In comparison, the exact capacity battery gets charged 50% in about 3 minutes and 100% in just 8 minutes.
Similarly, a 120W wireless charger can charge a 4000mAh battery 10% in 1 minute and 50% in 7 minutes. The wireless Hyper Charger can charge 100% in 15 minutes with the same capacity (4000mAh) battery.
The above statistic sounds excellent, and it is much-needed requirements for today's fast-moving technological world. People are using their phone for longer than before for watching videos, listening to music, gaming and much more. And so, mobile manufacturers are nowadays making phones with bigger battery capacity like 4000mAh and 5000mAh. But they supply the fast wall chargers with the new mobile phones (or no wall charger if you care about the environment 😉 ).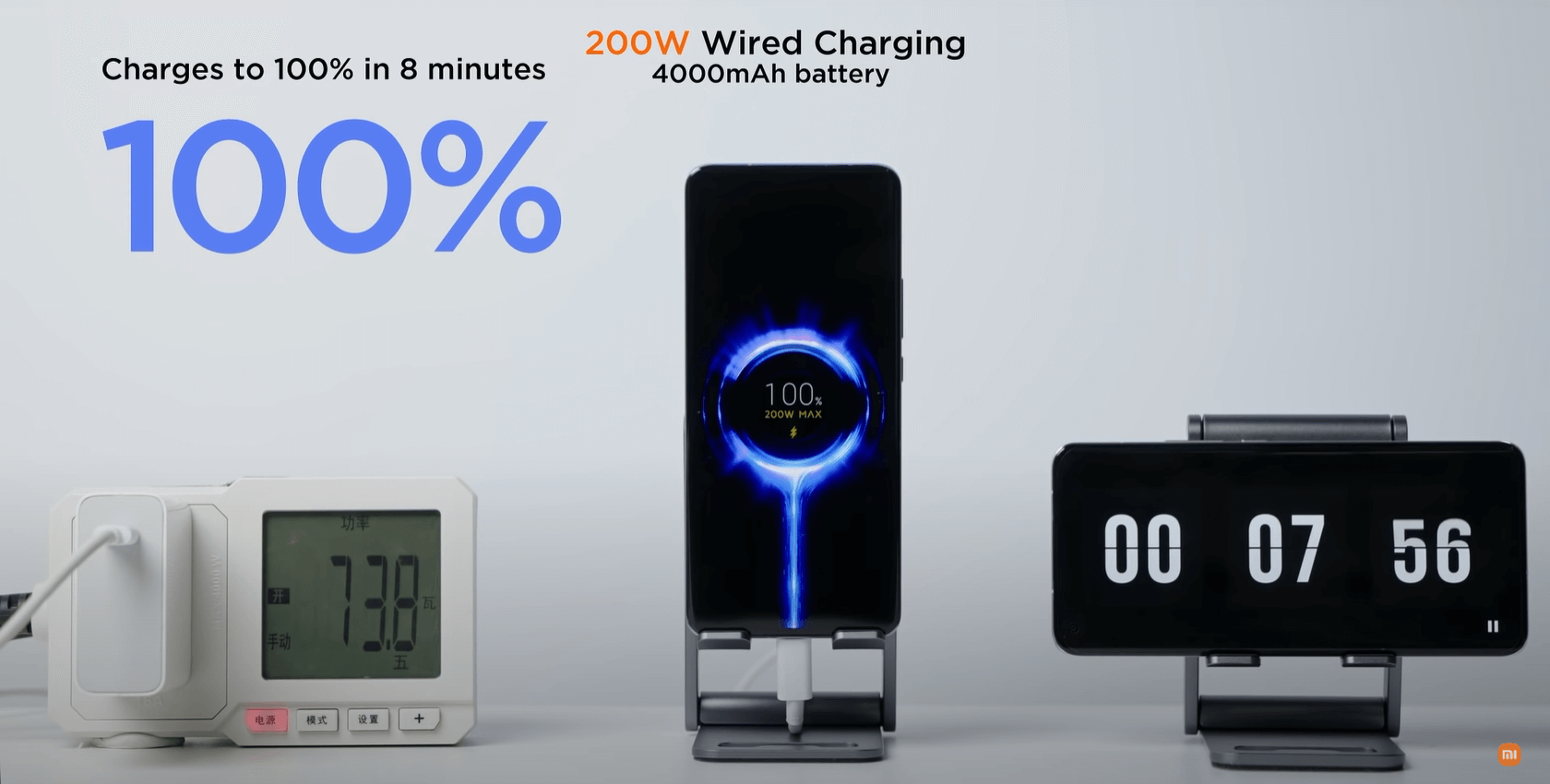 Image Credit: YouTube / Xiaomi
Will these Xiaomi 200W or 120W fast charger charge my phone at a similar speed?
Well, the demo of HyperCharge performed on custom build Mi 11 Pro with 4000mAh battery capacity. But the actual Mi11 Pro has a 5000mAh battery, so it seems custom build 11 Pro might have some other technical changes. There are possibilities to have 2 x 2000mAh batteries, as dual batteries charge quicker than a single high capacity battery. Also, the released Mi 11 Pro version advertised to charge 100% in 36 minutes with a 67W wired charger and 39 minutes for a wireless charger. These specs indicate that showcased custom build Mi 11 Pro might have few other changes made for the HyperCharge demo.
We come back to the original question; will it charge my phone at a similar speed? The answer is yes and no, both. If your phone supports the high powered chargers, which could be up to 30W or 60W in some cases, it is possible to charge with 200W Hyper Charger. But the risk is to heat up your phone, which most probably happens for current charging technology. It may also damage your battery life as heat is one of the reasons for batteries degradation. The battery degradation ratio is about 30% for heating temperature between 30C to 40C. So if you use the high power adapter to charge your phone than recommended, it will reduce the battery capacity over time.
Final Thoughts:
Xiaomi HyperCharge technology proved to have the fastest mobile charger in the world. But real-life scenario for charging the phone with high power chargers is different. Also, Xiaomi performed the demo on custom build Mi 11 Pro mobile phone with technical modifications. So it is still under the test, and no indication of when you can use it as a regular charger.
There are many phones available in the market that using high power wall chargers. Oppo announced a 125W charger that fully charges a 4000mAh battery in 20 minutes. But if your phone doesn't support the same high wattage charger, it's not worth buying one. Indeed, you have to consider the heat produced during charging and its implications on the battery.
Technology is going beyond the thinking nowadays, but we still have to wait for extreme usage of gadgets due to the current limitations. Xiaomi expected to test on some more devices before releasing such a high powered charger for mobile phones.