Apple recently announced iOS 15 with improved FaceTime, SharePlay, Live Text and more features. The features list also includes 3D maps, new weather design, store encrypted ID and spotlight search. But let see what top 5 features Apple bringing with iOS 15 are worth in everyday use.
1. FaceTime Spatial Audio with iOS 15
FaceTime Spatial Audio has a unique feature that makes sound coming from the person position on the screen. It is separating background noise with the help of new microphone modes to feel as people are around you.
Another great feature added in FaceTime is, it will add blur to the background and focus more on the face. And while you are on group FaceTime, a new grid view allows seeing more faces at the same time. The new FaceTime features has a portrait mode inspired by portrait photos taken by Apple iPhone.
Apple extended the feature further for FaceTime so you can create and share the link for FaceTime call. The link allows other ecosystems like Windows and Android to join the same group call. The FaceTime call link share works on web browsers as well. All calls made on FaceTime remains encrypted; it doesn't matter what platform used to connect the call.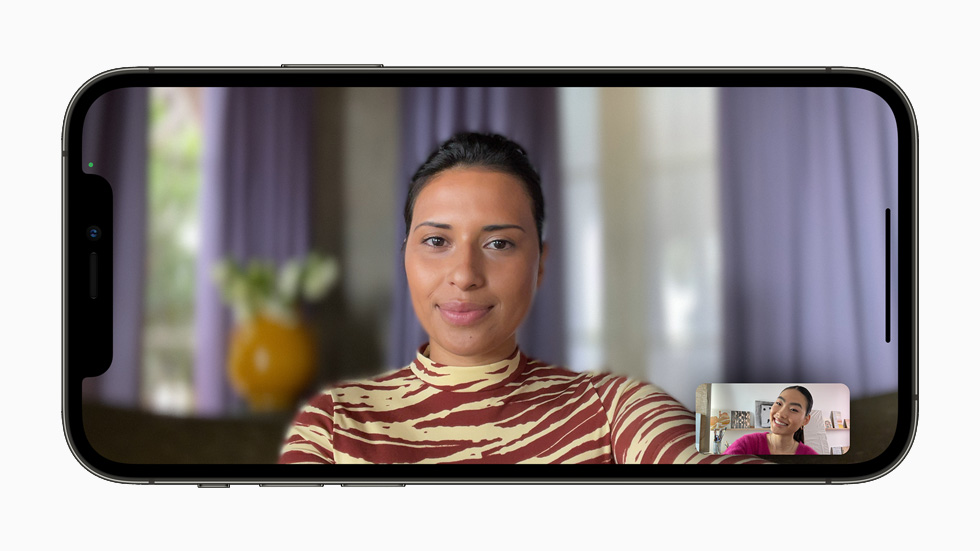 Image Credit: Apple
2. SharePlay features on iOS 15
SharePlay is one of the best features on the new Apple iOS 15. It allows users to listen to music, watching TV shows and movies from Apple TV+ together. Even SharePlay support Disney+, ESPN+, Hulu, HBO Max, TikTok and many other third-party apps.
SharePlay works across multiple Apple devices with shared playback controls. Anyone can play, pause or jump in the SharePlay session. It is an entirely new experience to share and watch movies and listening music on iOS 15.
With the new share screen feature, people can now share various app views. Also, walk through the gallery, find and check the things they want or check the rental property with a future roommate.
3. A new way to access messages with iOS 15
If you are one of those who like to message photos and link to your loved ones, this new feature will amaze you with a new look. People can now share the pictures and appears as a new cool collage look. User can now swipe through multiple photos from a bunch or open it in full if required. It's not just limited to photos, but you can share news, music and more via messages for the whole experience.
The new "Shared with you" feature enables you to see what shared with you from Music, News to Photos. Even shared photo album can sync with your media library so you can enjoy the great moments of your friends and family at any time.
4. Focus – for what matters most?
Apple iOS 15 Focus feature is handy. It does send the notification of summary with the help of on-device intelligence learned by how you interact with your apps. It also arranges the notifications based on priorities.
You can divide notifications into different schedules like work or personal. It allows you to choose the apps and send the notification only for work if you set it for work routines. The on-device intelligence suggests to you the apps based on time, location and activities.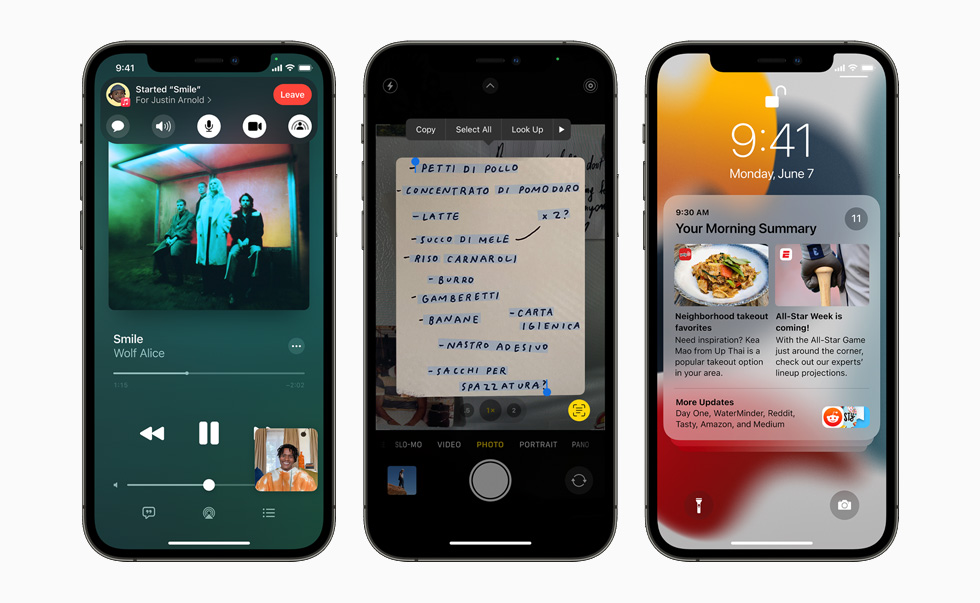 Image Credit: Apple
5. Live Text Feature
Live Text is an incredibly advanced feature that starts with a camera. You can focus your camera on any text surface, and an indicator appears on the lower right. Clicking that indicator will make a text popup directly on your screen that allows you to select, copy and paste. Isn't it the great feature for students, professional and anyone that wants to save some information quickly?
Indeed, you can highlight the text from photos and lookup for more information about it. Even the Live Text feature recognises the phone number and converts it into a link that directly allows you to dial that number. The Live Text features works on photos, screenshots, and web pages. It works on iPhone, iPad and Mac with the support of seven languages.
Other features of Apple iOS 15:
Apple iOS 15 introduced many other features like spotlight search. It helps to search anything by people, scenes location and more in the photos app. Spotlight features also include everything for the contact you saved on your phone. You can also call, text, email and do some more from the same windows of spotlight search results.
The new iOS 15 allows you to unlock your house securely, book the hotel room and store your ID as encrypted Apple Wallet data. The feature could be available in few countries later this year. Apple iOS 15 also brings new information such as building labels, elevation and beautiful night mode. The improvement in landmarks, crosswalks and bike lanes will help drivers to move swiftly across the cities. And the best feature on Maps is the 3D view of overlapping complex interchanges so you can find the right way quickly. If you lost your way by any chance, don't worry! Scan surrounded areas with a camera, and it will find the accurate position to guide your way around. But the new Apple Maps features will come to Apple CarPlay later this year.
Overall, iOS 15 has lots of new and cool features that will amaze Apple users. They also improved some privacy features along with the new FaceTime call features. Update your Apple device as soon as you hit the update available to enjoy all the great features of iOS 15.