Samsung just launched the Galaxy Note 20 and Note 20 Ultra models with a premium price tag of $1849 in Australia. But some people reported Galaxy Note 20 Ultra camera issues from day one.
According to the complaints on Samsung Community website, Galaxy Note 20 Ultra cameras taking pictures with white dots. Some users thought it might be the dust particles inside the camera lens affecting the photo quality. But other users found that it is the gap between housing and ring surrounding one of the cameras might result in lousy photo quality.
Another user posted the photos on "Reddit" with fog inside the lens where the community predicted the issue might be with the weather changes. One of the community members over the Reddit Post mentioned that it might have happened due to moving from warm weather to cold. Also, some Asian users reported the same issue as they are having a typical warm and humid climate around the year.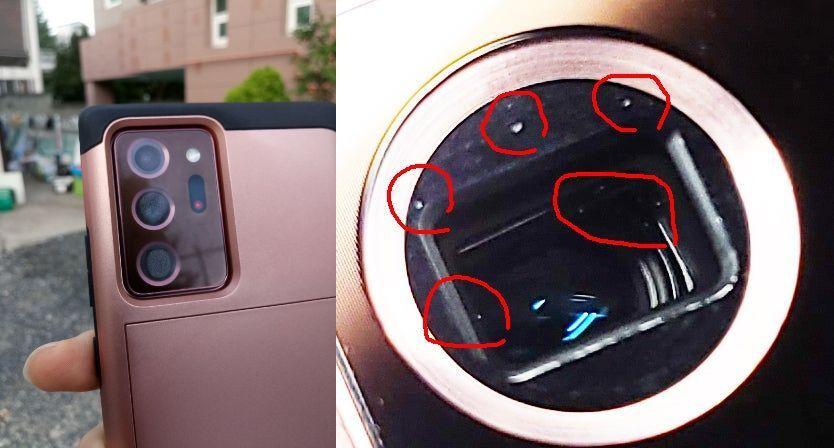 Image Credit: reddit/dhlspam
What is the solution of Galaxy Note 20 Ultra camera issues?
At this stage, Samsung referring the customers to repairing centre for foggy camera complaints and not offering any exchange for their devices. However, they are providing the replacement of the mobile device with manufacturing defects, as per Samsung community users posted.
"Samsung has officially announced that this is a normal phenomenon that occurs in waterproof phones, but will collect some of the problematic devices and carry out an investigation."
As per the Samsung official, "The dust and structure issues are under control at production lines as it has been with other products". They also added, "Considering the massive volume of the new phones released into the market, it is difficult to deal with every single complaint as we cannot immediately figure out how they were using the phones".
Conclusion:
Samsung is good at technology and selling a wide range of electronics devices for households. They are one of the largest mobile manufacturers and sold over 112.5 million devices in the first and second quarter of 2020 as per Wikipedia.
The foggy camera issue for Samsung Galaxy Note 20 Ultra reportedly by many users worldwide, and Samsung took quick action to solve the problem at the new production line. They also are referring to repair centre at this stage who complains about the dusty or foggy lens. At the same time, some Galaxy Note 20 Ultra owners received the exchange for their devices for manufacturing defects.
Hopefully, Samsung repair centres can help and solve the foggy lens issue for Galaxy Note 20 Ultra owners else it's going to be an expensive failure for Samsung.