Samsung seems to focus more on the foldable Smartphone nowadays. Surprisingly, four new foldable phones are coming this year, including Galaxy Z Fold 3 and Flip 3. It could disappoint Galaxy Note fans as they might get the "S Pen" with these foldable models and slow down the Note series production. You can see some significant changes in upcoming foldable devices by Samsung in 2021.
There are rumours about four new foldable models, but the main attraction would be Galaxy Z Fold 3 and Galaxy Z Flip 3. For these devices, the first information on the technical specifications has been leaked online recently.
These new upcoming Samsung Galaxy smartphones have some fantastic specs that meet all kinds of users' needs. So let's dive deep into some great features and specs of Galaxy Z Fold 3 and Flip 3.
Samsung Galaxy Z Fold 3 Specs and Features:
Samsung Galaxy Fold 2 expected to launch on 14th January along with the Galaxy S21. But for some reasons, it didn't happen. However, the new release date a little shaded, so hard to tell when we can expect it next.
The foldable phones era has just begun, and Galaxy Fold 3 is the successor of the Samsung Galaxy Z Fold 2. The Fold 2 offers a much larger front screen and has solved the Galaxy Fold's battery life issues. So what is left to refine?
Samsung is trying to improve the screen for multi-window use and battery performance that is much required. Also, they considered the size and weight of these smartphones and the design aspect of giving them an elegant look.
The latest rumours suggest that changes focused on productivity and the addition of the S Pen. The Korean giant expects to introduce the new Samsung Galaxy Z Flip 3 and the other Fold series.
The new Galaxy Z Fold 3 will arrive in the market with rumoured 256 GB storage and memory slot with up to 1TB support.  It will come with Android 11 OS and a brand new One UI 3.5 introduced with an early version on Galaxy S21. The prediction also says that it will have a powerful Snapdragon 888 chipset.  It could also feature 16GB RAM along with some more options.
Also, the primary display may shrink from 7.59-inch to 7.55-inch. And the cover display goes from 6.23-inch to 6.21-inch due to the S Pen space requirements.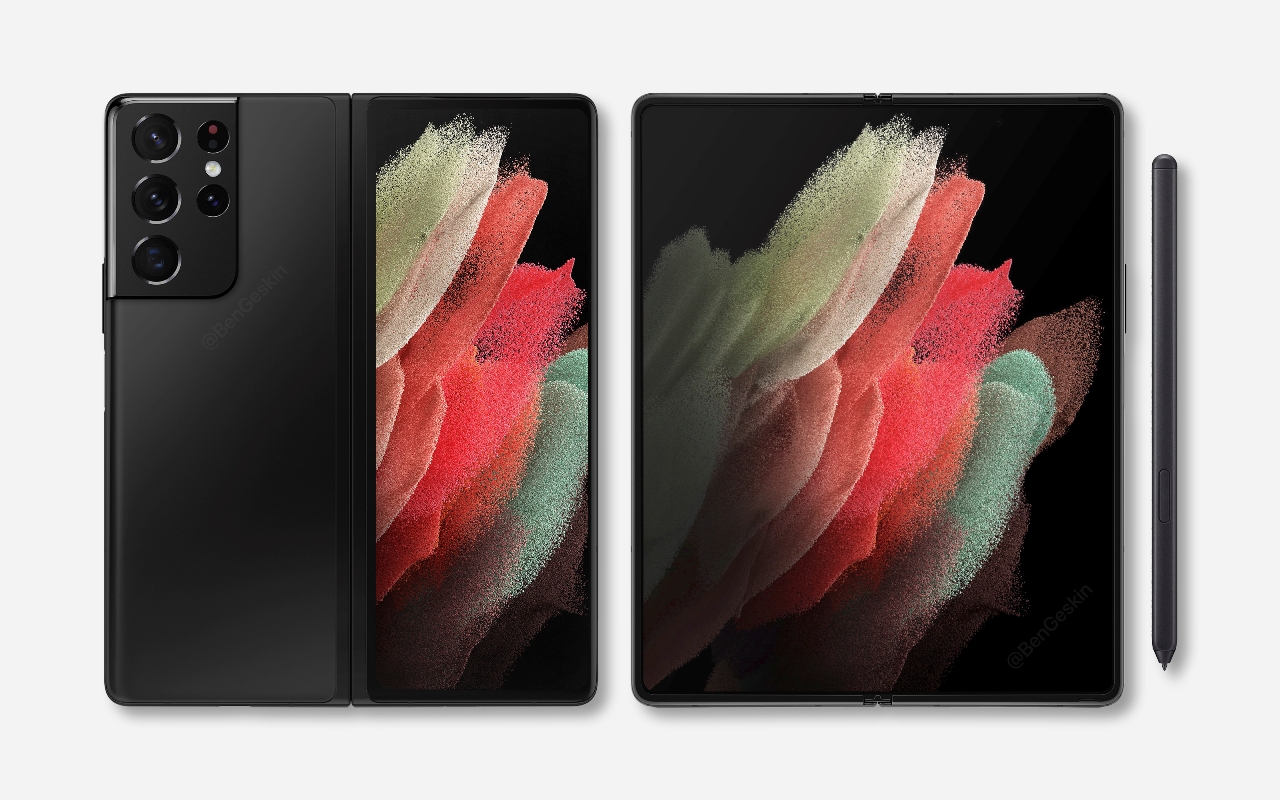 Image Credit (Concept Design): @BenGeskin
Galaxy Z Fold 3 rumours and leaks:
The rumours indicate that Galaxy Z Fold 3 will arrive with an S Pen are numerous. But some may have concerns about the display which should optimise first for its use on an upcoming foldable phone. First, Samsung could change the screen technologies and switch from electromagnetic resonance. EMR to the AES to better record stylus pen input. It may use the same stylus as Samsung Galaxy Note 20 and Samsung Galaxy Tab S7 Plus. Even a patent indicates that the stylus will be available on a Samsung folding, and perhaps it is the Z Fold 3.
It also appears that the Z Fold and Note series will merge to create a single line of production to improve productivity. If the Galaxy Fold series joins the Note series, the Galaxy Note range may discontinue. Some might feel disappointed as the Galaxy Note series have been the favourite of many from the last few years.
Some sources show that Galaxy Z Fold 3 could be equipped with a front camera under the display. It seems that engineers have yet to consider whether it is worth integrating one to affect the photo quality. A patent suggests that a future folding phone could equip with a customisable LED strip on the hinge.
According to some rumours, Samsung is working on two models of the Galaxy Z Fold 3. The prediction says it could be the Galaxy Z Fold 3 Lite. It is unknown what the differences will be between them, but both will take advantage of the 5G network.
Samsung also seems to be working on two other devices, and production scheduled for August. So it could also happen that all new smartphones, including the Folds, arrive around September. It's not far where you can hands-on new Galaxy Z Fold 3 by Samsung.
Samsung Galaxy Z Fold 3 Price and Release Date:
Many rumours about the price say it will be similar to Galaxy Fold 2, but many confirmed the price drop. Samsung Galaxy Fold 3 predicted to have a starting price tag of about $1700 (AUD). So let see how high or low in comparison to the previous Galaxy Fold 2 model. It is plausible that the Z Fold 3 costs less due to optimising production processes, but only a hypothesis. It's worth to have some Galaxy Z Fold accessories when you own such a expensive smartphone.
Samsung Galaxy Z Fold 3 expected release date yet not confirmed but rumoured to launch in the third quarter of 2021. Most probably, September is the predicted month of the Galaxy Z Fold 3 launch.
My Xmas leaks – Galaxy Fold 3 – main display shrinks from 7.59″ to 7.55″. Cover display goes from 6.23″ to 6.21″. Need more space for S Pen.
Galaxy Z Flip 3/Flip Lite – grows slightly from 6.67″ to 6.70″. 120Hz and LTPO on the Z Flip 3.

— Ross Young (@DSCCRoss) December 24, 2020
Samsung Galaxy Z Flip 3 Specs and Features:
Another upcoming foldable device by Samsung is Galaxy Z Flip 3 that will feature a 120Hz refresh rate for smoother performance. It a significant change compared to the previous model with a 60Hz refresh rate. It will also have a thinner bezel, but the screen size would go a little higher. Galaxy Z Flip 3 screen would increase from 6.67-inch to 6.60-inch and feature an LTPO display. It will also have an upgraded hinge and improved (UTG) Ultra-Thin Glass.
The thinner frame will mainly concern the edges that should be less evident to the benefit of both thickness and weight, with a sharper profile and greater portability. It is more likely that the display will remain on the same diagonal (lying down) as the previous version. The mobile will also feature 5G technology, while other improvements could involve the camera. It may have a 12MP quad-camera at the back and a 12MP front selfie camera.
The Galaxy Z Flip 3 should debut next spring as a new folding model with clamshell opening and closing. The most succulent anticipation is not (only) about design or hardware. It's a price that could drop significantly compared to the previous Z Flip model.
The Galaxy Z Flip 3 will arrive in two storage variants, 128GB and 256GB, and the MicroSD card support for up to 1TB. It also rumoured to have Qualcomm Snapdragon 865 and Android 11 OS with the flavour of One UI 3.5. Some rumours also indicate that it will have 8GB RAM and some other options as well.
Samsung Z Flip 3 Price and Release Date:
Finally, the Galaxy Z Flip 3 price tag have a significant drop from the previous model. It will cost around $1400 (AUD) in Australia and $999 (USD) in the USA. A massive decline, perhaps exaggerated? In reality, it could be more modest but just as significant if we consider the currency and the reference of the Chinese market that is about 10,000 RMB.
The Galaxy Z Flip 3 expected to release in the third quarter of 2021, but there are chances to arrive a little early if production goes on time. On the other hand, Galaxy Z Fold 3 rumoured to come before this device and predicted in June at some stage but yet to confirm.
Therefore, if the rumours reached so far are still nebulous, and all to be confirmed. What is now confirmed and taken for granted is that the name of Samsung's new foldable clamshell will not be Galaxy Z Flip 2 but Galaxy Z Flip 3. To equalise the relative number to the other family of folding, Galaxy Flip expected in its 3rd generation.
Final Thoughts:
Samsung is one of the leading mobile phones manufacturers around the world.  They always try to do something innovative and different in terms of features and price.
Samsung Galaxy Z Fold 3 and Z Flip 3 seem to featured rich phone with amazing hardware specs. It may have the latest SD 888 chipset for either Z Fold 3 or both models with up to 16GB RAM variants. Such high-end hardware specifications are more than enough for day to day user to pro-user.
The price seems reasonable for both Galaxy Z Fold 3 and Z Flip 3 compared to previous models. If the rumoured price stays on the mark, the higher the chance of selling more units than the last foldable phone models. Both models will arrive around in the third quarter of 2021, and two other models, which is not yet confirmed either. The release date is not that far, so let see how it goes for Samsung's new upcoming Galaxy Z Fold 3 and Z Flip 3 smartphones.