Advanced Mobile Location service for triple zero callers introduced in Australia to provide better emergency services. The AML service will help identify the most accurate location of "000" callers with compatible mobile phones.
What is Advanced Mobile Location (AML) service?
Advanced Mobile Location is an emergency location-based service (LBS) available on Android and iOS smartphones. AML can allow local emergency services to track the caller's location in real-time and reduce response time. With the help of AML, many countries helped and saved people's life.
European Telecommunication Standards Institute standardised the Advanced Mobile Location services. AML is currently active in many countries, including Australia, New Zealand, the USA, UK and others.
How do Advanced Mobile Location (AML) services work?
Advanced Mobile Location (AML) is not an App. Instead, it's a technology built into mobile operating systems. It enables the location service automatically when it recognises the emergency call made. AML service uses the combination of GPS, Wi-Fi, and Mobile Network information to get the caller's approximate location. It also makes a smartphone send SMS to Triple Zero (000) services with location details in the background during the emergency call. Once the emergency call finished, it will disable the AML automatically. Also, mobile phones won't retain the SMS records, nor can they retrieve them due to privacy reasons.
According to Triple Zero, 78% of calls to emergency services made from mobile phones in Australia. And many times, callers not able to explain the exact location in case of emergency, especially in rural areas. AML is the solution to determine the callers estimated location so emergency services can reach the caller in time. Advanced Mobile Location can locate callers within a 5-metres radius outdoors and 25-metres indoors. Based on the data from other countries, AML has an accuracy rate of 85% for a location radius within 50-metres.
Advanced Mobile Location service works with a mobile phone that has Android OS 4.1 and over. Also, iPhone devices running iOS 14.3 or later and the Apple Watch GPS+ Cellular model running WatchOS 7.2 or later support the AML feature.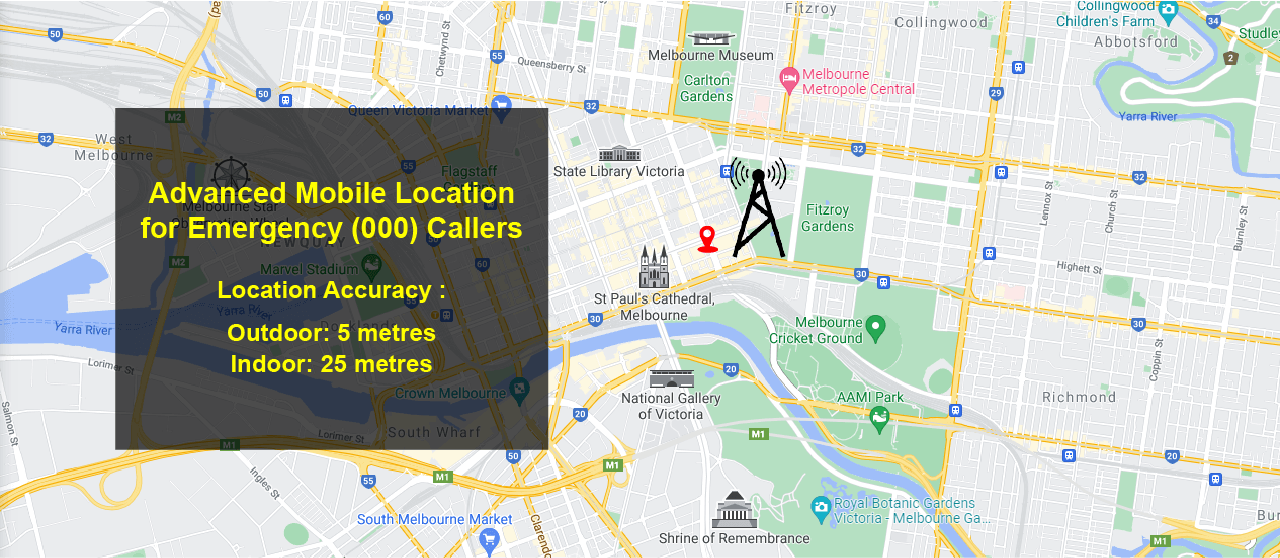 What if my phone doesn't support the AML?
If your mobile phone doesn't support Advanced Mobile Location (AML), you can download Emergency+ App. The "Emergencyplus App" can help you to provide your estimated location to emergency services, and you will get a faster response.
If you are on a "camped-on" network or another mobile network, then your primary provider, AML does not work. In such a situation, you can provide your location data using "Emergency+ App" while you are on the phone from the camped-on network.
The Emergency+ app is available for both Apple Store and Google Play Store for mobile phones.
Advanced Mobile Location (AML) privacy and data protection:
AML (Advanced Mobile Location) is the operating system feature that stays in sleep mode until an emergency number dialled. And it goes back to the original settings of the user's privacy once the emergency call finished.
AML is a secure feature that sending information via mobile network directly to Triple Zero services. And the location data restricted by relevant government authorities, so Apple or Google does not have access to it.
Indeed, AML only tracks user location once emergency service number dialled and cannot allow tracking individuals generally. Also, not possible to reverse engineered to track people or activate the AML feature by a third party. The government prepared some guidelines for user's privacy and use of AML services.
Final Thoughts:
Advanced Mobile Location (AML) feature is beneficial for remote locations where hard to find the callers location. The AML service successfully helped in many countries and saved many people's lives. The location accuracy rate is higher, so emergency services can respond faster to people who need it most.
Also, AML only enables the location service on mobile devices when the user calls to (000) emergency number. Once the call finished, it switches back automatically to the user's original settings to protect their privacy. However, the location data is restricted and has the same level of security as other data of Triple Zero (000) services.
Advanced Mobile Location (AML) feature developed as a part of the mobile operating system. It helps people who need emergency service as well as protecting their location and other data. Thus, AML will become a valuable service for elders and peoples located in remote areas. The AML service operating in many countries worldwide successfully, and Australia recently joined them. Indeed, it's a big step the Australian government took to change how our emergency services operate in the modern world.