Roborock S7 is the new upcoming robot vacuum cleaner with mop functionality. It has many great features like LiDAR navigation, an extended water tank and excellent battery life. But how it is different from other models available in the market that cost less than the new S7? Let see some new great features of the upcoming Roborock S7.
Roborock S7 Sonic Vibrating Mop and VibraRise technology:
The most intelligent features are Sonic mop and VibraRise technology, which makes mopping efficient. The Sonic vibration technology scrubs the floors up to 3,000 times per minutes. So it can remove dried dust, coffee stains, muddy footprints and more. Of course, 2500Pa HyperForce suction can help to deep clean the house and remove dirt particles. Also, the S7 300ml electronic water tank smartly supplies the water for the moping to clean the floor efficiently.
VibraRise is another excellent feature in Roborock S7 that intelligently vacuuming and mopping the floor simultaneously. The ultrasonic carpet recognition technology helps S7 detect the carpet and lift the mop in that area. According to the Roborock S7 testing, it can raise the mop by 5mm and recommended carpet height should be 4mm or lower. You can also set a no-mop zone to lift a mop and avoid mopping on the carpeted areas.
Roborock accurate mapping system via LiDAR sensor helps to avoid obstacles. It recognises the furniture, toys and other stuff and finds its way across the cleaning area. This robot vacuum can go under the furniture and clean place wherever possible due to its compact size. It can go around in taller than 96.5mm and wider than 353mm.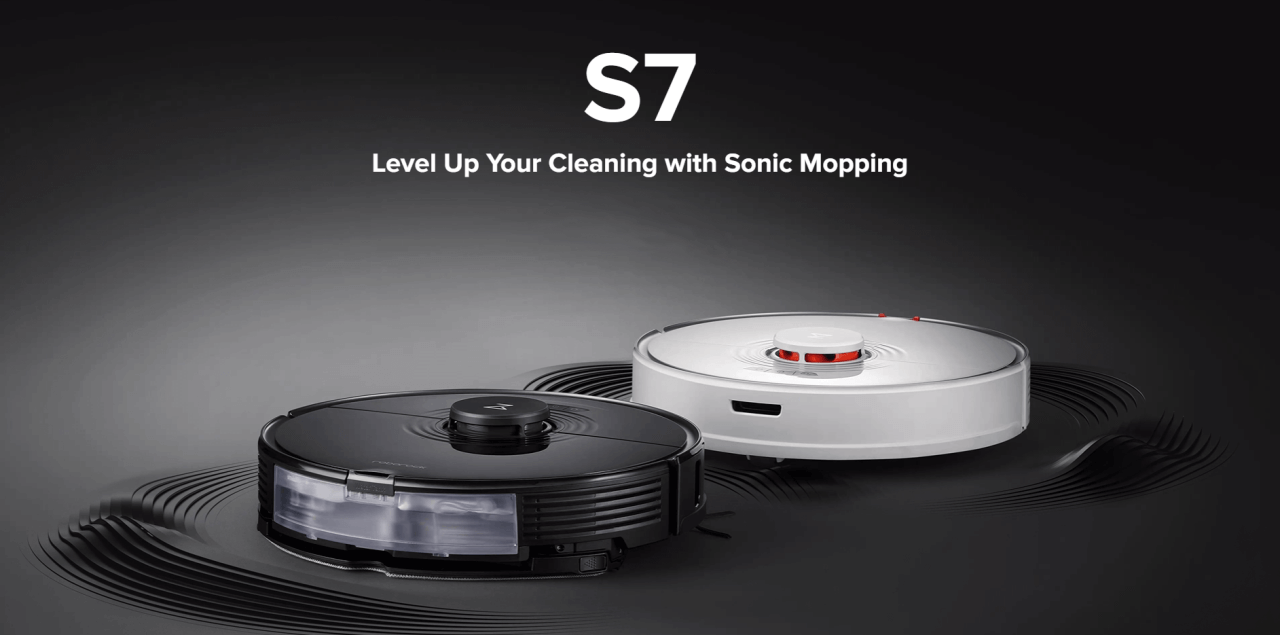 Image Credit: Roborock AU
S7 upgraded floating rubber brush:
Roborock S7 has an upgraded floating rubber brush to hold the ground tightly even on uneven surfaces. It's a significant new update that delivers better-cleaned areas.
Apart from side brushes, the main rotating brush switched to all rubber brush. The newly designed rubber brush is more durable and best for avoiding hair tangles. So no more bristled brushed to clean from pet or human hairs. Roborock S7 2500Pa suction power and rubber spiral brush combination clean your hard floor and carpeted areas at an optimal level.
Roborock S7 dust bin, water tank and battery capacity:
Roborock S7 comes with a huge 470ml dust bin, and a 300ml water tank is more than enough to clean the 200sqm house in one go. Also, 5200mAh battery capacity can last for about 3 hours on a single charge. But charging time data is not available on the official website yet. So it's a tremendous component capacity that is mandatory for robot vacuum cleaners nowadays.

Image Credit: Roborock AU
Indeed, S7 is compatible with the new upcoming Roborock Auto-Empty Dock, so more cleaning with less effort. Roborock will introduce Auto-Empty Dock soon, but the exact price and date haven't mentioned yet.
Roborock S7 other features:
Roborock S7 has some other features like E11 rated HEPA washable air filter to keep home 95% allergens free. It does recognise the room automatically, and you can store multi-floor maps as well. However, it doesn't have features like going up or coming down to floors. Also, the S7 Scratchsafe wheels and brushed makes the cleaning job effortless.
The app for Roborock is just perfect. You can add a no-mop zone and schedule the cleaning according to your routine. Also, a cleaning job can be scheduled for a single room or entire house, and a double tap will re-centre the map. The app is easy to use as well, so you can start cleaning as soon as you unpack it.
Roborock S7 battery is excellent, and it will return to the base once the battery is low. It will restart cleaning once charged back and have enough battery to complete the scheduled job.
Roborock S7 price and release date:
The pre-order price for Roborock S7 is $1199 (AUD) on the Official Store. But you can take advantage of 15% off, a free 30 mop pack and six months extra warranty with free shipping if you pre-order it. So initially, it will cost about $1019 (AUD) to Australian consumers, and pre-orders start from 17th May 2021.
Roborock S7 released in March 2021 and selling in the USA at $649 (USD). But the delivery will start from 31st May 2021 in Australia for pre-orders as per the official Roborock website.
Final Thoughts:
Roborock S7 upgraded features like Sonic Vibrating Mop and VibraRise technology makes it outstanding from other robot vacuum cleaners. Also, an upgraded rubber side brush and rotating brush helps to clean at an optimal level. The new rubber design saves you from hassle to removed strangled hairs, which was a much-needed upgrade.
The price point for the new Roborock S7 sounds a little high. The customer would have expected AI Cameras like Roborock S6 MaxV for better obstacle management at this price point. But if you are on a budget, we recommend you to check our comparison of Roborock S6 Pure with some other models. It will give you an idea about features and price so you can choose according to your needs.