In recent years, cyber attack numbers increased a lot. Hackers find a way to take control of many corporate organisations and steal their data. And demanding a tremendous amount as ransom or selling the data on the dark web. The South Australian government was recently under cyber-attack where 80,000 employees data was compromised.
How did hackers steal data from the South Australian government?
The state government of South Australia using third-party payroll services by "Frontier Software" for the last 20 years. In November, Russian hackers targeted Frontier Software for ransomware. And stolen South Australian public servants data, including name, date of birth, address, bank details, etc.
Frontier Software informed the clients and assured them to investigate further for the data breach. Further on, the payroll company confirmed that only the South Australian government affected by the cyber-attack. And they are directly communicating with advisory personnel of the South Australian government to provide further assistance.
Nick Southcombe, CEO of Frontier Software, said, "We are continuing to review and catalogue the data that we believe was stolen from our internal corporate environment, with a primary focus on identifying any customer data that may have been stolen".
What impact can it have for such an event of cybersecurity?
Hackers usually ask and negotiate with the organisation in such a case for ransom. But if the victim fails to pay, a hacker could sell the information on the dark web. Then fraud groups buy those data and try to get as much out of an individual victim.
Cyber attackers could social engineer victims data and try to phish people for cryptocurrency as it is not trackable. Hackers may attempt to access financial institutes to steal money. You may have heard of SIM jacking that lead to all your OTP going to hackers and emptying the bank accounts.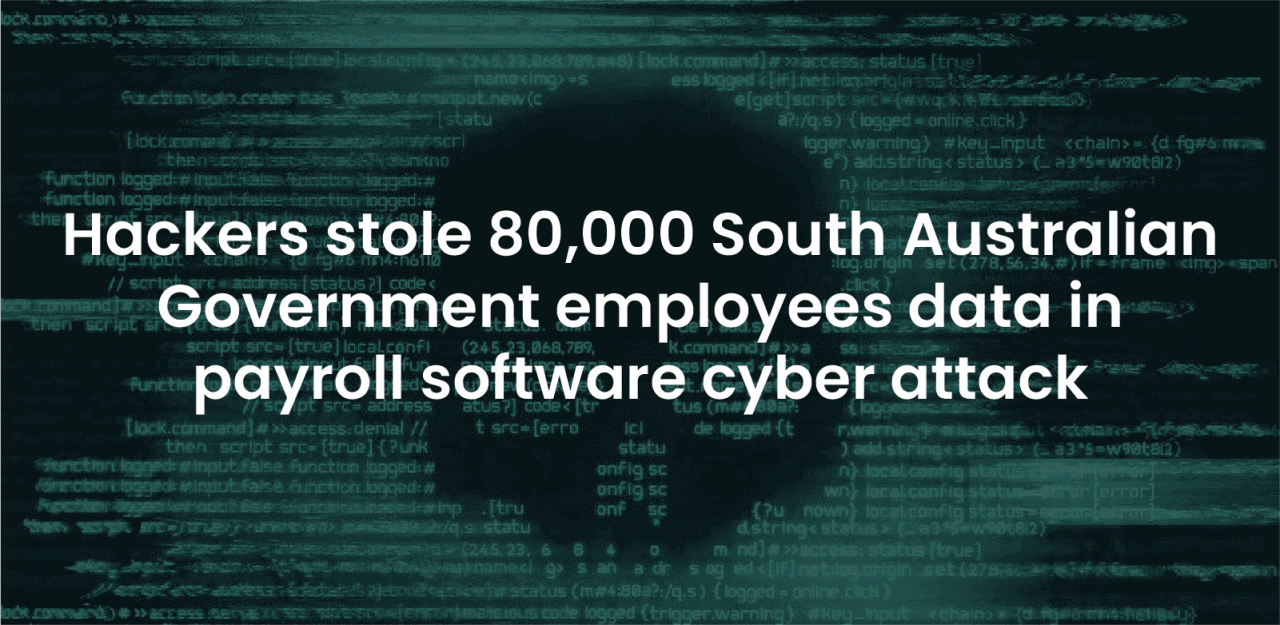 Why is cybersecurity so important?
Cybersecurity is the most significant part of technology nowadays. You can see an increased number of cyber-attacks and other general phishing attacks that can put you in trouble. Many incidents were reported that took down healthcare systems and other services like Telstra internet.
Another latest example is the CS Energy cyber-attack. The hackers almost shut off the power supply to over 3 million homes for ransom. But luckily, CS Energy managed to rectify it earlier and secured a connected network before it took place.
Today, technology becomes smarter every day, and it stays connected to the internet all the time. And so, some intelligent people want to take advantage of that to steal the data and money from people. It can happen to any small or big organisation or even with individuals. So best to keep your network as secure as you can. Use the industry's best practices and stay secured personally to avoid falling into phishing scams.
Ransomware is the reason behind cyber-attacks. And many big organisations paid millions of dollars to hackers. Still, there is no guarantee that hackers will return your data as it is and will not attack again. So better to spend in cybersecurity, especially where you manage a vast amount of personal information.
What step has the South Australian government taken further?
Mr Rob Lucas, South Australian Treasurer, said, "This is obviously of great concern to the government". The government advised employees to contact their financial institutes and change their passwords.
"Having the bank account details doesn't give you access to the bank account, but it's the first step in trying to crack a code in terms of passwords," Mr Lucas added.
South Australian government assured that they would take further steps to secure data and make sure not to happen again. Also, they promised to share information as soon as they received confirmed updates about the data breach.
Final Thoughts:
Cybersecurity is a major concern nowadays. Because technology is everywhere and staying connected all the time. So you may get hacked from your phone, computer, smart gadgets, security camera and many other electronics. But it doesn't mean that you have to avoid using it. Some basic cybersecurity knowledge can save you from a hacker's target.
However, big companies spend millions on securing their network, servers and data. But hackers are getting smart and trying to look for loopholes. Once they get a chance, they steal whatever they can to blackmail companies and customers. A very new Log4j security flaw in servers lead hackers to constantly scan for such a loophole even it's patched. So always check twice if it seems suspicious to protect yourself from hackers.