Australia's largest internet service provider Telstra affected with the DDoS cyber attack and left millions of internet users without the service. The service outage for residential users nationwide reported on social media.
Telstra's team is aware of the Distributed denial of service (DDoS) attack and trying to resolve it fast.
Telstra Tweeted:
"Our team is looking into an issue impacting some home internet connections including nbn. We'll keep you posted as we get on top of it. Sorry to mess with your Sunday plans."
Telstra also tweeted about the identified issue:
"Update: We've identified the issue and are working on it. Some of our Domain Name Servers (DNS) used to route your traffic online are experiencing a cyber attack, known as a Denial of Service (DoS). Your info isn't at risk. We're doing all we can to get you back online."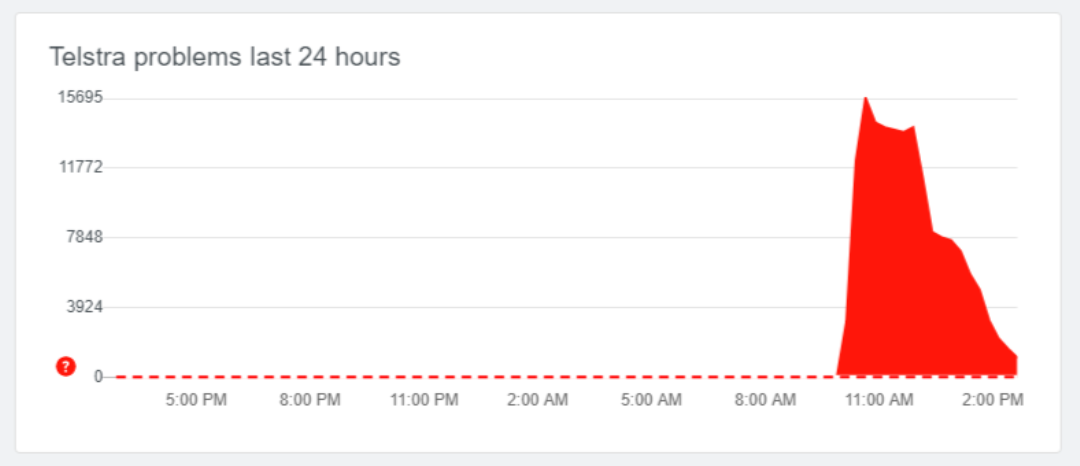 Image Credit: Downdetector (Screenshot Taken at 2:57 PM on 2 Aug 2020)
What is a DDoS (distributed denial-of-service) attack?
In a simple term, DDoS attack is a malicious attempt of disturbing the regular traffic of the internet. This kind of attack overwhelming the target network traffic and block incoming and outgoing request of the network. And so users won't be able to access online services or connecting to the internet.
The DDoS attacks performed on large scale network may use the multiple exploited machines to achieve the effectiveness of the attack. In short, a DDoS attack is like a traffic jam on the road and blocks the other vehicles to get into the regular traffic flows.
The most common cyber attacks performed on IoT devices, Web Servers and Email Servers. These attacks use computers affected by malware and using them as bots. The network of bots also known as "botnet" and performing cyber attacks as a clustered network to put down online services.
Major affected areas due to the cyber attack on Telstra
Sydney Inner West and Inner City areas affected widely as per network outage report. Also, the outage left many Victorians without internet in COVID-19 lockdown. In Melbourne, Inner City, Essendon, Brunswick, Blackburn and a few other areas reported having interruption for internet services.
Telstra's outage information page "outages.telstra.com.au" seems affected by the cyber attack and lead to 404 errors. But you can find the live updates for Telstra outage at Downdetector website.
The Llama King tweeted the Downdetector screenshot for Telstra's outage map with humorous words.
Some? You meen basically the entire east coast? pic.twitter.com/PioztcMxJY

— The Llama King (@TheLlamaKingTv) August 2, 2020
How to resolve the DNS (Domain Name System) based routing issue?
Telstra's team confirmed that it is DNS based cyber-attack, so it is unable to resolve the web addresses and lead to the no-access of website and other IP based services. But user can change their DNS to public DNS server like Google and Open DNS. You can find the guide by Google on how to change the DNS for your Windows Computer, Mac OS and mobile phones.
Some general public DNS addresses:
Google: 8.8.8.8 | 8.8.4.4
CloudFlare: 1.1.1.1
OpenDNS: 208.67.222.222 | 208.67.220.220
You can change the DNS directly to your router if it does allow adding DNS manually. Changing the DNS in a router can directly open the access for all connected device in the network like computers, phones and tablets.
If you are using Telstra's Smart Modems, most probably manual DNS changing features unavailable. So you have to use the individual device DNS settings to resolve the issue as per Google's DNS guide.