The upcoming Apple privacy changes for iOS device will affect users and business operators at a certain level. But these changes are necessary to protect users privacy as it always has been Apple's priority.
Apple has announced the new privacy requirements at WWDC 2020 in June about user data tracking policy. According to the new privacy guideline, users can limit the information shared with app developers or service providers.
Craig Federighi, Apple's senior vice president of software engineering, said, "All of our product work is grounded in a set of privacy principles".
Apple released the ad on YouTube about what information being shared and the purpose of this policy changes.
What do these Apple privacy changes mean?
The new privacy update for iOS devices means users can choose to track data such as location, usage of camera and microphone etc. This kind of data tracked by various apps via user "Device ID" tracking function.
Before these Apple privacy changes, app developers allowed to track user data unless user opt-out by disabling settings. But now new opt-in model pitched over the WWDC 2020 to make data more private. And the user will be able to see what data has been requested from the app they use.
Apple still allowed developers to track data without user permission if it is to identify fraudulent activities or security purpose. Also, they have to make sure that data sent from the app respect Apple's privacy guideline.
How will Apple privacy changes affect app developers?
After Apple announced the privacy changes, companies like Facebook and Google seems a bit disappointed. The reason for disappointment is, they won't be able to get enough data to send personalised ads. And will not be able to push the right kind of ads. Both tech giants are pushing the personalised ads by tracking user location, browsing history and similar data from mobile devices or desktops.
It will affect other developers the same way as lots of apps require permission to access the location, camera, microphone etc. And allowing access to all these data lead to the privacy and security breaches if the data misused by app development companies.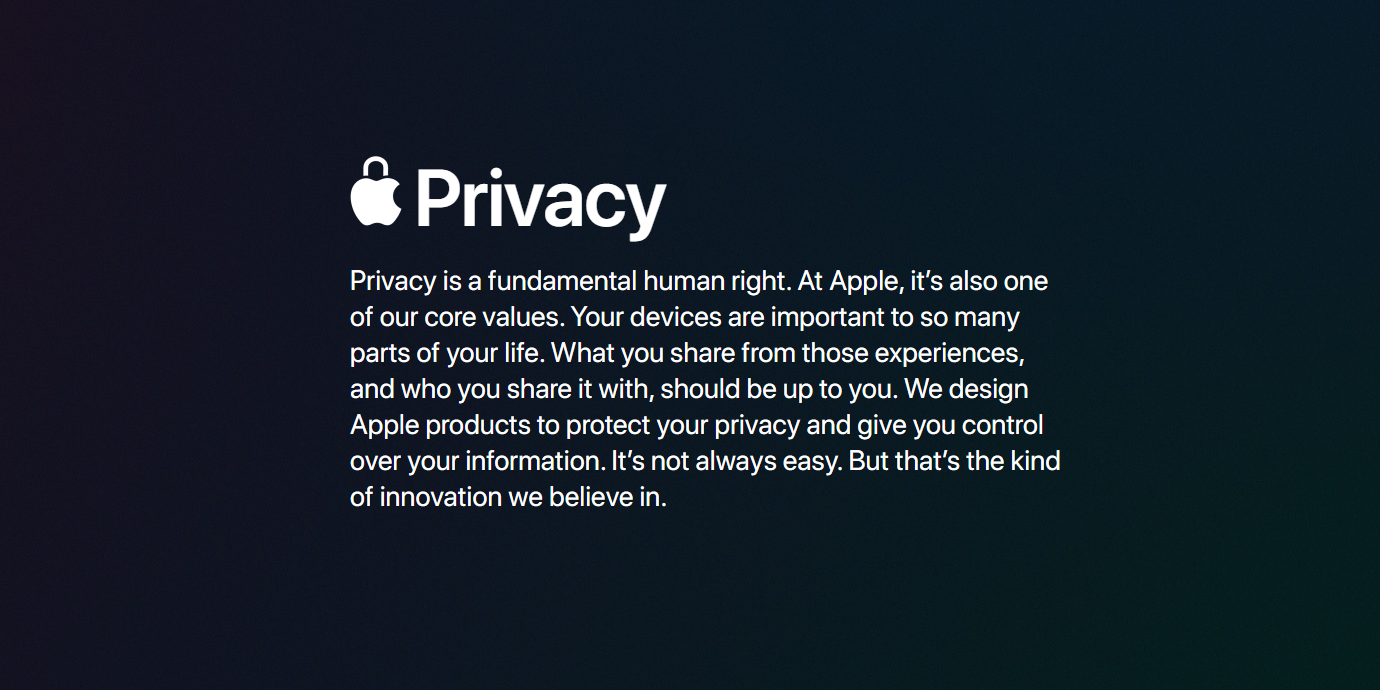 Image Credit: Apple
Apart from the iOS devices, Safari browser would have third-party data tracking blockers that help you to stop cookie tracking for Facebook or similar tracking methods.
What else can you expect with Apple privacy changes?
You can expect a few other changes regarding the privacy of users on iOS devices like a fingerprint, face recognition, contacts, calendar, reminders, email database and some other data access. Yes, these all kind of data sharing is a privacy risk and Apple taking it seriously to protect users privacy.
"We've all seen these like buttons and share buttons; It turns out, these can be used to track you, whether you click on them or not. So this year, we are shutting them down", Craig Federighi added.
These Apple privacy changes will affect Mac users too. Apple considered the third-party fonts, plug-ins and other configurations are a risk as well, so they would like to get rid of those for macOS devices. Apple is adding permission requirements to access the camera and microphone on Mac computers further to support users privacy law.
Federighi said, "Your Mac will look more like everyone else's Mac".
Apple is also introducing a built-in password manager and password auditing feature. This new feature will help you to replace with the generic password automatically if you are reusing the same password and store it across the devices.
When are these new data tracking policy changes rolling out?
The new Apple privacy changes expected to take place from iOS 14, but it delayed until 2021. Apple wants to give app developers a little bit of extra time so they can make the necessary changes and fix the privacy data tracking issues. This additional time will allow app developers like Facebook and Google to re-look at their business model.  And have a minimum impact on developers revenue they generating from apps.
Conclusion:
Apple is one of the leading manufacturers in mobile and computer segments and has a strong brand presence around the world. The upcoming changes in Apple privacy guidelines are going to impact some of the big tech giants business models. But Apple chose "privacy over money" to protect users data and other information sharing.
The privacy changes delayed until 2021 and expected to take place at the beginning of the new year. But Apple may launch the iPhone 12 and new featured rich iOS 14 by the end of this year.