Razer, the world's leading gaming device manufacturer, got approval for its concept smart mask. The concept smart N95 face mask first showcased at CES 2021 in January, inspired by Project Hazel. The company will start to deliver it soon, so let see what is special about this smart N95 face mask?
Razer smart N95 face mask protection features:
Razer is holding significant stacks in the gaming hardware industry worldwide. The company is famous for its hardware like RGB keyboard, gaming mouse, laptops, desktops and monitors. And Razer will also launch unique products like smart clothes and masks soon.
The prominent feature of the smart mask by Razer is N95 medical-grade respirator protection. It will protect you from COVID and other medical situation as it has high bacterial filtration efficiency. You can swap BFE (bacterial filtration efficiency) rated filters to maintain high protection level. The smart mask also features high fluid resistance, which can protect you against splashes and large droplets.
Project Hazel smart mask's detachable ventilator can filter at least 95% of airborne particles and regulate the airflow. The active ventilation feature of the Razer smart mask brings in cool air and releases heat of breaths. So it can prevent the CO2 build-up that could give you a headache or dizziness.
One of the best features of the Razer smart mask is the auto-sterilisation fast charging case. The case has a UV light that kills the bacteria and viruses while charging the mask to provide optimal protection. It glows red to green while charging to show you battery status and ready to wear when you need it.
Project Hazel smart face mask design features:
As everyone knows, Razer is famous for its RGB gaming keyboard, mouse and mouse pads. Further on, Razer adding a smart RGB face mask to its product line that may attract the gamer's community.
Razer smart mask RGB supports Chroma RGB LED function, which allows you to choose from 16.8 million colours. You can set different lighting effects like wave, fire, breath and more for both filters outer ring. The smart mask also lit the inner part automatically in the dark so people can see while you speak. And built-in-microphone plus amplifier combo ensures voice clarity when you talk with the mask.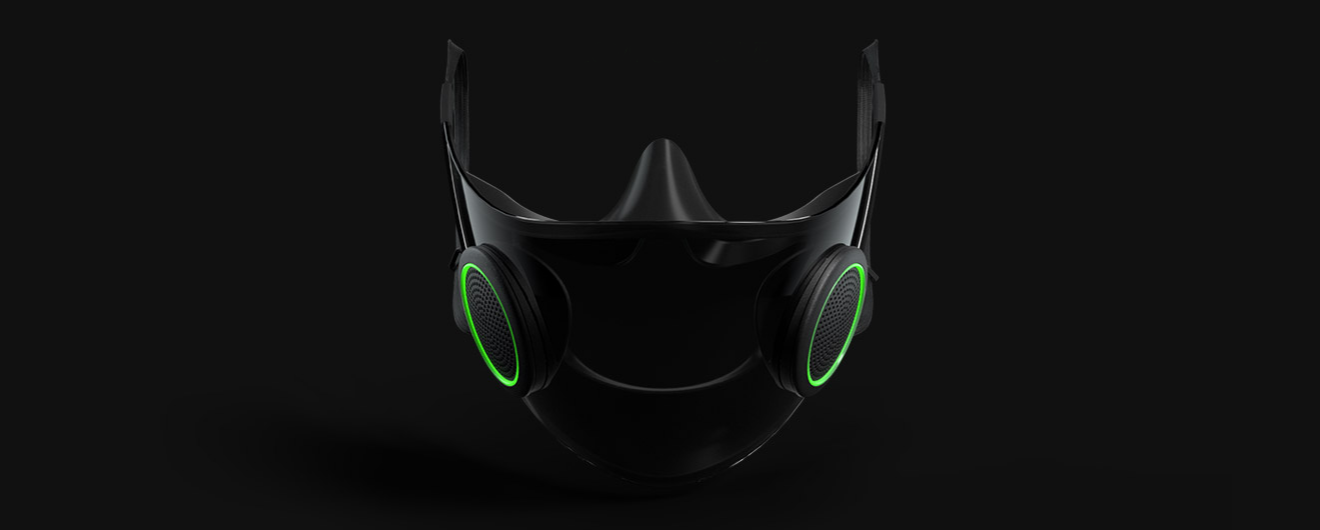 Image Credit: Razer Project Hazel
The silicon guard makes a seal around your face to prevent air from leaking. It is also maintaining comfort while wearing a mask so you can talk naturally. It has thick and adjustable ear loops to fit on any face size. But Razer will make a custom size mask to fit your face if you like to get one.
Razer smart mask price and release date:
Razer hasn't confirmed the price for its N95 RGB Smart Mask yet, but they would like to keep it affordable for consumers. There are few other smart masks available in the market with minimal features costing around the US $300.  But Razer expected to keep the 30% to 50% below the current smart mask price.
The final date for Razer N95 RGB Smart Mask not yet confirmed but expected to launch in Q4 2021. Yes, that's the time for new products to launch from tech giants like Samsung, Apple, Sony and Microsoft.
Final Thoughts:
Project Hazel smart mask is waterproof, scratch-resistant and made of recyclable plastic to minimise wastage. Of course, the smart mask's unique features and elegant look makes it stands out.
Razer's smart mask not only protecting you from bacteria and viruses but adding style to life as well. The smart mask made for comfort, look, and protection with customisable RGB LED to add gaming flavour. Features like bacterial filtration efficiency (BFE) and UV light sterilisation make it the safest smart mask. Either you are a gamer or a day to day user, this mask will give you maximum protection from COVID and other germs.