Apple AirTag is the tracking device that tracks your keys, bags and other misplaced stuff. But after the many months of the Apple AirTag launch, people are still complaining of being tracked by strangers. Apple AirTag and AirPods are the favourite trackers anonymously spying, and it's a serious privacy issue.
How do Apple AirTag and AirPods tracking work?
Apple AirTag is a tiny little tracking device developed to find misplaced items like keys, wallets and bags. So you can attach that button size AirTag to your stuff, and it can help you find it via the "Find My" app. It's connected with the "Find My" network, which can locate the device with internal connectivity. Similarly, Apple AirPods are part of the "Find My" network with tracking capabilities.
Indeed, Apple AirTag doesn't need to be connected with the phone to track the location. AirTag sends a signal via Bluetooth Low Energy broadcast beacon to the other devices. And it does get the location with the help of the P2P network of nearby Apple devices like iPhone and Mac. These devices are connected to the internet and send precise GPS locations to the "Find My" network.
So if you are one of Apple device users, you are part of their peer-to-peer network. Knowingly or unknowingly, you are collecting other devices data and uploading it to Apple's "Find My" network. The owner of AirTag can find the location data even though the tracker doesn't require internet connectivity.
How and why people are spying on others with Apple AirTag or AirPods?
People use AirTag to track others activities as it's tiny and easy to hide in someone's stuff like bags. However, AirPods can track the same way, but it is not easy to hide like AirTag, so not necessarily used to track people. And countless stories have been reported to Apple by users that someone is stalking them.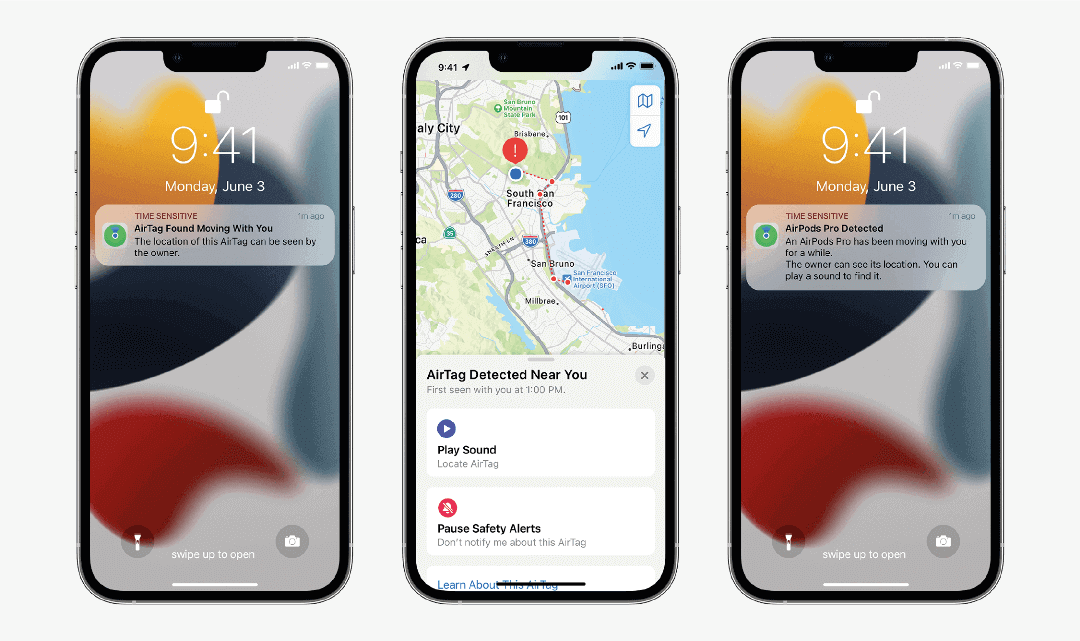 Image Source: Apple
Apple designed AirTag with privacy features to help people, but such incidents concern society. "Find My" network built for privacy with end-to-end data encryption for security. But "unwanted tracking" is the issue that Apple addressed and took it seriously.
Many women have reported finding AirTag in their bags, wallet and cars. Some have found that their ex-boyfriend or husband is spying on them, which raised more concerns about women safety. However, Apple is working with law enforcement agencies to address the issue and take action against intruders.
How to identify and stop unwanted tracking with Apple AirTag?
Apple has an unwanted tracking alert that makes individuals aware of something malicious travelling with them. It will show the notification on their iPhone and other devices early if an unidentified device is found nearby. It will also allow users to find its precious location or play a sound to find it quickly. However, some techie people hacked the AirTag and removed the speaker to avoid making sounds and staying hidden.
If you want to receive alerts while an unknown device travels with you like AirTag, you must enable the notification settings. The settings are available on iOS 14.5 and later for iPhone, iPad and iPod Touch.
To receive the alert, follow the steps below that can help to stop unwanted tracking.
Go to Settings > Privacy > Location Services, and turn on Location Services.
Go to Settings > Privacy > Location Services > System Services. Turn on Find My iPhone.
Go to Settings > Privacy > Location Services > System Services. Turn Significant Locations on to be notified when you arrive at a significant location, such as your home or office.
Go to Settings > Bluetooth, and turn on Bluetooth.
Go to the Find My app, tap on the "Me" tab, and turn on Item Safety Alerts.
However, if you are an Android user, you have to download the "Tracker Detect" app. But without the app, you cannot track AirTag or receive an alert is a drawback for non-iOS users. So wondering if it's worth having such a solution while people are even not noticing that the app exists! Indeed, the Android app seems not working accurately and has many bad reviews on the Google app store.
How to check the details of the AirTag owner or disable it to avoid unwanted tracking?
If you find that unwanted AirTag is travelling with you, tap on the notification to open the information page. The page will have the AirTag serial number and the last 4 digits of the owner's phone number. Possibly, a person may have lost it, so you can recognise the owner if known. And if the owner marked it as lost, you will see the message about contacting the AirTag owner.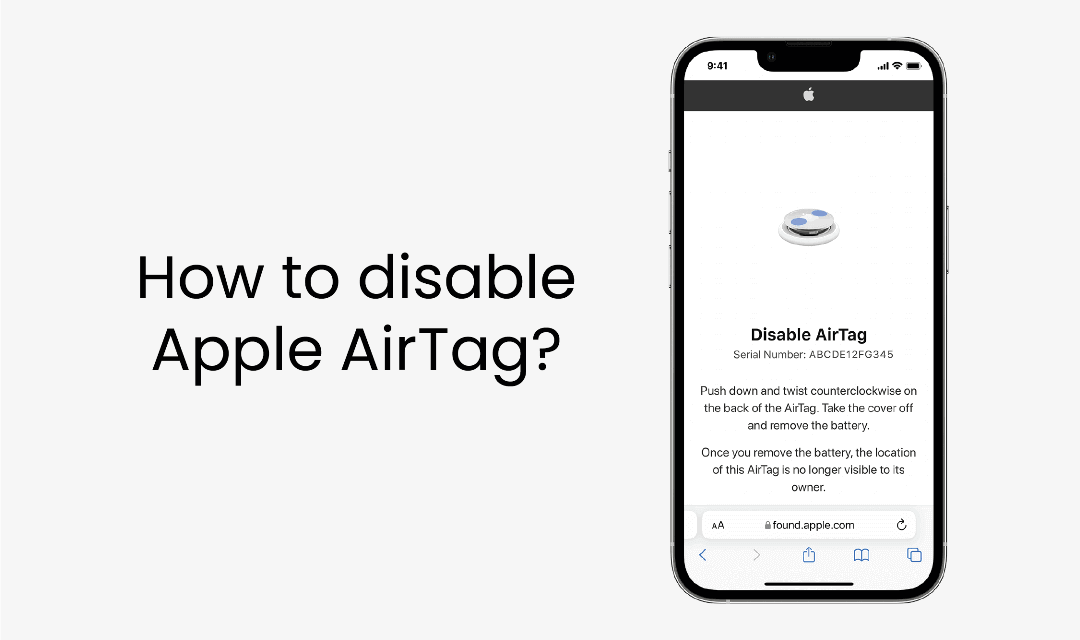 Image Source: Apple
But if you find that someone intentionally dropped AirTag with your stuff and tracking you, you can disable it. Just follow the instruction on the screen about how to disable the AirTag? It can ask you to remove the AirTag battery, which is easy to do. You have to push down and twist the counterclockwise back of the AirTag to open the cover. And remove the battery so the owner can't track the device location any further.
Final Thoughts:
Apple AirTag is not the first device that can track your misplaced items. Companies like Tile and NutTag have been doing it for a while. But Apple AirTag became a top of the tracker list due to its vast network tracking availability. It has the biggest network of "Find My Device" services, making it more reliable and accurate.
But people misused the AirTag to track the others location, which is a crime in many countries. However, Apple is working with law enforcement services to protect people's privacy.  And agreed to provide owners details if required by law. They are also improving the alerts and notifications side, so people find it as early as possible.
We hope that Apple develops better technology that helps find such a tracker on Android devices easily. They can work with Android developers to create an alert feature by default that doesn't require an additional app. And it is possible with the help of NFC and Bluetooth proximity Tracking.