After the Microsoft acquisition of Activision Blizzard, Sony is buying Bungie for $3.6 billion (AUD $5 billion). The deal may bring a lot for Sony to give tough competition to Microsoft. Bungie game studio is the original creator of Halo and developer of Destiny game.
Why Bungie joined Sony Interactive Entertainment (SIE)?
Bungie started their journey in 1991 since they have created and published very popular games. With Sony's partnership, Bungie wants to take game development further. After the deal, Bungie got the global multi-media entertainment company's recognition. So it has proven a better deal for Bungie, which will bring global support from Sony.
Bungie Game Studio released an official statement on their website about how they will benefit from the collaboration with Sony. Also, Bungie mentioned that they would continue developing and publishing games independently. But Sony's partnership will provide them with creative freedom and help hiring more people with Destiny 2 development.
Three decades of a journey of Bungie as a game development studio allowed it to build thriving communities. And they are thankful to the gaming community that helped them develop such great games. Further on, Bungie promised to let everyone's play the games on whatever platform they wanted. So dealing with Sony will not make games exclusive for the single platform that Bungie develops.
Bungie and Microsoft History:
Bungie has a long history of 30 years as a popular game development studio across the globe. They have developed popular shooting games Destiny and Halo. Sony is buying it for multi-billion dollars, but it has a history with Microsoft.
Microsoft acquired Bungie gaming studio in the year 2000 and separated in 2007. 343 Industries, Microsoft owned Development Company, has developed the Halo franchise since 2011. They launched the latest game Halo Infinite on Xbox and Windows platforms in 2021.
Indeed, Microsoft tried to acquire Bungie before Sony, but the deal wasn't gone through for some reason. So Sony Interactive Entertainment reached the right deal and cracked it.
We heard a couple of weeks ago that Microsoft was in talks with Bungie. But talk is cheap.

— Jeff Grubb (@JeffGrubb) January 31, 2022
Will Sony and Bungie deal affect the cross-platform gaming for Halo and Destiny?
No, the deal of Bungie and Sony will not stop users from playing Halo and Destiny on cross-platforms. Bungie and Sony confirmed that they would keep it available for all platforms like PlayStation, Xbox and Computers.
"Bungie will remain an independent and multi-platform studio and publisher" Jim Ryan, president and CEO of Sony Interactive Entertainment.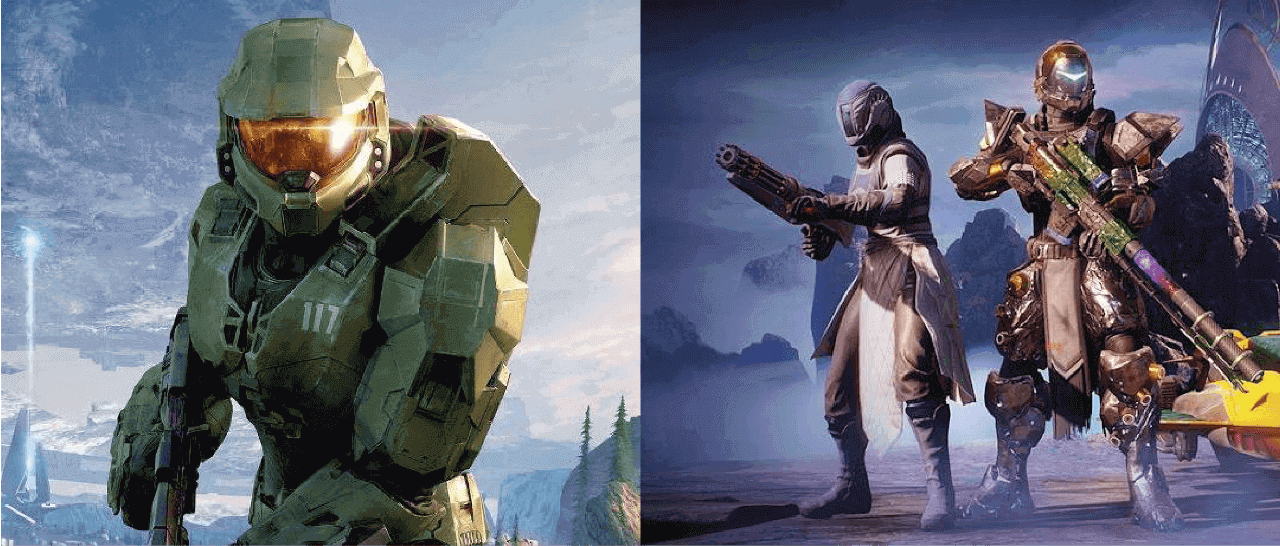 Image Credit: Bungie
"Bungie's world-class expertise in multi-platform development and live game services will help us deliver on our vision of expanding PlayStation to hundreds of millions of gamers. Bungie is a great innovator and has developed incredible proprietary tools that will help PlayStation Studios achieve new heights under Hermen Hulst's leadership.", published on Sony's Blog by Jim Ryan.
Furthermore, Bungie Game Development Studio published, "We remain in charge of our destiny. We will continue to independently publish and creatively develop our games. We will continue to drive one unified Bungie community. Our games will continue to be where our community is, wherever they choose to play.​"
So, in short, both companies agreed to keep the Halo and Destiny multi-platform games. They want a loyal community to enjoy the gameplay and keep developing further.
Final Thoughts:
Gaming is a multi-billion dollars industry across the globe, and it's growing rapidly. Microsoft acquisition of Activision Blizzard is a big deal that will bring many popular games to the Xbox network. But Sony and Bungie deal sounds excellent as they have popular games like Halo and Destiny.
Sony and Bungie gaming studio deals will open new opportunities for game development. Both companies agreed to keep Bungie as an individual game development company. And so, Bungie announced that Halo and Destiny would remain multi-platform games. Such a deal is beneficial for both companies and will benefit Halo and Destiny players as well. Sony will invest more in future and continue to develop new games along with the existing franchise.