Microsoft will acquire Activision Blizzard for $US 68.7 billion ($AUD 96 billion). After acquisition, Microsoft will be the world's third-largest gaming company. Also, this is the biggest deal ever Microsoft has made in history.
What will it change by the Activision Blizzard acquisition?
Activision Blizzard acquisition will change the world of Xbox gaming as it has over 400 million monthly active users. Also, Xbox Game Pass reached 25 million subscribers so that they can get the benefit of this deal. Microsoft will take it further for Metaverse game development which seems to be the future of gaming.
"Gaming is the most dynamic and exciting category in entertainment across all platforms today and will play a key role in the development of metaverse platforms," said Satya Nadella, chairman and CEO, Microsoft. "We're investing deeply in world-class content, community and the cloud to usher in a new era of gaming that puts players and creators first and makes gaming safe, inclusive and accessible to all."
"Players everywhere love Activision Blizzard games, and we believe the creative teams have their best work in front of them," said Phil Spencer, CEO, Microsoft Gaming. "Together, we will build a future where people can play the games they want, virtually anywhere they want."
According to Microsoft, this acquisition will make Game Pass a most diverse and compelling lineup of gaming content. Also, Microsoft will have 30 in-house game development studios once the deal closes.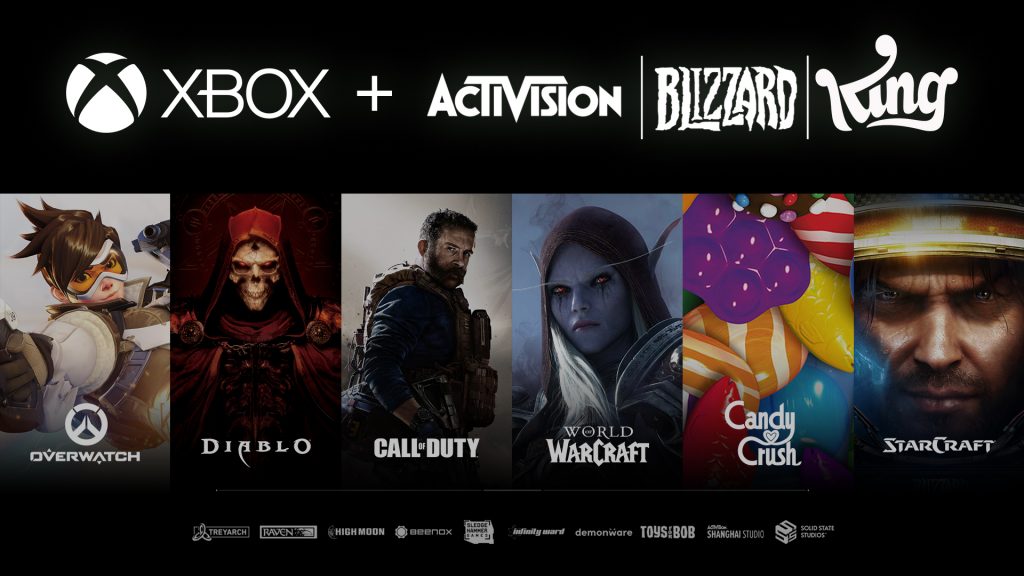 Image Source: Microsoft
What games get in with the Activision Blizzard acquisition?
"Call of Duty" is the most successful game of the franchise and has multi-platform support, including Xbox and PlayStation. Apart from this, they have other successful titles like Diablo, Warcraft, Overwatch, Starcraft and Candy Crush.
Microsoft will take further all the games where most of them support Xbox multi-player gaming. Call of Duty is equally popular on rival's platform PlayStation, but Microsoft seems to keep it open for everyone. But who knows if they make it exclusive for Xbox in future, and PlayStation fans may switch to Xbox. On the other side, PlayStation integrated Discord into its network for easy communication between cross-platforms.
Game Pass undoubtedly is the answer to this acquisition where Microsoft aims for more subscribers. And you may see "World of Warcraft" without additional fees across all platforms with Game Pass. So you can play on cross-platforms like gaming consoles, PC and other cloud-gaming supported devices.
Activision Blizzard will also bring popular Guitar Hero, Spyro, Tony Hawk's Pro Skater and Crash Bandicoot. All these classic games will add more flavours for die-hard Xbox fans.
What else comes with Microsoft's Activision Blizzard acquisition?
Activision Blizzard faced some reputation issues over the last few years. It has gone through some toxic culture and sexual harassments allegations. Due to the controversy and lawsuit, the company's shares price went up and then down. Also, the company fired a few dozen employees due to serious work harassment allegations.
But Microsoft seems optimistic about the acquisition and looking forward to working with the company's current CEO, Bobby Kotick. And he's confident that he and his team will maintain focus and accelerate the company's growth in the near future.
"For more than 30 years, our incredibly talented teams have created some of the most successful games," said Bobby Kotick, CEO, Activision Blizzard. "The combination of Activision Blizzard's world-class talent and extraordinary franchises with Microsoft's technology, distribution, access to talent, ambitious vision and shared commitment to gaming and inclusion will help ensure our continued success in an increasingly competitive industry."
Final Thoughts:
The deal will bring many responsibilities and a shady reputation for Activision Blizzard. But Microsoft seems prepared for that and ready to improve the work culture in the company. Also, the company's current CEO is pretty confident about improving team culture and future growth.
However, Microsoft will close the biggest deal ever for gaming company acquisition that will change the future of Xbox gaming. This acquisition will become a considerable part of Metaverse development and take Microsoft to the new heights of growth. Once the deal closes, Microsoft will be the third-largest game development company after Sony and Tencent.