Recently, many people have noticed about iOS App bug, "This App is No Longer Shared". This bug did put many users in confusion where it appeared as "Pending App Updates" for the same version that updated a few days back. The issue includes showing backdates for some of the app updates.
So what is iOS App Bug for "This App is No Longer Shared"?
Many users wondered for the App showing message that "This App is No Longer Shared. To use it, you must buy it from the App Store".  Users believe that iOS has some bugs affecting the App usage on both version running iOS 13.4.1 and iOS 13.5. The bug affected the many apps, including some well-known names like Facebook, Twitter and YouTube.
The issue has taken over social media and forums by users. But Apple hasn't provided any information about why apps are being reissued for the updates?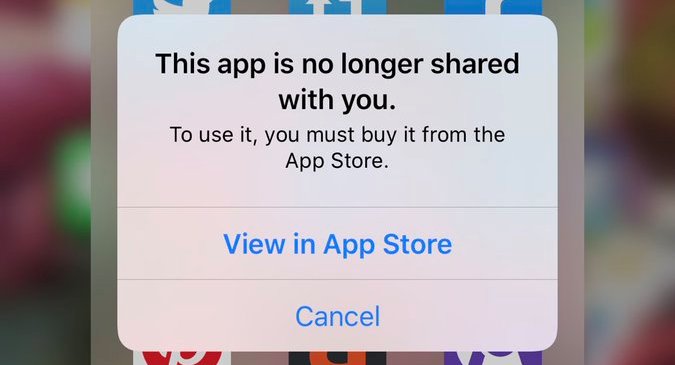 How to fix the iOS App Bug – "This App is No Longer Shared"?
There are multiple ways to resolve the issue of "This App is No Longer Shared". The first method is straightforward, delete the app from your iPhone or iPad and reinstalling it to solve the issue. Another way to fix the problem is "Offloading the App". To offload the app, you have to go to Settings -> General -> ‌iPhone‌ Storage -> Scroll down to the App with the issue -> Tap on the App Name -> Tap on Offload App. This method will offload the app and keep your data. You may need to "Tap on Reinstall App" if required, and it will keep all your data as it is once app available to use it again.
Conclusion
The reason is unknown for the iOS App Bug "This App is No Longer Shared", but it's easy to fix. It may have happened due to the changes in iOS 13.5 or some other conflict, but there are solutions to fix this iOS bug. You can use the methods mentioned in this article to solve the issue of this strange reissued app updates.
Usually, Apple takes immediate actions, and implements fix to protect their user data and privacy. But sometimes they leave it up to the next release for bugs fixes like iOS 13 Mail App zero-click security exploits which may lead to data leaks.
So you are not alone that having some random backdate updates found on your iOS device or app stopped to work. We recommend updating all your apps as soon as possible to avoid any further issues and stay safe.