September 2021 is nearby, and everyone is waiting for the new Apple iPhone. The question is, what's next, Apple iPhone 12s or iPhone 13?
The question left everyone in a bit of a dark spot as some say the next is iPhone 12s, and some say iPhone 13. But despite the facts, it's worth noticing what are significant changes coming to the next iPhone series? There are some significant changes Apple bringing to the next iPhone 12s or iPhone 13. The new upcoming iPhone will have upgraded specs for the camera, display, new processor and more.
The confusion over iPhone 12s or iPhone 13 is evident as some people think of an unlucky number of 13. But many sources revealed that the next Apple iPhone series coming up as iPhone 13 and not the iPhone 12s lineups. So let's not confuse the iPhone 12s or iPhone 13 and continue considering the iPhone 13 as the next Apple device.
Upcoming Apple iPhone 13 Specs:
Regarding some general specs like screen size, Apple keeps continuing with its legacy of having the same screen size for few years. So you can expect to have the size of the 5.4-inch screen for iPhone 13 Mini, similar to the iPhone 12 Mini. Also, iPhone 13 and iPhone 13 Pro models will have a 6.1-inch display, and iPhone 13 Pro Max will come with 6.7-inch screen size. Its also expected to have a 120Hz LTPO Display on both iPhone 13 Pro and iPhone 13 Pro Max models. There are some possibilities to have Biometric On-Screen Touch ID support on iPhone 13 as Apple is working on it for a while.
Apple will add the latest 5-nanometer A15 chipset that does support the 5G and advance Wi-Fi 6E standards. The A15 processor in the upcoming iPhone 13 is designed to optimise the battery life as well. So you can expect a bigger battery size in all iPhone 13 models compared to the current iPhone 12 series. And of course, a bigger battery size requires an enormous power supply, and here Apple might sell a new 25W fast charger separately. Or, possibly, Apple may supply a 25W fast charger (despite global warming cause 😀) as standard accessories in the package. And worth mentioning that it will have MagSafe support for all accessories, including the new MagSafe Battery Pack and reverse charging.
Along with the new A15 processor, Apple iPhone 13 will have various models with up to 1TB of storage space. However, Apple hasn't confirmed what usable space you will get in the new iPhone 13 series.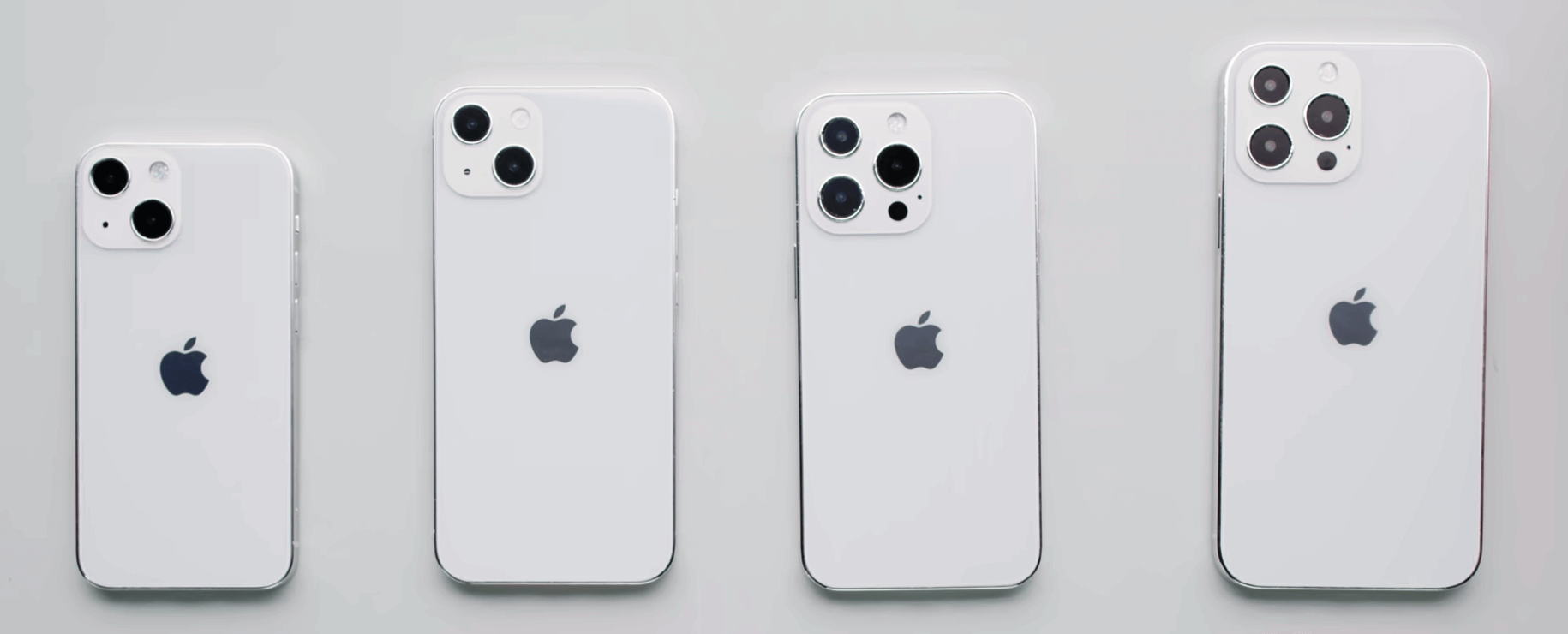 Image Source: YouTube/Marques Brownlee
Next Apple iPhone camera improvements:
The significant improvement in iPhone 13 series seems to be cameras. The iPhone 13 cameras size is going slightly bigger as new image stabilisation sensors are expected in all models. So you can take stable videos as well as click better photos in various weather conditions.
Indeed, Apple is downsizing its notch to add more viewing space on display. Also, improved front selfie camera design can not only take better photos but helps to detect faces better.
Will Apple iPhone 13 come with Lightning Port, USB-C Port or No Port?
It's known rumours that the new Apple iPhone 13 will have USB-C support for all models. But still, there is no clear answer rather iPhone 13 will have Lightning Port, USB-C Port or No Port?  Yes, you heard right! The new Apple iPhone 13 is predicted to be portless, but it seems impractical. Indeed, according to some sources, Apple will have a standard Lightning Port in upcoming iPhone 13 lineups.

Apple iPhone 13 Colours, Release Date and Price:
Compared with the iPhone 12 series, iPhone 13 and Mini models may come in Black, White, Green, Blue and Purple colours. You can expect to have a special edition Red colour for both iPhone 13 and iPhone 13 Mini variants. Similarly, iPhone 13 Pro and Pro Max will have Silver, Graphite, Gold and Pacific Blue colour variants compared to the iPhone 12 lineups. You can also expect "Rose Gold" and new "Sunset Gold" colour options for some variants of iPhone 13.
Generally, Apple holds a new products launch event in late September every year. And so, you can expect to have the new Apple iPhone 13 series around September 2021. Let see what Apple come up with in September, which is only a few weeks away from now.
Apple iPhone 13 lineups expected to have similar price tag as iPhone 12 series. So iPhone 13 Mini price will start from (AUD) $1199 (or $699 USD) and iPhone 13 will have (AUD) $1349 (or $799 USD). Similarly, iPhone 13 Pro and Pro Max will have (AUD) $1699 (or $999 USD) and (AUD) $1849 (or $1099 USD) respectively.
Final Thoughts:
There were many rumours addressed about iPhone 13 design and specs due to some leaks in the past. But we will have more accurate information once Apple launches iPhone 13 in September 2021. The recent leak of dummy models for iPhone 13 seems created chaos again for its specs and design. However, the leaked iPhone 13 dummy models describe the more accurate information about physical changes.
Apple keeps the same design legacy for years and making minimum design changes with new iPhone models. Of course, technical specifications changing every year with new iPhone models released and users expecting good every time. The upcoming changes like camera specs, small notch and new A15 chipset will add many extra things this year. Indeed, fast processors, better cameras and thin design are the most expected changes from mobile phone users in the current technology era.